She let you stay home when she knew you weren't really sick; she dropped you off a block away from the party, and she stayed out of the basement when your crush came over to "watch TV." Mother's Day's only days away, but there's still time to find a gift that honors everything she's done for you. These Store Adore favorite sites boast no brainer gifts for the mother who. . .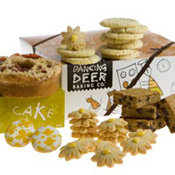 Let You Eat Chocolate Cake for Breakfast
For the Mom whose pantry all the other kids envied, shop at Dancing Deer, purveyor of treats that look as extraordinary as they taste, trust me. My pick: the Mother"s Day Medley (Regularly $39.95, Store Adore Price $32)--it's packed to the brim with strawberry shortcake, chewy blondies, iced shortbread cookies and other scrumptious goodies. Just don't say they're better than her top secret family recipe. (Plus, Store Adore shoppers get 20 percent off all Mother's Day treats. Use code adore8.)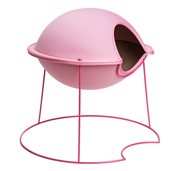 Replaced You with a Yorkie
True, she may have a new "baby," but can you really blame her for not wanting to be left with any empty nest? Give your little sister a chic place to sleep with this Hepper Pot Pet Bed ($155) from Design Public. Serving as her pet's personal sanctuary, it's fleece-lined and sturdy--a doggy's dwelling never looked so good.

Kept the Peace
When sibling rivalry hit a high note or dad's car came home in an altered state, Mom was always there to broker an accord. For the skilled diplomat in your family, offer this 18 karak gold plate olive branch pin from Ann Hand, the DC-based destination for elegant jewelry with a political twist (Regularly, $65, Store Adore Price $49). (Plus, Store Adore shoppers save 25 percent on this patriotic collection. Enter code StoreAdore in the gift message at checkout, some restrictions apply.)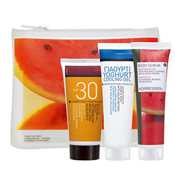 Slathered You With Sunscreen
It felt like torture then: The sand and surf were yards away, yet you were forced to withstand a full-body rub down at SPF 30. Decades later, you're still boasting milky soft skin while your friends O.D. on restalyne, and you finally admit that you're grateful. Help mom continue to practice what she's always preached with a Summer Essentials Kit from all-natural Greek beauty brand Korres ($42). Find the kit, complete with watermelon scented sunscreen, after sun yogurt cooling gel and more at the Wooster Street flagship in New York, or buy it online at Sephora.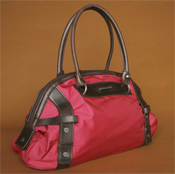 Showed up at Soccer Games in Chanel
Thank Mom for her handing down her fabulous fashion sense with accessories that complement her designer duds. Luna Boston's got droves of stylish somethings that can be slung over the shoulder, clutched or wrapped 'round the wrist--all at 20 percent off for Store Adore shoppers. With its roomy interior and of-the-season shade, this Matt & Nat Bowler Bag will take her seamlessly from the field to the firm dinner (Regularly $140, Store Adore Price $112). (Use code storeadore at checkout, some restrictions apply.)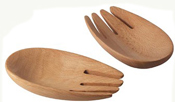 Was Always There to Lend a Helping Hand
She organized bake sales, drove carpool every afternoon, and even chaperoned all your dances. (Sweet.) Why not show her that you actually noticed with a set of serving hands from quirky modern home store Mxyplyzyk ($28)? Designed by Nigella Lawson, another sexy chef you admire, these solid beechwood designs let her mix with her hands without looking gauche in front of company.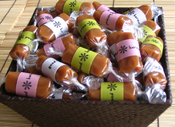 Was Never Afraid of Sharing Her Well-Earned Wisdom
"Never count your chickens. . . " "A watched pot won't. . . " Or my personal favorite: "It doesn't have any calories if you eat it off someone else's plate." If your mom's got a saying for every situation, give her some new material (not to mention something to chew on) with the Spring Basket from Good Karmal ($45-$75). Old fashioned caramels in flavors like chocolate, sea salt and vanilla come individually wrapped with a witty fortune.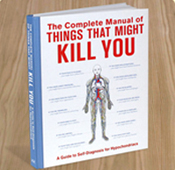 Told You So
Feed her just-because-she-cares tendencies with The Manual of Things That Might Kill You, (Regularly $19.95), a revolutionary work on the world's worst maladies from Knock Knock, a clever line of paper-based goods (pads, organizers, sticky notes and more) for folks who either have way too much to do or not enough to do at all--sense of humor required. (Use code StoreAdore at checkout to save 15 percent off all purchases of $50 or more.)
And remember, it's the thought that counts. Unless, of course, it comes in the form of a vacuum cleaner.