It's not everyday that a fashion designer will admit to putting motherhood above her work, or site as inspiration a Keds-wearing, knitting-needle-packing, General Hospital-watching granny. The refreshing Jessie Randall, founder of hip label Loeffler Randall, cops to both. Randall recently spoke with Jen Smith, a regular contributor to The Inside Source, eBay's digital style magazine, about raising twin three-year-old boys in Brooklyn and growing up in a family of crafters. What follows is an excerpt of that interview. For the full article, click here.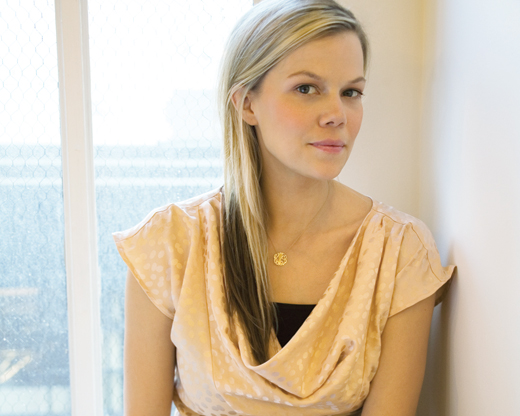 The Inside Source: It is amazing how much you accomplish! Can you give us a glimpse into your creative life?
Jessie Randall: With my life these days being as busy as it is, I am most inspired by the things I get to do that are creative and fun but have no pressure associated with them. Things like designing t-shirts for favors for the boys' birthday or thinking about taking an embroidery class at Purl [a Soho quilting and sewing shop]. So much of my life now is about being a mom ... I am inspired by things I never was before -- like the color palette of one of the boys' children's books.

TIS: We read somewhere that your grandmother was a big influence.
JR: My grandmother was very chic. The other day I was just thinking about her in the spring wearing a bright cashmere sweater and her tiny feet in a pair of Keds, with her perfectly white hair. She was glamorous to me because she did all the things my mom didn't want me to do like watch soap operas (she was in love with Patch from "General Hospital"), paint her toe nails and gossip. She was fun!

TIS: So is your grandmother the one who got you into crafting?
JR: She was a great knitter. She did try to teach me to knit, which was a challenge because I am left handed, and it was hard for all the right handers in my family to teach me. (I eventually learned.) One of my favorite stories about her is that she once knit three sleeves on a sweater while distractedly watching the McCarthy hearings on TV!
My dad is very creative too. He made us kids all sorts of things like a teepee and a soapbox racing cart and these beautiful Easter eggs. He's the one who taught me how to improvise. He once assembled a sofa for me with a fork because we couldn't find a screwdriver!

TIS: Your company started with a shoe. When did your obsession begin?
JR: My favorite time of the year was when my mom would take me to the shoe store in town to buy party shoes -- the fancy shoes I would wear to all the birthday parties and holidays that year. I remember the smell of that store, the leather smell, and I just loved it. That was the beginning of my love of shoes, and they have always been my favorite thing!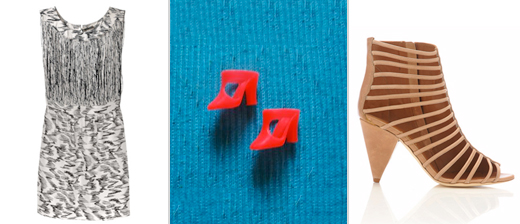 TIS: We love that you design what you wear/wear what you design. Are there some shoes you are coveting at the moment?
JR: I am waiting patiently for our Pre-Fall Parker bootie. It is half open and strappy and half closed. I can't wait to get it in a few weeks!

TIS: We hear one of your latest works in progress is your Park Slope home.
JR: Our house is definitely evolving -- we have toddlers! Everything has to be baby proofed at the moment. I've tried to work within that limitation by choosing beautiful foil wallpaper for select walls in the house or recovering some vintage chairs I bought on eBay in great fabric -- little things to give the house some charm before I can decorate the house the way I want to. I love Liam and Casper's room because it's like a little diorama that I can play with by putting in various scenes for holidays or the different seasons.
On eBay, Randall has found blonde wood Danish modern dining room chairs, vintage foil wallpapers and old Barbie shoes, which she uses to get ideas: "Doll shoes have such great proportions because of the pitch of a doll's foot," she says. "They are amazing for inspiration." For the full story, click here.

** Images provided by Loeffler Randall. **