Tory Burch may well be the next Calvin, Donna or Ralph. In less than a decade, Burch has built a global fashion empire. From her ubiquitous Reva ballet flat, to her equally wearable tunics and caftans, her clothes defy age and size and have earned raves ranging from Oprah (on her show) to Vogue. Currently working on her new denim line, launching this fall, Burch recently spoke with Constance White, eBay's style director and a regular contributor to The Inside Source, eBay's online style magazine. The following is an excerpt of that interview. For the full article, click here.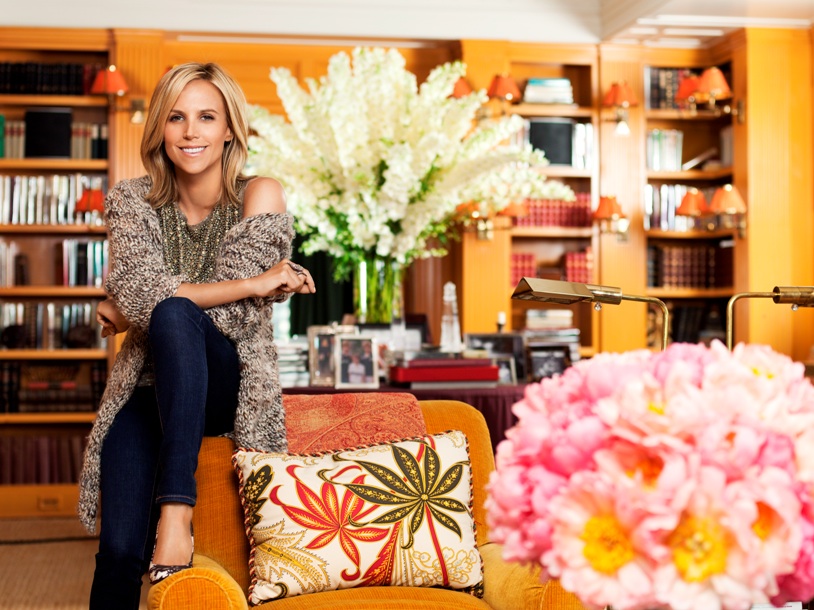 The Inside Source: You travel a lot. How do you pack?
Tory Burch: I have been traveling quite frequently of late, most recently for our flagship opening in Seoul. My boys [Burch has three sons, Henry, Nicholas and Sawyer, with former husband, the investor Chris Burch] and are I are about to go on a trip to Peru, though. I can't wait to spend time together just the four of us. Packing is easiest when you edit yourself, so I like to bring chic, easy pieces that are versatile--things I can layer and wear day-to-evening. No matter where I am going, I always bring tailored jeans, cardigans, a blazer and printed dresses. They are all pieces you could wear during the day, but also dress up in the evening with a bold piece of jewelry or a high heel.

TIS: What are the essential pieces for a woman's wardrobe today?
TB: A printed dress, a classic trench, a blazer, jeans that are the perfect fit for you--and of course, to complete any look--a bold piece of jewelry like a metallic cuff or statement necklace.

TIS: What do you love to wear for summer?
TB: I like to wear classic silhouettes or monochromatic dresses mixed with something eclectic or to mix prints and colors in unusual ways. I also make sure I have the right pair of sunglasses, whether it's an aviator or oversized frame in my bag.
TIS: Who are your role models?
TB: My parents Reva and Buddy are a constant source of inspiration for me. They were such a chic couple with an effortless, elegant way of dressing. When designing a collection, my design team and I find inspiration in so many different places. We often reference pictures of my parents traveling in Morocco and Greece in the 60s and 70s. We are also influenced by our own travels and everything from works of art and architecture to music and movies.

TIS: What were your inspirations for the fall collection?
TB: For fall, we thought about that cool girl who you see in galleries--the one who has an amazing sense of style and puts pieces together in new, interesting ways. The color palette was inspired by Picasso's Mosqueteros exhibit and Gerhard Richter's abstract paintings. Neutral colors were played against bright splashes of red and blue. Fall is all about balancing a utilitarian edge with something feminine, like an oilcloth coat worn with a sequined top.

TIS: How much of a collector are you and what if anything do you collect?
TB: I collect vintage books and recently found an antique fishing book for my brother who is an avid fisherman. My mother and I also love searching for pieces of Imari porcelain together. I've had the chance to see really amazing exhibits in the past few months--the Picasso exhibit at the Met, Louise Bourgeois' sculptures at the LeeUm Samsung Museum of Art in Seoul and the Yves Saint Laurent exhibit at Paris' Petit Palais. All extraordinary, all inspiring.

TIS: To what extent do you or your staff shop or research on eBay?
TB: It is a great place to find lost treasures--where else can you find so much Ossie Clark or vintage Liberty prints?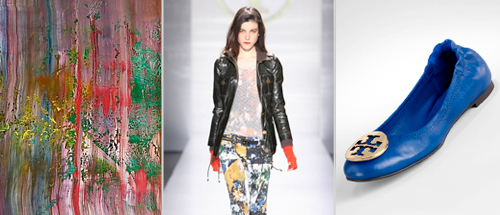 Portrait by Nigel Barker, runway and Reva images provided by Tory Burch. Gerhard Richter art ad found on eBay. For the full interview, click here.