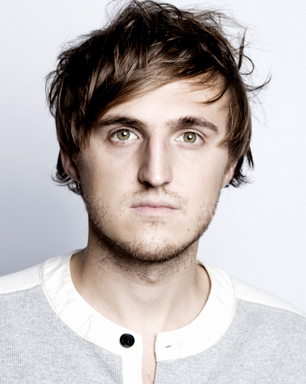 In the age of Twitter, Facebook, Foursquare, Tumblr and blogs, titans of the social networking industry are more likely to be unshaven recent college grads than robber barons. Case in point: Zach Klein is a 27-year-old entrepreneur whose latest business venture is SVPPLY, an online shopping site with user-generated product selection -- and opium for people who love gorgeously designed things. Nandini D'Souza, a regular contributor to The Inside Source, eBay's digital style magazine, recently sat down with Klein to learn more about SVPPLY and the brains behind the increasingly popular site.
Klein's mix of energy, impeccable taste, business chops and technical savvy have enabled him to help create some of the most interesting websites and related products of the last decade, including College Humor, Vimeo, Busted Tees and Boxee. Every month, 400,000 people shop SVPPLY, choosing from objects, clothing and whathaveyou design trends that other SVPPLY community members have tagged and shared.
It's the type of shopping site where one can get lost for hours. Not that Zach Klein himself has the time, considering all the sites and blogs -- "numerous is the short answer," he offers -- is involved with. It's no surprise he has finely-tuned his eBay search keywords, too.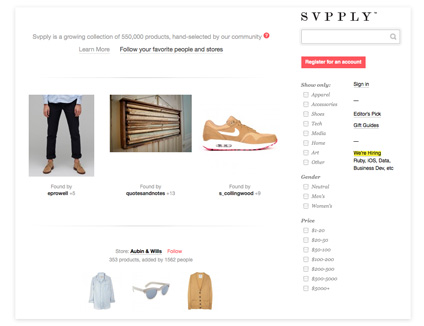 The Inside Source: How did you get involved with the SVPPLY online shopping site?

Zach Klein: I wanted the idea to exist, searched around to see if it was being done, found a few options mostly targeted towards women, then came across Svpply, which was a private service launched by Ben Pieratt and Eric Jacobsen as a side-project. I contacted them, invested some money so they could ditch their freelance gigs, and they spent most of 2010 converting it into a service that anybody could use. They've since raised more money from other investors and work on it full-time in NYC. I'm on the company's board and advise them daily.
The Inside Source: What is SVPPLY about?
Zach Klein: The idea is simple: Twitter for things you can buy. All of us are constantly stumbling across things that we love or recommend, so we invented a way to easily keep track of them to share with friends. Our members follow the accounts of people and stores they like, leaving them with a steady stream of products that is always relevant to them. It's like shopping inside a store where every item has been picked by someone you like.
The Inside Source: What's the most interesting and beautiful item on the SVPPLY online shopping site?
Zach Klein: I was taken by these prints of tree cross-sections made by Brian Nash Gill.
The Inside Source: Between all your sites, how many hours per day do you spend in front of the computer?
Zach Klein: My schedule is a stark contrast. When I'm in the city, I'm on a computer from dawn to dusk, but I spend four days a week upstate on my wooded property -- without electricity or phone reception -- where I'm building a barn.
The Inside Source: What do you do during your time off?
Zach Klein: I travel often; I have upcoming trips to Germany and Sweden. I'm very interested in gardening and building and spend a great deal of time reading about and practicing these things.
The Inside Source: Being featured in the New Yorker when you were just 23 was...
Zach Klein: Life-changing. The funny thing is that my business partners and I had only moved to the city a few months previous and at the time, I read the magazine infrequently. I didn't really know what it meant to be profiled, but everyone around us seemed to understand. It seemed as though only then, overnight, that anyone took us seriously and our businesses flourished.
The Inside Source: So many of your websites are about community. What's the key to building a successful community online, and then sustaining it?
Zach Klein: The key is defining what is good and bad behavior, and then recognizing users when they do good and strictly demoting the bad stuff. It gets interesting -- and you know you're onto something special -- when you see your users go out and do this on their own, celebrating their peers as well as pointing out the crap. That said, the most important thing, as much as I understand community building, is to simply give users tools to be creative.
The Inside Source: Outside of your own, what are the best new websites you've seen?
Zach Klein:
Kickstarter:A surprisingly effective way to raise money for creative projects. Artists, inventors, filmmakers and all kinds of interesting folks use the service to raise funds from their fans and others interested in their topic. In exchange for your donation, the fundraiser often gives you something special in exchange.
Skillshare: A marketplace for offering and taking classes in anything. I just took a class to learn how to design and manufacture a bag; next month I'm going to teach a class on German board games.
Rdio: A flat fee gets you access to a deep library of music that easily syncs with handheld devices. I rarely use iTunes anymore.
The Inside Source: SVPPLY is all about the beautiful curation of things. Do you ever find things on eBay?
Zach Klein: I use eBay all the time. It's still my default for finding anything obscure.
The Inside Source: What are your favorite eBay search keywords?
Zach Klein:
Dieter Rams Braun: The seminal industrial designer created dozens of iconic objects for Braun. I hope to own one of his record players one day.
Boy Scout Handbook: I was an Eagle Scout and I'm fond of these books issued to boys for the last century. They're fascinating zeitgeists, and some are surprisingly poetic.
Buffalo Bills Vintage hat: I grew up in Western New York. This is the only sports team that I give a damn about.
Cast Iron cookware: I prefer to cook with Dutch ovens, even when I'm cooking in the city.
International Scout: These trucks were produced in my hometown from the '60s to the '80s.
Relief Map: I collect maps and I'm particularly interested in topographical reliefs.
For more interviews with fashion and design industry insiders, visit The Inside Source and be sure to follow us on Twitter and Facebook.