We put up our Christmas tree over the weekend, a fake tree that the husband and I bought several years ago. It's 48-inches of pre-lit fiber optic Christmas cheer that comes with its own stand.
Although putting up the tree didn't take very long because it's only 4-feet tall and we have only a handful or ornaments, it was a welcome and happy break in a streak of sickness in this household that can best be described as The Lopez Family Pukefest 2009, in which my son and I are in a competition to see who can barf up a higher percentage of their own body weight. (Since I had to be admitted to the ER for severe dehydration and put on not one but TWO IVs, I kicked his tiny little butt.)
In this midst of this vile and smelly time of family stomach bugs, the putting up of the tree reminded us all that Christmas is a time for love and togetherness. Including the kind of "togetherness" that has me sharing Jello and applesauce with a 14-month old so we can both rehydrate and not antagonize our tummies. Together.
The putting up of the tree is a sweet stroll down memory lane. Every year the first ornament I hang is my "Christmas 1975" globe, which my mother bought while still pregnant with me. Our "Christmas Queen," a Russian doll named Irina that I bought at a flea market in St. Petersubrg with my mother, tops our tree. Irina's twin sister tops my mother's Christmas tree down in Miami.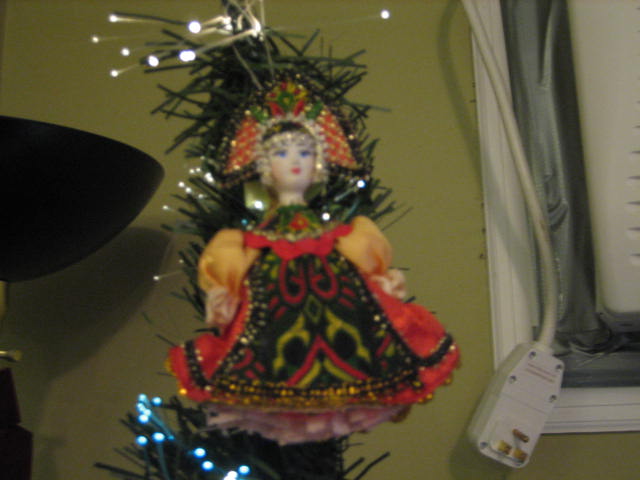 Irina, the Russian Christmas Queen
Christmas is also a romantic time for the Lopez family. My husband and I met during the Holidays in 2002 and shared our first "smooch," as my brother called it, on Christmas Eve. Two years later we got engaged on December 23rd. We have an ornament of a smiling snowcouple snuggling together with a banner that reads, "New York 2006" to commemorate our first Christmas as a married couple.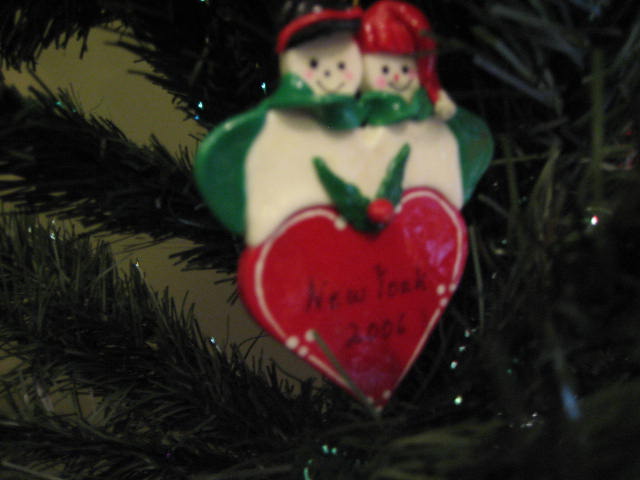 First married Christmas, 2006
And that's nearly it for our ornaments. The rest of our tree is devoted to ornaments bought for our son, the Juban Princeling, by various relatives. Including a "Baby's First Christmas 2008" one I bought for him three months before he was even born.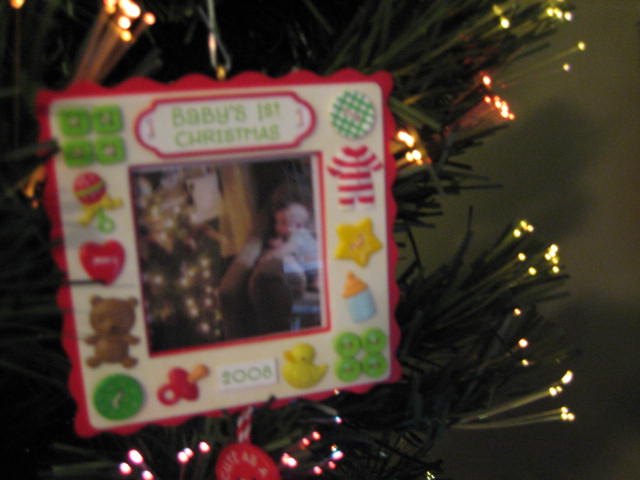 Baby's First Ornament, Bought July 2008 - Three Months Before His Birth and Five Months Before Christmas
Of the exactly 12 ornaments on our tree, six belong to the Princeling. He even has a dreidel ornament that I bought him last year to celebrate his multi-heritageness, and a menorah ornament that his Uncle Funny and Aunt Daria gave him this year with his name on it.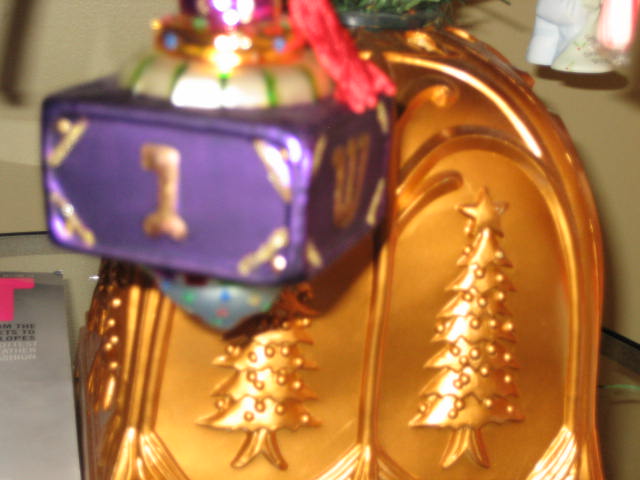 O Chanukah Bush, O Chanukah Bush
One day when he's older he'll choose which ornaments to take with him to his own home to put on his own family's tree, and he'll tell his own kids about the Christmases he remembers from his own childhood. It makes me tear up just thinking about it.
And if all this sentimentality makes you want to puke, well, get in line.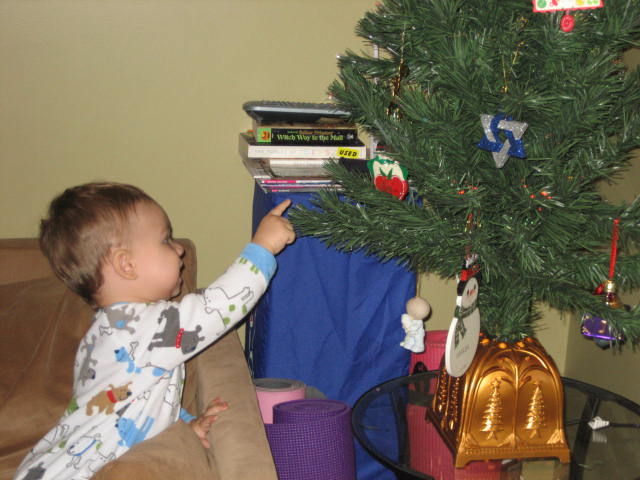 "This one's mine, and this one's mine, and that one's mine, too. Oh, and this other one is mine. Let's face it: I OWN this Christmas tree!"