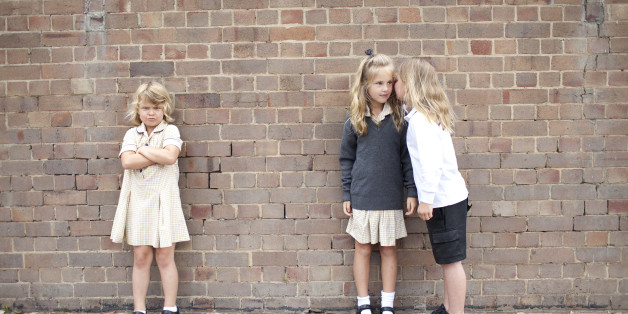 For every bad thing that happens or nasty comment, there's a really deep-rooted meaning behind it. It's important to see the bigger picture and realize that person is dealing with something as well. -- Lucy Hale, Actress
School bullying statistics in the United States show that about one in four kids in the U.S. are bullied on a regular basis. For these kids, the thought of soon going back to school, won't bring about happy and cheering faces. Also, you as a parent might feel powerless. How can you help, protect and prepare your child for going back to school without fear and with self-confidence? Lucy Hale is touching a very challenging yet powerful aspect of dealing with bullying: building compassion and understanding. This might sound "woolly" and "unattainable" but it is the key to strengthen and prepare your child, not only for this school year but for the rest of his or her life.
Before we can start building compassion and understanding, it's important to have a good understanding of what compassion actually means. Contrary to what many people think, compassion is not the same as "empathy" or "feeling for someone," but rather it is the wish to remove difficulties or problems. This wish is not only directed towards someone else, but -- and maybe even more importantly -- also towards yourself. To strengthen compassion it is good to always combine it with another wish: the wish for inner peace and happiness.
Compassion might be the hardest thing to learn, maybe not even compassion for others, but certainly compassion for yourself.
-- Steve Weissman
For children age 4 to 8, I use a "journey" and a SECRET SUITCASE as a tool to build compassion. I start with letting them reflect on nice things they did on that specific day and then have them put it into their SECRET SUITCASE. Later, children are encouraged to send kind wishes to people they love, as well as to themselves. This is a very powerful yet simple tool to introduce them to building compassion, kindness and inner strenght.
With older children, I use this same principle but adjusted to their age group. In this case it can be really helpful to start with watching a documentary like The Bully Effect, produced by among others Anderson Cooper, anchor of Anderson Cooper 360° at CNN and a strong anti bullying advocate. This will give insight in the effect bullying has on their peers while at the same time supporting them -- or acknowledging them -- in their own feelings. The power of this particular documentary is that it also shows how children turned this 'negative' situation, in a positive opportunity. It will therefore be a huge source of inspiration.
For you as a parent, this also gives you a perfect opportunity to start the conversation on bullying, and to build that compassionate understanding that is so needed to help your child to regain inner strength. According to Scott Hannah and Tyler Gregory, who are better known as the NOBULL guys and who are both spokespeople for The Great American NO BULL Challenge, this is fundamental in helping to strengthen your child.
Having an open relationship with your child is fundamental because so often children fear to seek help because they are afraid that you will think that they failed.
-- Scott Hannah and Tyler Gregory
Tips & Talking points
1. How does being bullied make you feel?
This is a difficult but necessary question. It's important to just listen and acknowledge these feelings your child is expressing. No feeling is ever wrong! By acknowledging your child's feelings, you increase the likelihood your child can accept these feelings and will react to them in a better way (this is the SECRET SUITCASE concept and a way to build compassionate understanding).
2. Share good wishes!
A short sentence like: "I wish that you will overcome these challenges and will always stay your beautiful self" are making a huge difference. By using the same sentence frequently, they will remember it better. It's also good to emphasize that your child should also wish this for him/herself.
3. Talk about your child's good qualities and talents
Every child has good qualities and many talents. Dedicate one dinner a week to talk about these qualities and talents. To make you and your family more comfortable with this (it probably won't be in the beginning but after the first couple of times everyone will enjoy hearing and doing this so much!), it is best just to introduce this as your weekly dinner theme where each family member gets the opportunity to name one good quality or talent of another family member. Make sure everyone gets a turn and also here it's important to just listen and say 'thank you'. Also this will give your child more self-confidence.
4. How can you turn something challenging into "your" opportunity?
The Bully Effect documentary offers a great opportunity to talk about this but it's also good to share your own real life experiences with this. Your child will remember this and will also strengthen him or her to do the same.
5. Stay up to date with your child's social media!
Scott Hannah and Tyler Gregory strongly advice parents to "learn the tricks and trades of Facebook, Twitter, Instagram etc, in order to keep up in your child's day to day lives." Whenever you pick up something disturbing, try to discuss it in an understanding and compassionate way to keep the dialogue open!
Last but not least: building compassion and understanding is very challenging and it takes a lot of patience, determination and time. But by making the tips and talking points a part of your family routine, you will make it happen and you will help your child to build that inner strength that he or she will carry with them for the rest of their lives!