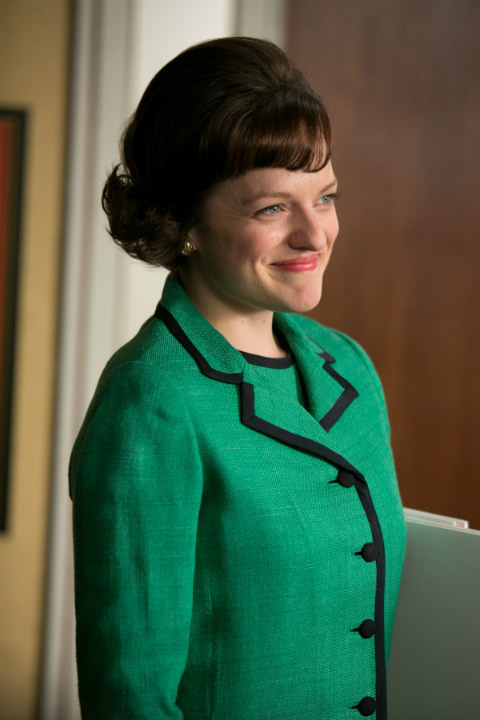 Please note this article contains minor spoilers from the June 9th episode of Mad Men.
On Sunday evening, AMC held a special Mad Men event and screened the latest episode "Favors", followed by a panel with the cast and creator Matthew Weiner, at the Academy of Television Arts & Sciences in North Hollywood, CA. In "Favors", Peggy (Elisabeth Moss), Pete (Vincent Kartheiser), and Ted (Kevin Rahm) have dinner (and one too many drinks) after a call with potential client Oceanspray. Ted leaves the table to call his wife which visibly bothers Peggy. Pete knows Peggy all too well as he reminds her that he's "seen that look." In this short but tender exchange, Pete and Peggy comfort each other while reminding us of how connected they still are.
During the panel, Moss recalls shooting the episode and what it was like reuniting with Kartheiser for such a deeply significant and nostalgic moment. She tells us, "Whenever Peggy and Pete are in a room, you know there's going to be drama. There's going to be that tension." Of course, she is referring to the complicated romantic history of the two characters which began in the pilot episode and resulted in the birth of a child (that Peggy ultimately gave up). One of the key themes of the hit series which arises yet again in this episode, is people move on, but the past is never forgotten. This scene is a special treat to fans who haven't seen Pete and Peggy share a moment acknowledging their intimate past since the end of Season 3. Moss shares her delight in having had the opportunity to shoot a scene like this years later, now that both characters have matured. Moss, who refers to Kartheiser as "brilliant," describes their close bond (having known him since she was 18) and how audiences can see it translate on screen between the characters. Do we see a Peggy/Pete romantic reunion on the horizon?
Mad Men has two remaining episodes this season and will return next year for its final season.