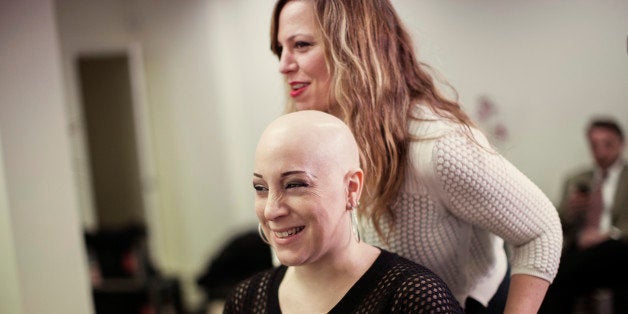 Almost eight years ago I lost my aunt to cancer. I was a successful hairdresser and attending the Vancouver Film School to become a makeup artist and hairdresser for film and television working under Emmy award-winning teachers. A few months before she passed, I flew home to attend my mother's 60th birthday party. Arriving the night before, I was greeted by my aunt.

She was in good spirits and walking around totally bald from her chemotherapy treatment. I told her about what we were learning about in school, specifically about wigs and other hair pieces. I explained how I had made a mustache for character design and how real it had looked. At school, we learned to create these film wigs by tying one hair at a time. They were amazing. She pulled out the wig that had been donated to her and began her list of complaints. "It is too hot, it's too itchy, it's the wrong color, it slides up in the back, it stabs me in the neck, and it feels like it will fly off, there is too much hair, it looks nothing like me."
I went to work. First, I cut it. I took out hair, pleated the scull cap and took out all the little metal wires that held it together. By the time it was back on her had - totally customized for her, she was feeling more secure -- just in time for the party -- and looking more like herself.
Following the party she came to me and said, "Merria you have a gift. Thanks to you, I had one of the best nights I have had in so very long. For a while I actually forgot I was sick. I danced with my husband, had a drink, and talked with people I had not seen in ages about something other than my illness. You have to pursue this."
I can't describe how that felt. It was incredible to know that I could give her that respite and, honestly, that it came so easy to me. I returned to school quite obsessed with wigs. My instructors were more than encouraging.
Four months later and after my graduation, my aunt passed away. Fortunately, I was able to see her once more in the hospital and she reminded me how she felt that day. At her celebration of life I spoke of the impact she had made on me and my plans to find a better solution for women suffering from cancer. Little did I know at that time that it would lead me to a host of other hair loss issues facing women.
For the next several years I designed for theater while still working in a salon. I was newly hired at Di Pietro Todd Salon and one of the partners was going through chemotherapy. After making her a wig, she constantly encouraged me to pursue my path of wig making, up until she passed away. I made wigs and did hairstyling for ACT, Berkeley Rep and California Shakespeare Theater. All the while, I ramped up my knowledge base exploring the wig world. Not many wigmakers were interested in sharing information but the few, very few wig makers who would share with me were a great help. Both Jeanna Hurd at ACT and Amanda Miller of SNL and The Met were incredible mentors for me. The salon at the same time encouraged me to provide for the people coming in who were experiencing hair loss.

I saw a real need that the industry was failing to service. Why when you lose your hair do you have to leave your high-end salon? Why were the general sources of wigs so horrible? Why were there not more wigmakers willing to share their secrets? Why didn't insurance cover this!
Why, why, why? It goes on and on.
What I have discovered over time is hair loss affects our physiological as well as psychological state. When you are fighting a disease and you have to get up and go outside and fight discrimination at the same time it can make it almost impossible to face the day. It prevents people from going after the job they want. Hair loss prevents people from asking out a man or woman they are interested in. I have heard horrible stories such as "My now ex-boyfriend told me no one would ever love me because I am bald," to "My husband can't look at me without my hair without crying." The stories are plentiful and all unnecessarily sad.
There is a solution. My mission is to provide a service that alleviates just one, but one important side effect of the diseases that cause hair loss. My mission is to not only educate my client, but empower them too. I want to teach them about wigs and design hair pieces that will work for them and their unique lifestyle. I want to give them options and most importantly, follow through. The relationship I build with my clients is key. I actually care and am always trying to make a better wig or a better way to fight this issue. When a wig is made right we can accept Scarlet as a red-head or Halle with white hair, or give someone long hair for the first time. When a wig is made well we don't see it. That is what I offer my clients. Their identity is not their disease.
Every time I can give someone their confidence back is like winning a battle. I am fueled to move forward to change the industry, to draw attention and to find a solution. When a wig works for someone its contribution to their well-being is undeniable. There is nothing better than hearing from someone whose confidence is restored. I don't want anyone to have to stop "living" because it's too difficult to look in the mirror or because they don't want to deal with public discrimination. No one should have to if there is a solution.
Merria has recently opened up her own salon in New York City where she consults daily with new and existing clients. It is located at 243 East 78th St, Ground Floor New York, NY. Phone: 646-596-9611. Find out more at www.merriadearman.com