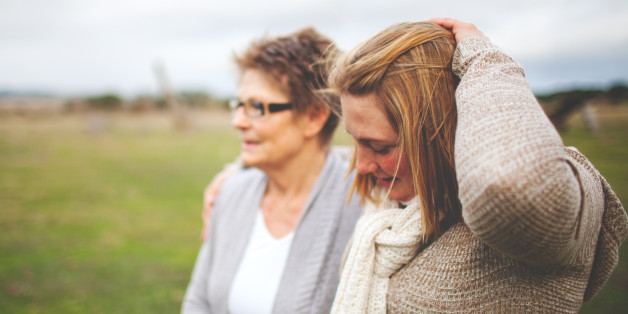 Today I went shopping for a new handbag; I hadn't thought that it was just days before Mother's Day and that the people I encountered would be buying presents for their mothers. But I noticed it right away -- daughters and sons looking for just the right Mother's Day gift. And that made me feel wistful.
Wasn't it just a few years ago that I engaged in this activity for my own mother? How many years in a row did my mother give me a pocketbook for Mother's Day? And what about all of the years when I was growing up that I would walk to the local department store with my painstakingly saved allowance? I would carefully consider the options within my budget and then walk home with lovingly chosen gifts for my mom and grandmothers.
I remember the first Mother's Day after my mother died following a brief illness. Although it was a combined birthday/Mother's Day celebration for me -- with my whole family in attendance to honor me -- a huge cloud of grief engulfed me. When I look back, I recall a beautiful family, a lovely brunch, a delicious cake... and my ongoing, pervasive sorrow.
I hope that all those who have their mothers will understand how fortunate they are and will show their moms how much they appreciate them. I know that I was blessed to have my mother for as long as I did. Now that I understand that my mother's memory, values and wisdom will always be with me -- even though she is not physically here -- I am looking forward to a happy day with my family.
On Mother's Day, I will remember my mom by recalling her wisdom, her kindness, her warmth, her selflessness and her gigantic smile. I will remember how she got on the floor and played with my children, even after two hip replacements. And how she never walked into my house without bringing a meal. Every time I eat a piece of chocolate, I think of how she passed along those taste buds to me. Most of all, I remember that she told me, "Your family is with you forever; be kind, understanding, and forgiving."
If you are a motherless daughter or son this year, here are 10 ways to keep your mother's memory alive this Mother's Day:
1. Share stories and anecdotes about your mother.
2. Make a memory book of happy times with your mom, and talk about the photographs, e.g. where you were, who was there, what that time meant to you, etc.
3. Wear your mother's favorite color -- piece of clothing, nail polish, etc.
4. Remember your mother's best advice and wisest sayings, follow and share.
5. Prepare your mother's favorite recipes, and keep her in your head and your heart as you are making the dishes and serving them.
6. Write something -- a poem, a song, a recollection -- about your mother.
7. Make a memory quilt out of your mother's scarves or other clothing.
8. Listen to your mother's favorite music.
9. Perform an act of kindness to honor your mother.
10. Give to a charity in memory of your mother.
After Meryl Ain lost both her father and mother within a year-and-a-half, she decided to research how others keep alive the memories of their loved ones. The Living Memories Project: Legacies That Last, by Meryl Ain, Arthur M. Fischman and Stewart Ain, was recently published by Little Miami Publishing Company. Through the stories of 32 people, it shows how grief can be transformed into meaningful action and living legacies.
The Living Memories Project Website: http://thelivingmemoriesproject.com
Facebook: https://www.facebook.com/LivingMemoriesProject
Twitter: @LivMemoriesProj