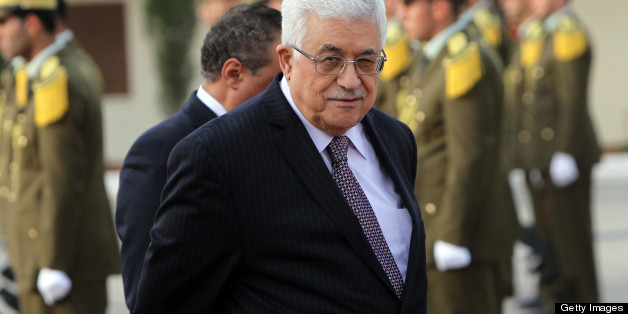 As threats of a third intifada loom large, right-leaning Zionists question Palestinian President Mahmoud Abbas' viability in the peace process.
Despite legitimate skepticism, the Palestinian Authority remains the only considerable option at the negotiating table.
Some on the right will insist that Abbas' track record is self-defeating -- and it is. They'll cite him condemning Zionism as he refuses to recognize Israel as a Jewish state and he defames Zionists for collaborating with the Nazis. They'll report him accusing Israel of "ethnic cleansing," and "the plague of racism," as well as being "an apartheid system of colonial occupation." And then they'll link his democratic deficit to the peace process, arguing persuasively that nations that neglect the freedoms of their own people are unlikely to care much about maintaining peace with their historic enemies. They may even drag in others from Abbas' party like Nabil Shaath -- as they should -- to prove Fatah is unwilling to recognize two states for two peoples. And of course, they'll reveal the multiple times Abbas has snubbed opportunities to negotiate since starting his tenure in 2005 and clinging to an office whose term expired four years ago.
Let's look back. In 2005, when Israeli Prime Minister Ariel Sharon disengaged from the Gaza Strip, Sharon offered Abbas the opportunity to announce the "end of occupation" and the beginning of building state infrastructure. In return, Abbas opposed the withdrawal and maintained the language of "occupation," starving Palestinians of possible peace benefits. In 2008, when Israeli Prime Minister Ehud Olmert offered to withdraw from over 94 percent of the West Bank, build a passage between the West Bank and Gaza, and exchange equitable land swaps so that Israel could annex its major settlement blocs, Abbas declined. The then-U.S. Secretary of State Condoleezza Rice said in response to Abbas' intransigence that "Yitzhak Rabin had been killed for offering far less." Then in 2010, when Prime Minister Benjamin Netanyahu agreed to a settlement moratorium, Abbas refused to sit down at the negotiating table. And more recently, Abbas took the unilateral step of applying for statehood at the United Nations in September of 2011, and again for an upgraded status in November of 2012. Abbas' one-sided action undermined the peace process, as Hillary Clinton emphasized, "the path to a two-state solution that fulfills the aspirations of the Palestinian people is through Jerusalem and Ramallah, and not New York."
Some may argue that Abbas is not a real partner for peace because he is unwilling to recognize Israel as a Jewish state, allow Israeli troops to patrol the Jordan Valley, negotiate without a settlement halt, renounce refugee return, or embrace bilateral action. I accept this reasoning as valid, but not immune to criticism. For one, such evidence is historically inconsistent; and two, this policy does not adequately recognize the threat of Hamas.
When Egypt and Jordan made peace with Israel in 1979 and 1994 respectively, neither country recognized Israel as a Jewish state. Former Prime Minister Ehud Olmert proposed allowing the return of some Palestinian refugees, compromised that the Jordan Valley would be patrolled by international troops, and negotiated with Abbas without a settlement freeze. Yes, we should be wary of Olmert's policies -- and his personal corrupt behaviors -- but we should also allow them to demonstrate how Israel supporters move the goal posts when questioning Abbas.
Although President Abbas has expressed hostility towards Israel, perhaps we should reconsider interpreting his politicking as policy. Rather, we should recognize his internal political constraints vis-à-vis Hamas.
If Abbas and his party do not govern the West Bank, Hamas will fill the power vacuum. This should sound familiar, and no less haunting.
When the Palestinian Legislative Council contested elections in Gaza in 2006, Hamas garnered a majority government over Fatah, leading to a series of violent clashes. Violence also dictates Hamas' relationship to Israel as it traffics in vicious anti-Semitism and rejects Israel's right to exist.
Abbas is 78 years old and it is unclear how much longer he will be fit for office. When he falls, according to Palestinian Basic Law Article 37, which stipulates Abbas' succession process, the speaker of the Palestinian Legislative Council, Aziz Duwaik, will come to power until elections are held.
But let's review Duwaik's track record: He ran on the Hamas-affiliated Change and Reform ticket; in 1992, he was banned from Israel because of his involvement with Hamas; and he was arrested in 2006 after Gilad Shalit was captured, and again in 2012 for reported involvement in terrorist activities.
So, if Abbas is not in control, Duwaik will take over, putting the West Bank in danger of facing a government with ties to Hamas.
This transition in power begs us to reconsider the criticism we ascribe to Abbas. Instead, we should focus our attention on how Abbas should be urged to alter his succession laws to exclude extremist organizations, identify an heir committed to reform like former Palestinian Authority Prime Minister Salam Fayyad, and expand the West Bank's political climate.
The instinct to mire us in the past and dwell on Abbas' track record is understandable. But the consequences will be grave.