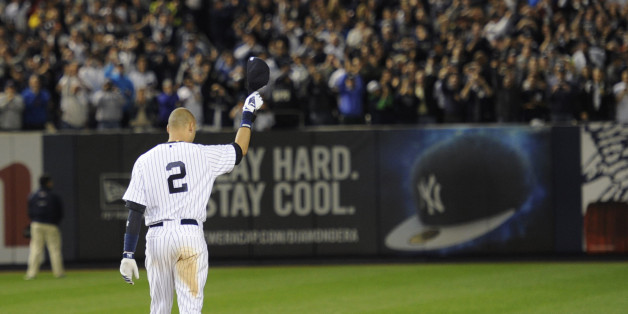 As the credits continue to roll and Derek Jeter tipped his cap for the final time at Yankee stadium, I would only hope educators and parents learn some lessons from this baseball hero.

Whether you love or hate Derek Jeter, there is no denying that he has taught children and adults nationwide a great deal about doing the right thing -- even when no one is watching. As a former teacher and education reporter, I hope parents and teachers will take the time to reflect on the positive messages that "The Captain" brought to the game every time he stepped into the batter's box. As we all know, when it comes to pro-athletes and celebrities, they don't always realize how their actions can influence or inspire others. But Jeter took his job seriously -- both on and off the field. His statistics speak for themselves: He won Rookie of the Year, played in 11 All-Star games, and won five World Series rings. And let's not forget his final at bat at Yankee Stadium - a smoking single to right field with a perfect storybook ending to give the New York Yankees a 6-5 victory over the Baltimore Orioles. What makes Jeter so great is he wanted that hit for the fans -- more than for himself. There was never any ego.
But - there's much more. Here are some of the lessons that Derek Jeter and his parents can teach those working in the education system.
A is for "action"
Derek Jeter didn't talk about what he did. His actions spoke for themselves. He works his butt off and never shows up his opponents. He's been quoted a lot over the last two decades but perhaps his most famous quote is the one that can speak volumes to students.
"There may be people who have more talent than you, but there's no excuse for anyone to work harder than you do." -Derek Jeter
B is for "bullies"
We hear a lot about anti-bullying campaigns in schools these days. But the truth is, all of us were bullied at some time and have probably encountered a bully in the workplace as adults. They are nothing new. But instead of coddling children, why don't we teach students about how "Jete" handled the bullies. Derek Jeter was a teenager when he first came to New York. Five teams passed on Jeter in the 1992 MLB Draft. The media wrote that he lacked power, was too tall to play the infield and was too skinny. Instead of fighting back, he proved them all wrong without ever saying an unkind word. For baseball fans who know the game, Jeter batted .314 in his rookie year, with 10 homeruns, 104 runs scored, and 78 RBIs. He was awarded Rookie of the Year yet never flaunted his win in his critic's faces.
C is for character
This week I saw a NYC newspaper that had Kris and Bruce Jenner sharing their news about a divorce and another article with Derek Jeter winding down his career. Can someone please educate me as to why anyone cares about the Kardashians? We also know daughter Kim Kardashian has been an unwed mother, spent tens of millions of dollars on wedding after wedding and somehow has become a role model for young girls. Do the Kardashians know their lifestyle is one of the reasons people in other countries don't like us? I don't mind that we all have our "escapes" but young girls have read and listened to Kim's bed hopping for years. I don't care what you do "off the field" but it is certainly hard for educators to compete against this cheap clan? I shouldn't even mention them in the same sentence as Derek Jeter but the newspaper made me think about it. It was so refreshing because we rarely heard about Derek Jeter's personal life. We saw a few girlfriends but his business was his own. As Sinatra crooned in the classy Gatorade ad, "He did it his way." And he did it with class and character. In a time where educators are scrambling to teach Character Education and Citizenship, they are continually ambushed with the likes of Justin Bieber, Lindsey Lohan and the Kardashian crew. But Derek Jeter proves that "good" really does sell. Derek Jeter is the man you hope your son will become and should be the role model all children aspire to be. That may be a lot to ask of Mr. November but he has proven that he will come through in the clutch.
D is for diversity
Derek Jeter was born to an African American dad and a Caucasian mom. He gave everyone a chance which is something all children can learn from. On a hot summer day many, many years ago after batting practice, I asked him for a quick question. He graciously said, "Thank you and good luck" after talking to me. I am lucky to say that Derek Jeter made me feel special. I have interviewed many of the younger players who confirm this sentiment and say he truly was a "Captain."
E is for empowering survivors
As a reporter in the NYC area during the 911 attacks, there wasn't much to cheer about. The volunteers who came on "9/12" brought us hope and so did Derek Jeter. Even though the Yankees would lose the World Series in 2001, Game 4 gave all New Yorkers -- even the ones in Queens -- something to cheer about. I remember the game well. It was the 10th inning and the score was 3-3. It was almost midnight and I had been working every day and had a 4am wakeup. But -- I was glued to that television set. Jeter drove the ball over the fence. For the next few hours, New Yorkers had their hearts mended.
F is for family
We watched Derek Jeter's family at nearly every game. They never wanted the spotlight. But they were always there. How wonderful if there were more family involvement in our schools. So many educators have to work without the support of a student's mother or father. Parents: Learn from the parents of Derek Jeter and give your child the support they need. Our children and our schools need to thrive in this global world. There's too many statistics to prove that children who have more supportive parents are better students and better citizens.
And so -- it is with sadness and gratitude that we say "goodbye" to Derek Jeter. He gave us hope through terror attacks, two wars, school shootings and our own personal struggles. I can only implore all educators and parents -- even the Red Sox fans -- to learn more from this very talented family.