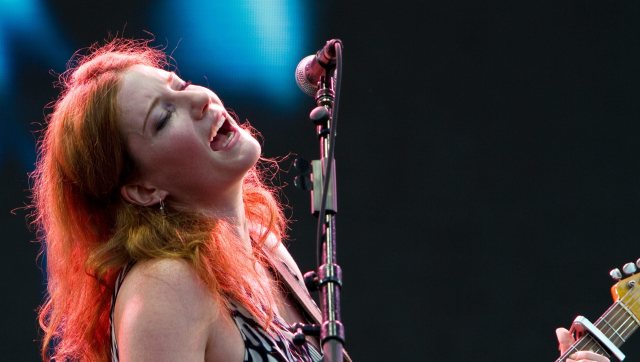 Kathleen Edwards is coming to America. For real.
Not permanently, mind you. The cool Canadian also called Kitty, who teased us on the opening song of her fourth and most recent album Voyageur, is too pragmatic to leave the romantically hopeful "I'm moving to America" notion without an acerbic tagline:
"It's an empty threat."
So the girl who was born and raised to be an Ottawa Senators hockey fan grew up to make a living in a city "whose team I hate" -- Toronto. And that's where she'll stay, for now anyway.
Edwards is headed back to the States, though, beginning August 16 in Salt Lake City with Iron & Wine, the act she precedes August 17 in an opening night slot at the three-day Rocky Mountain Folks Festival in Lyons, Colorado.
In a recent phone interview, Edwards was witty, unfiltered and brutally honest while discussing the men in her life (from John Doe to Marty McSorley to Voyageur co-producer Justin Vernon), her desire not to be Beach House or the next Lucinda Williams, and the ups and downs she has experienced since the January release of the critically acclaimed record that is one of 10 Canadian albums nominated for a prestigious Polaris Music Prize.
Calling her predicament a perfect storm involving physical and mental fatigue, Edwards canceled a few tour dates in April after losing her voice, then, for various other reasons, contemplated "just maybe not playing music anymore."
"Sometimes stuff creeps up on you and you don't even know why," she said early on during an almost hourlong interview, adding that she now feels "a thousand times" better.
"You know I wrote a really heavy record, for me. It was like, the record was about trying to figure out who I am or trying to figure out what I'm bad at or where I want to go or how I can be a better person and looking at my faults pretty .... picking a pretty good dissection of my brain and trying to figure out ... what the fuck, you know, how is this shit all supposed to work? (laughs) Maybe I bit off more than I could chew in trying to figure that out. And it kind of got overwhelming. There aren't always answers for the questions you're looking for, so I have to make peace with that sometimes."
Visits with her doctor and a vocal coach, and getting some tender loving care while spending time with her parents, friends and bandmates in celebration of her 34th birthday in July, helped rescue her.
"It was really weird," she said. "I'm pretty sure I had just survived a depression. And so the week of my birthday was the week that I just woke up feeling fucking great. And it was the first time (in months) I actually wanted to go out for dinner and the first time I actually wanted to go meet my friends for drinks and I had a really amazing time. There's nothing more confirming in your life than looking in front of you and seeing some really amazing people who you care a lot about who care a lot about you. Man, that's a good birthday present. (laughs) And some cupcakes."
The making of Voyageur (Rounder Records) was both productive and painful on a professional and personal level as she happily explored new ground, went through a divorce and took her creative partnership with Vernon in a more intimate direction.
While she and the man who essentially is Bon Iver actually hit it off via a series of emails, Edwards delivered a punch line quicker than a Muhammad Ali jab when asked how they first met in the summer of 2010:
"Match.com."
Seriously, though, she began making Voyageur in the fall of that year, then Vernon soon came aboard.
"As time went on, it was like his ideas and us spending more time together became like really fucking awesome," Edwards said of Vernon, who already knew most of Edwards' material and covered "Mercury" off her first record, Failer. "And so we started working on the project. ...
"We were kinda sweet on each other pretty much right out of the gate. And working together was sort of ... it all sort of just happened at the same time. When I met Justin, I didn't really know Bon Iver, to be honest with you, very well."
A few years ago, someone burned her a version of 2008's For Emma, Forever Ago, and the musical nerd -- who always enjoyed checking out album covers and liner notes at record stores and said she never has illegally downloaded anything -- liked it so much that she went out and bought another copy.
"I knew his record, but ... I didn't even know what he looked like," she added. "So when we started hanging out, it felt like I had made a really great friend."
While the friendship remains intact, Edwards laughed when asked about their status.
"Wellll, yeah, not really going on," she admitted. "But, you know ... I don't really know what to say about it. I'm not really gonna say anything about it right now."
She did go on to add, "I don't really think anyone knows (about their current status), to be honest. ... I talked about our relationship in promoting this record or doing press and stuff. It's awkward. 'Cause we obviously have a really great professional relationship. And obviously I know we love and care about each other. But it's hard to be touring musicians spending months and months and months and months apart. And I'm looking forward to seeing him again, whenever that is."
Their working relationship proved to be an invaluable time together as Edwards tried to distance herself from a brand -- sorry Americana fans -- she doesn't find to be that inspiring.
"I had some very calculating and intentional ideas about not wanting to be the kind of Americana recording artist who just puts out the same type of material every record," she said, crediting her start "that was really strongly rooted in this Americana/alt-country/roots-rock songs with a bit of country twang" for developing her fan base.
"As much as I initially really felt like that was me, I mean people change, right? ... I felt really sort of pigeonholed by my own work a little bit and wanted to spread my wings a bit and work on being a ... You know, I would listen to a Joni Mitchell song from all different parts of her career and I'd be like, 'How the fuck does somebody even write this song? The song is all over the map in arrangement. There's no time signatures and key signatures.' I want to challenge myself and sort of live outside of this verse/chorus, verse/chorus, bridge/chorus bullshit. And it's boring. You know, everyone's doing it."
So feeling more in tune with groups like My Morning Jacket and the National convinced the musician who studied classical violin as a teenager to "do something that's a lot meatier."
Pointing out "Chameleon/Comedian" and "Going to Hell" as examples of songs she "went to war with," Voyageur's other co-producer went through various versions and arrangements. And with Vernon also playing guitars and other instruments while providing backing vocals on a record of 10 songs all written by Edwards, "Everything he came up with was cool," she said. "And I was really open to whatever he wanted to try. ... We sort of just threw a ton of shit up on the wall and there it was. And he was great at carving stuff in and out once it was there."
Edwards previously got a career boost from collaborations with X frontman John Doe (check out her video for "Back to Me" and their vocals on his "The Golden State") and her immortalization of hockey player Marty McSorley on the wondrous "I Make the Dough, You Get the Glory" off Asking for Flowers.
Looking back on those experiences, Edwards still marvels about Doe and envies the career he has had. "Because here's a guy who is just endeared," she said. "And his thing is about just enjoying the ride and trying to do good work. And he doesn't take himself that seriously. And that is really important when you're talking about the ego of the entertainment business. ... I'm sure he's like figured out how to keep that all in check."
Still a hockey fan, she prefers classy guys like Hall of Famer Paul Coffey and graceful but unappreciated skaters over "the fucking beefcake pounder dudes that get press." Yet watching the game in 2000 in which Marty McSorley struck Donald Brashear in the head with his stick (leading to an assault conviction and league suspension) motivated the self-effacing Edwards to identify more in song with the former NHL journeyman/grinder (who appeared in her subsequent video) than a superstar like the legendary Wayne Gretzky.
"Something just kind of came over me ... I had this thing going and it just kind of fell out of my mouth," she said of the line "You're the Great One, I'm Marty McSorley." Of course, the clincher was it rhymed with "glory."
Edwards wouldn't dare compare her line of work to hockey, but believes she and fellow artists are getting body-checked into the boards.
Stating "the business of music is a real fucking bitch right now" where "telecommunication companies have fucking free reign over all of our shit," Edwards still hopes she can remain a songwriter for at least another 10 years. Admiring artists who can "bob and weave with the changing times musically," she cited Tom Petty and the Heartbreakers as an example of perseverance.
"And hopefully my work is good work and that will sustain me," Edwards said. "That's all I really want to do is do good work. ... I know I'm not the 'Indie It Girl' and I'll never have a big breakout, big runaway success. And that's OK. I feel actually really better about that. I don't want to be Beach House."
That practical realization likely will keep taking her places, with or without Vernon. She appreciates what their connection has done, saying, "Bon Iver is such a huge musical entity right now in popular music, that it really did give me the opportunity to be heard by a lot of new people. I have all these new fans, and it's awesome."
Edwards, who reasoned that "too many cat photos" (check out @kittythefool) kept her off the list of Billboard"s Twitter 140 of top music industry characters, is just as irreverent as she is insightful. So don't expect her to stand still and end the thought about demographic gains on such a sentimental note.
"Weird dudes in flannel and then girls in like American Apparel short shorts," Edwards said, the very idea inconceivable even to her. "Like, 'Whoa, nice meetin' both of you.' OK."

Publicity photo by Todd V. Wolfson.
Next in the series: Folking around onstage with Kathleen Edwards.