Does doing something two years in a row qualify as a "family tradition"? If so, this is shaping up to be a great one. Once again, my wife Mary and I have packed the tent, the camping gear, the bug spray, and, oh yeah, our ever-intrepid kids into the minivan for a two-week road trip to explore some of the wild and beautiful places that the Sierra Club is working to protect. Last year, we visited the Southwest, so this time around we're taking a northern route through Oregon, Washington, and Idaho.
In Oregon, our first big stop was at a place that I'm happy to say has already been protected for more than a century: Crater Lake National Park. The blue water looked as amazing as when gold prospectors stumbled upon it in 1853. It's the deepest lake in the U.S., with incredibly clear water.
But our first major destination for this part of our trip was actually a little further north in the Cascades, where there's a cluster of lakes that includes the Oregon's second-largest and second-deepest natural lake. Waldo Lake isn't as famous as its bigger cousin. In fact, until 1969, the only way to reach it was on foot or horseback. That's part of what makes it special, though. Apart from three Forest Service campgrounds, it's completely undeveloped, and its water is incredibly clean -- among the purest lake water in the world.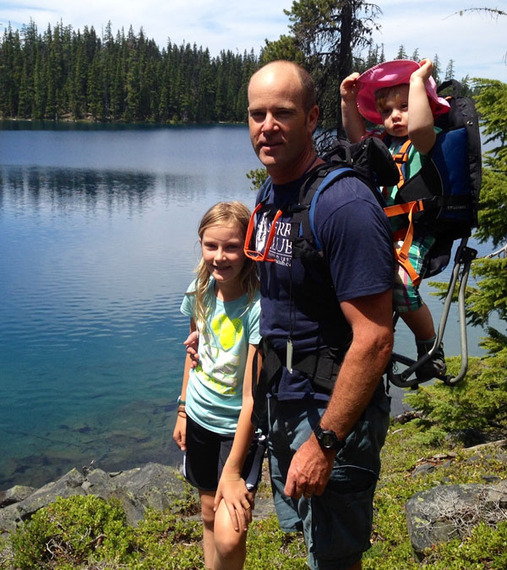 At Waldo Lake with Olivia and Genevieve. See more pics and updates from our trip here.
Waldo Lake and much of the surrounding area are managed as roadless wilderness by the U.S. Forest Service. To ensure that this part of the Cascades remains wild and beautiful, though, permanent protection is needed. When we arrived at Waldo Lake, we got to meet a few of the people who are working together to make that happen.
The Oregon Chapter's Juniper Group, which encompasses most of central and eastern Oregon, is running a first-class "Keep Waldo Wild" campaign. It's been led since 2010 by David Stowe, who has written a beautiful account of what inspired him to start the campaign. David, as well as Juniper Group chair Gretchen Valido and Oregon Chapter chair Larry Pennington, were among the local folks who came out to show us "their" lake.
My favorite thing about this campaign is how the local Sierra Club has reached out to other wilderness users. The unspoiled, old-growth forests around Waldo Lake are also popular with mountain bikers and trail runners, who don't want to see it logged or overrun by motor vehicles any more than we do. So the Keep Waldo Wild campaign is based on an innovative National Conservation Area model that's previously been used on BLM lands. It will establish new wilderness as well as multiuser conservation areas that still provide strong environmental protections.
That's how we were also able to meet Woody Starr, the chair of the Central Oregon Trail Alliance (COTA), which is one of the mountain biking organizations that have endorsed the Club's plan for protecting Waldo Lake. Life isn't always fair, however. Although five-year-old Sebastian showed off his newly acquired bike skills on a forest trail, I'm the one who scored the cool COTA bike jersey.
From Waldo Lake it was on to the Eugene area, where we hiked Mt. June with inspiring Sierra Club volunteers Cathy Corlett, Gordon Levitt, Bill Sullivan and Mike Brinkley. They were showing us the Hardesty Wildlands, which the Oregon Chapter's Many Rivers Group is working to protect. Like the area around Lake Waldo, these are Forest Service-managed lands, which means that more than 6,000 wilderness-quality acres are still at risk of being logged.
When we reached the summit of Mt. June and looked across the forested ridge to Mt. Hardesty, I gave silent thanks for the volunteers who work nights and weekends, for months and years at a time, to secure permanent protection for places like this. Oregonians, and all of us, are fortunate to have these beautiful wild places to visit and enjoy. May we never forget that keeping them safe doesn't happen by accident.
Our next stop: the Evergreen State and the Wild Sky Wilderness!