There's a new campaign on the horizon in the Lone Star State, that promises protection from discrimination for LGBT Texans. The 'Texas Wins' campaign is a collaborative effort of numerous equality groups across the state, such as Equality Texas, the ACLU of Texas, Faith in Public Life, Athlete Ally, the Texas Freedom Network, the Texas Research Institute, and the Resource Center of Dallas.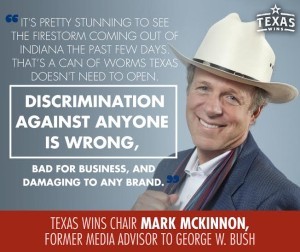 This campaign was launched to counter the numerous efforts by politicians to legislate LGBT discrimination across the state. There are over 20 bills on the books in Texas that would promote and legalize discriminatory action against LGBT citizens, five of which would obliterate existing nondiscrimination protections that have been passed by municipal and other local governments.
Three of the proposed bills would criminalize transgender people for using a public restroom that does not align with the gender they were assigned at birth. These "bathroom bills" also criminalize employers and building managers who "knowingly" allow transgender individuals to use the "wrong" bathroom.
Like the RFRA situation in Indiana, these bills in Texas would allow LGBT people to be discriminated against by anyone claiming a religious objection. And let's face it, this has little to do with religion. Many religious leaders across the nation have voiced their objection to these types of laws, citing a stark contrast to the most basic of their beliefs -- that we should not judge others, and that all people should be treated with dignity and respect.
These dangerous, divisive laws do nothing to protect religious freedoms. Those protections are already provided for under the Constitution, and the idea that anti LGBT legislation in any way protects religious freedoms, is a smoke screen for intolerance at best. The current religious protections ensure that people can openly and freely practice their faith of choice, without the need to sacrifice other laws meant for the common good, such as civil rights protections.
Texas Wins is working hard to counter these anti-equality movements, and has the support of some major Texas employers and business leaders across the state, including former George W. Bush media advisor, Mark McKinnon, who will serve as chair. AT&T, Texas Instruments, American Airlines, Dell, BP, and Chevron are all on record for supporting workplace equality. In addition, polling continues to show that strong majorities of Texans believe that LGBT individuals experience discrimination, and agree that protections should be in place.
Texas is a state that has always prided itself in it's protection of individual liberties, and it's disdain for big government. The majority of Texans still hold firm to those beliefs and realize that for any of it's citizens to have the freedom to pursue their individual liberties -- all must.
I encourage you to visit Texas Wins to voice your support by signing the pledge to keep discrimination out of Texas. Because "with opportunity for all, Texas wins."