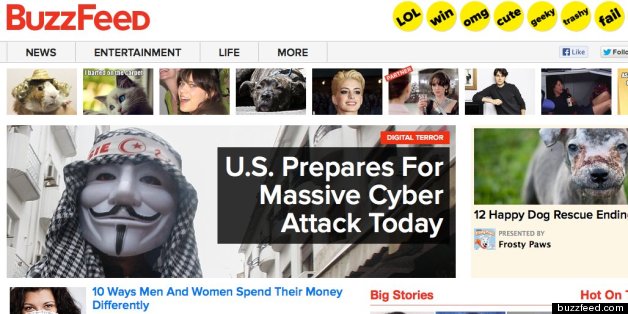 BuzzFeed hired Reuters' Peter Lauria in March to launch a new business section and added Bloomberg's Sapna Maheshwari a few weeks later.
Now the site is continuing to expand and has added reporters Matthew Lynley, of the Wall Street Journal, and Mariah Summers, of the Financial Times Groups' FundFire, according to a memo provided to The Huffington Post.
In the memo, Lauria said that the "business team "still has one more slot to fill and I've met with some very strong candidates over the last few weeks, so I'm hopeful that I'll be sending around another one of these emails announcing the final hire shortly." (BuzzFeed is also on the hunt for a foreign affairs editor, too.)
"The initial reaction to our first few posts, particularly the ones around Apple, Urban Outfitters, and Warren Buffett, has been extremely positive, and it makes me anxious to get the team together and the vertical up and running," Lauria wrote. "People keep saying they can't to see what Buzzfeed is going to do with business coverage. We can't wait to show them."
Read Lauria's full memo below:
Hi All, and just a quick note to inform everyone of two new hires for the business team: Matthew Lynley and Mariah Summers.

Matthew is joining us from The Wall Street Journal, where he ran the paper's "Digits" technology blog and directed live coverage of tech events and earnings calls. He will cover technology business, focusing on the sector mainly from a corporate perspective, for us. Matt can speak the language of both executives and developers, is well sourced in the industry, has deep institutional knowledge, and a tireless work ethic. Prior to the WSJ, Matt worked at Silicon Alley Insider and VentureBeat. Like his business team colleague Sapna, Matt is a UNC graduate (no more Tar Heels hires, I promise!). Some of his most recognized stories include a major profile of Digg founder Kevin Rose; how the videogame 'Minecraft' became a huge hit for the small Swedish company behind it; cloud storage provider Box turning down a more than $500 million buyout offer from Citrix; and what smartphones and tablets mean for the future of typing and keyboards. He starts on May 20. Matt says, "I'm insanely excited to be joining Buzzfeed and writing for an audience that's completely plugged into the social Web. The talent at Buzzfeed is staggering, and I'm looking forward to exploring what is essentially a brand new territory when it comes to business coverage."

Mariah joins us from The Financial Times Group's FundFire trade publication. She is a quiet killer on the public and private institutional investing beat, if only because her stories are behind a very expensive paywall. But with the sources she has developed over three years on the beat, the approachable way she writes about complex financial investments, and her eagerness to break news, she will be making loud noises on the beat in short order. Mariah holds a master's degree from Columbia University's Graduate School of Journalism and a B.S. from the University of Oregon (she's a native of Portland). In addition to finance coverage, Mariah is a strong general assignment reporter who will also be backing me up on media/entertainment business coverage. Mariah's scoops illustrate her range as a reporter--she's broken stories on layoffs at Pinebridge, the firm spun out of government-rescued AIG; tough hiring policies at the Portland Police Bureau that ultimately led to an officer shortage; and the plight of mothers whose stillborn babies are unknowingly sent to Hart Island in NY. Prior to FundFire, Mariah held internships at the New York Daily News, Portland Tribune, and Dateline NBC. She starts on May 15. Mariah says, "I am thrilled to be joining Buzzfeed's talented team of reporters and editors to help build out its business vertical. Buzzfeed's creative way of delivering news is a model that I've admired for a long time, and I'm excited to take on the challenge of finding ways to report and write business news to bring readers to the site."

Both Matt and Mariah are copied here, so please feel free to touch base and welcome them to Buzzfeed.

The business team still has one more slot to fill and I've met with some very strong candidates over the last few weeks, so I'm hopeful that I'll be sending around another one of these emails announcing the final hire shortly.

The initial reaction to our first few posts, particularly the ones around Apple, Urban Outfitters, and Warren Buffett, has been extremely positive, and it makes me anxious to get the team together and the vertical up and running. People keep saying they can't to see what Buzzfeed is going to do with business coverage. We can't wait to show them.

Best,
Peter Lauria