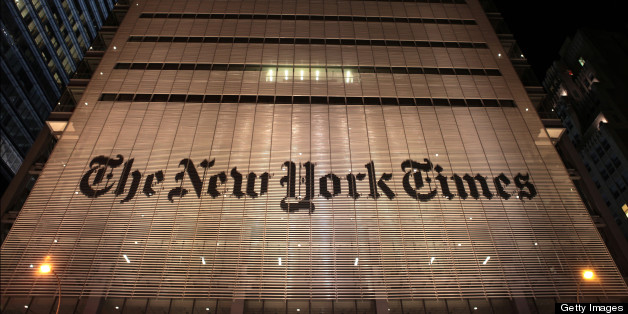 The New York Times beefed up its politics desk Thursday by hiring Politico's Jonathan Martin as national political correspondent, a high-profile position once held by legendary Times scribe R.W. "Johnny" Apple.
Martin's knowledge of political history and ability to shift quickly from the granular nature of local Congressional races to bigger-picture, national political stories suggests he's well-suited for a job that's traditionally included ample time on the road. But Martin, 36, was still a somewhat surprising choice for this storied Times assignment given that he doesn't come from a newspaper background and previously worked at magazines like National Review and National Journal before joining Politico in 2007 and becoming one of its best-known writers.
But Carolyn Ryan, who just became political editor earlier this month, appears willing to think outside-the-box in her new position and also considered The Atlantic's Molly Ball for the job, according to sources.
Ball has newspaper experience, but is best known of late for her political writing on The Atlantic's website and previously at Politico, where she worked until 2011. Ball emerged as one of the standout reporters on the 2012 election and recently won the prestigious Toner Prize. The award is given in honor of the late Robin Toner, a renowned Times reporter who once held the job that Ball was a candidate for.
The Huffington Post has also learned that the Times approached Politico's Maggie Haberman in recent months to gauge her interest about covering politics for the paper. However, Haberman -- who reportedly extended her Politico contract following the 2012 election -- is not leaving the publication.
The Times has been looking to add firepower on the politics desk since Jeff Zeleny headed to ABC News. In addition, the Times announced last week that political reporter Jim Rutenberg, who often co-wrote front-page 2012 stories with Zeleny, is working the Hamptons beat this summer.
Ball declined to comment. Haberman declined to comment and referred this reporter to Politico's PR department. A Politico spokesperson did not immediately respond.
Ryan had no comment on questions about personnel matters.