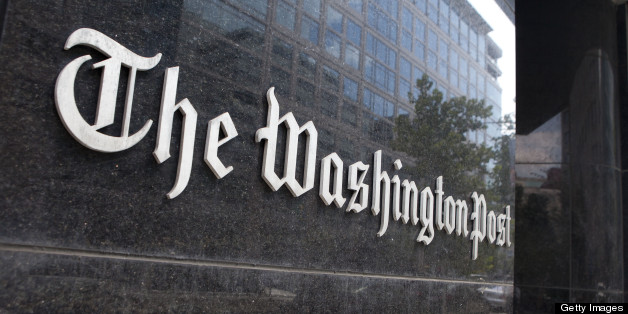 The Washington Post named Steven Ginsberg as the paper's senior politics editor, a position where he'll "offer leadership for all politics coverage, regardless of section or platform."
Ginsberg, who was most recently political editor on the National desk, will also "be central to developing our new politics video channel," according to a memo obtained by The Huffington Post.
With Ginsberg's move, deputy national political editor Terry Samuel "will take on day-to-day management of the National political report," while continuing to oversee Congressional coverage.
The full memo is below:
Today we are pleased to announce the appointment of Steven Ginsberg as senior politics editor of The Washington Post.

In that capacity, Steven will offer leadership for all politics coverage, regardless of section or platform. This will provide for better coordination of a subject that is central to the Post's mission and allow us to think bigger and better about coverage of campaigns and all that transpires between elections.

Steven will continue to set strategic priorities for the politics team on the National staff and will take a hands-on role in editing projects and other ambitious endeavors. He also will be central to developing our new politics video channel, along with Andy Pergam, and guide new digital ventures in the political realm that we will launch soon. At the same time, Steven will take an active role in helping to think through political coverage in departments beyond National, including Local and Style.

To facilitate this move - which in many ways formalizes what Steven has been doing in recent months - deputy National political editor Terry Samuel will take on day-to-day management of the National political report. Terry will also continue to run the Congressional team and become the direct editor of some reporters who had been reporting to Steven.

Deputy National political editor Dan Eggen, who presently runs White House coverage, will also take on responsibility for money and politics, bringing key reporters responsible for that coverage squarely into the political team. This shift will help make possible an expansion of our collective focus on coverage of the federal government, about which we will say more shortly.

Dan and Terry, as well as deputy National political editor Vince Bzdek, will continue to report to Steven, who will remain a member of the National staff and report to Cameron.

In the two years since Steven took the helm of the Post's national political coverage, he has demonstrated a flair for innovation. He revived the Fact Checker upon his return to National in 2011, and followed that with an idea for Truth Teller, a new instant fact-checking application, which is still in development. Alongside David Finkel, he helped conceive and edit Life of a Salesman, Eli Saslow's Pulitzer-finalist narrative about the downsizing of the American dream. He helped launch the politics strike force, one of many changes that has meant a more seamless integration of digital and print coverage. And he did all that while bringing together a wide-reaching staff of political reporters and editors, leading them in one of their most successful campaign seasons in recent memory.

Prior to becoming a political editor in 2007, Steven was a business columnist, a state and local government reporter in Virginia and a transportation beat reporter. He knows virtually every corner of the Post newsroom, having started as a nightside copy aide in 1994. He is a graduate of the University of Virginia. He lives in the District with his wife, Amy Joyce, an assignment editor for the Weekend section, and their two sons, Sam and Jonah.

The changes are effective immediately. Please join us in welcoming Steven to this new role.

Marty Kevin Cameron Anne