Having looked through the Clock to the Bridge beyond, one might wonder about other clock windows.
In my view, every clock is a window through which we observe time subdivided into its simplest, most rational components -- seconds, minutes and hours. More complex time-pieces measure larger increments -- days, weeks, months, years, even phases of the Moon.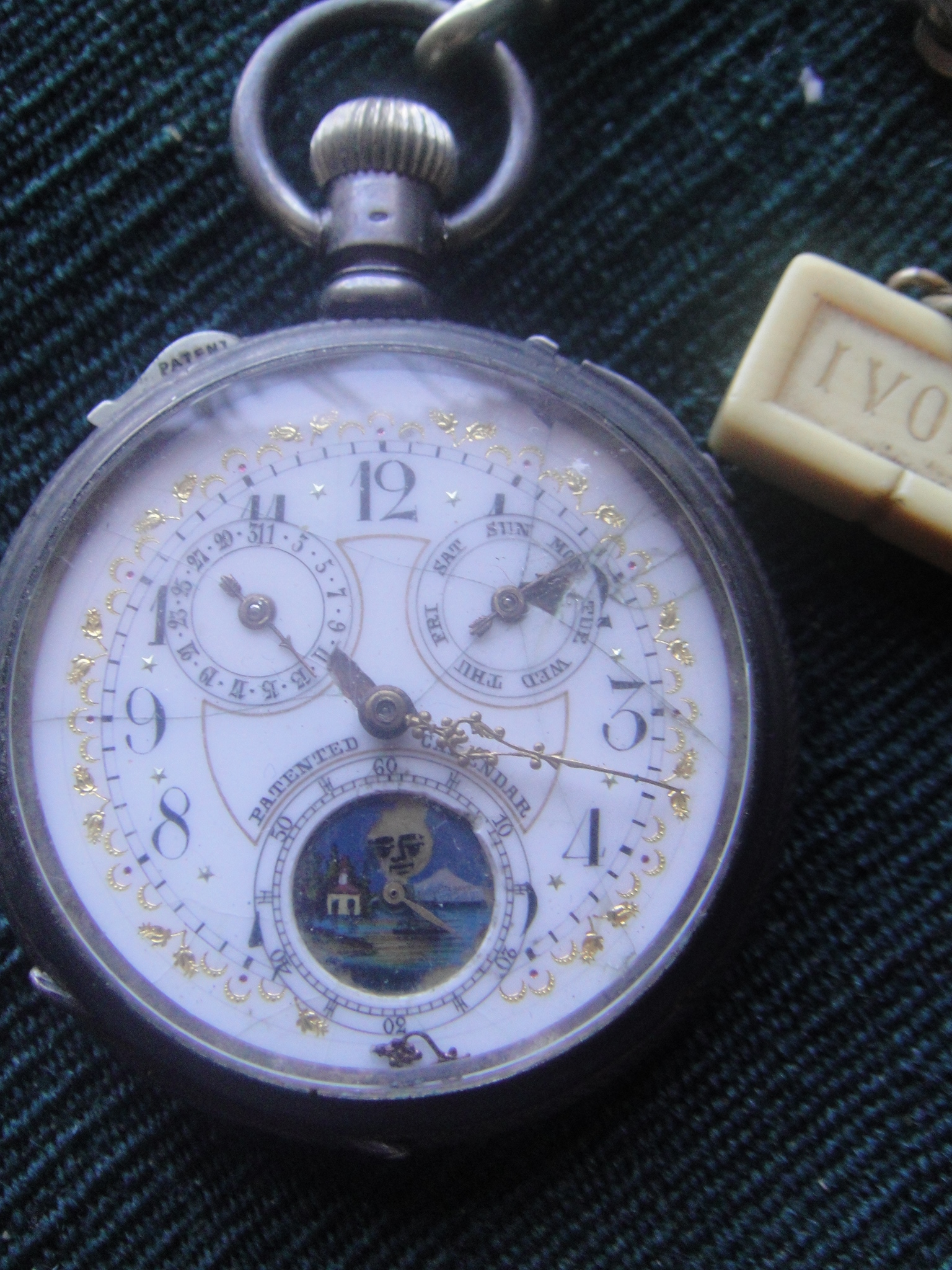 Moonphase pocket watch, collection of Michael Davis. Photo by Michael Davis
It is this that interests me most in that it connects our daily routine to a cosmic rock orbiting the Earth some quarter of a million miles remote; and, in so doing, acknowledges its intimate effect upon our lives.
This, to me, is a far more fascinating manifestation of time and, in a curious way, a more fitting model for how, quite literally, time is design.
In the case of the Clock, as in my approach to all my projects, the passage of time is ever-present.
It begins with the building itself, the Brooklyn Eagle Storage Warehouse, built in 1892 to cater to the late 19th century real estate boom then ongoing in Brooklyn Heights. Designed by prominent Brooklyn architect, Frank Freeman, the building appears to have been inspired by the medieval Palazzo Vecchio in Florence. The massive arched entry, however, seems inspired more by the work of H.H. Richardson, the scale and massing of whose architecture was in turn based on Romanesque Cathedrals. So, we have a late-Victorian building, inspired by a late-medieval/early Renaissance building, reflecting early-medieval architecture, based upon the buildings of the Roman Empire, in turn inspired by classical Greece.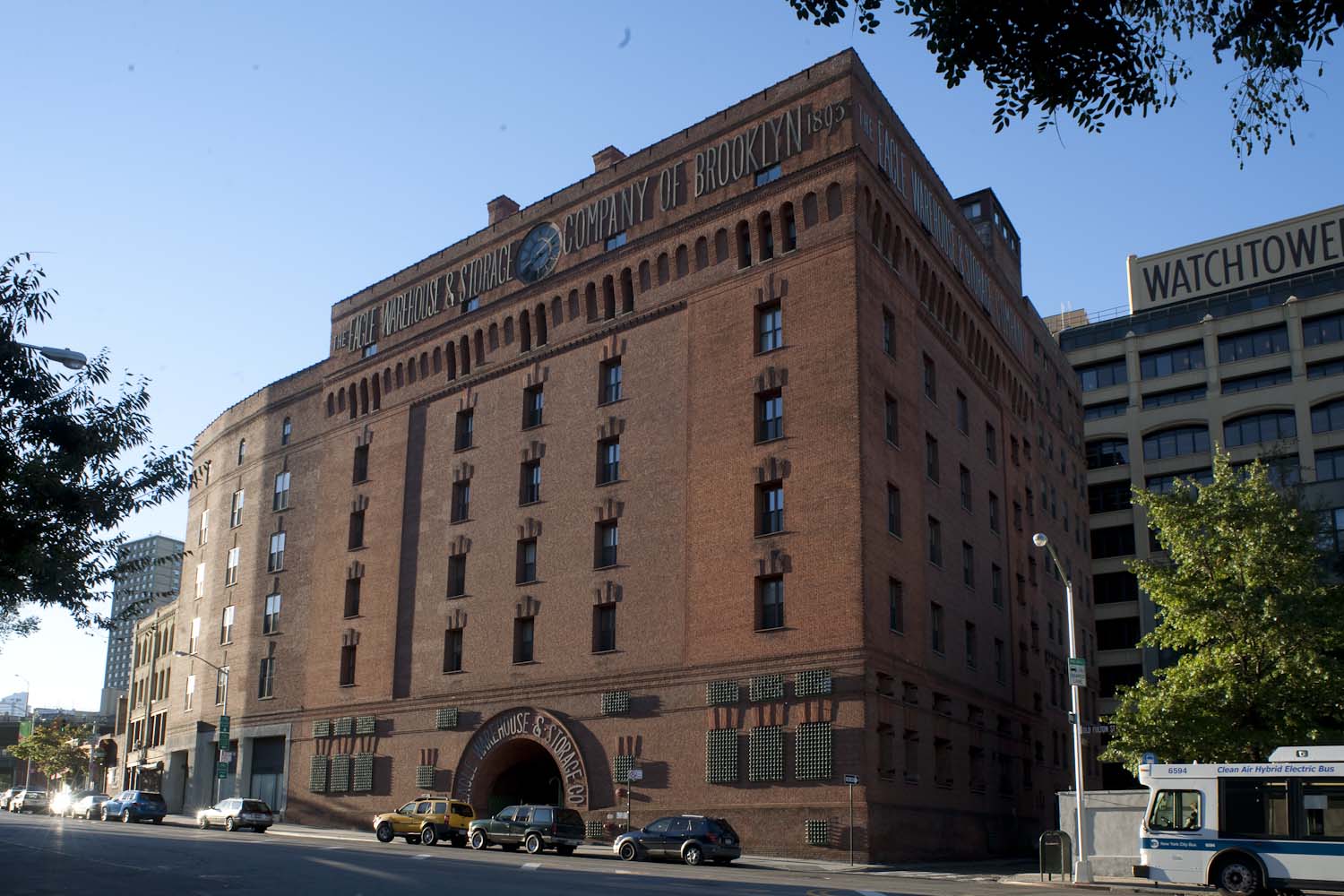 Eagle Warehouse by Nick Wood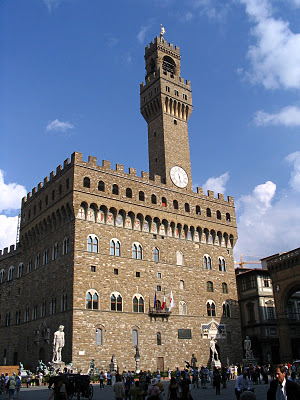 Palazzo Vecchio, Florence. Photo by Michael Davis
Talk about a clock.
Of course, by the mid-1970s, when the then-abandoned Eagle Warehouse was purchased and converted to residential use, this long trajectory of architectural history was somewhat lost upon the developer who bought the building. Rather than work with the wonderful period details still intact, he carved out as many individual apartments as the building could accommodate and, as was customary at the time, hid away such undesirable elements as exposed pipes, brick, columns, masonry vaults, etc. People wanted sheetrock boxes and sheetrock boxes is what he, and many other real estate speculators, gave them.

I had first visited the building in 1979, while working with the Survey department of the Preservation Commission, which had been asked to confer Landmark status on the building as part of the approval process for granting a residential change of use. I remember gazing through the Clock at the top of the building facing the Brooklyn Bridge and the waterfront and realizing that I had found one of the secret jewels of New York City. I continued to wonder about the building and the Clock over the years following and tried unsuccessfully to peer through the Clock into the apartment beyond every time I found myself on the Brooklyn Bridge or anywhere near Old Fulton Street. I imagined a romantic loft with high ceilings and airy rooms all focused on that large round window.
My curiosity only increased when I moved to Brooklyn Heights after graduate school in 1987 and began to consider that neighborhood my home. And so, it astonished me one morning in early 1996 while walking along Montague Street to see a photograph of the Clock in a real estate agency window, particularly as I happened to be in the market for a new place. What I saw when I finally entered the apartment a week or so later could not have differed more from my imagination. The apartment's 1200 square feet had been awkwardly divided into small, discrete rooms; the brick walls had been encased in sheetrock; the ceiling had been dropped so far that it fell below the top of the Clock; the kitchen and bathroom were beyond basic, with plastic laminate countertops, faux wood cabinetry, and builder-spec appliances and fixtures.
I was so disappointed that I readily walked away from the apartment, convinced it was wrong for me in every way.
I continued my search for a home throughout Brooklyn Heights and all but put the Eagle Warehouse out of my thoughts.
But there was that Clock.
Months later, I called about the apartment again, thinking it couldn't have been as ordinary as I remembered; that my disappointment was due to my original expectations having been too high. I was told there was an accepted offer on the place and actually felt a sense of relief. Some weeks later, the broker called to tell me that the deal had fallen through and I was free to see the apartment again, which I soon did, mostly out of curiosity.
It remained as disappointing as I had first found it and again I walked away.
Months passed, more searching, and again that Clock haunted my thoughts.
I called and found that another deal had been struck.
Weeks later, the Broker called with the news that this deal had collapsed as well.
I visited a third time, but, as I often recommend to clients, went at night and kept the lights off as I walked the space, which was illuminated only by the ambient light of the city outside. I found myself in a lattice of shadows cast by the Clock and remembered my visit with the Landmarks Commission years before when the brick walls and high ceilings and airiness of the space had so impressed me.
And so, I bought the apartment and began a new relationship with time.
The first thing I did, which is always my approach when working in a period building, was demolish everything back to the original walls and ceilings. As I had remembered, we found brick on all four sides and many feet of height hidden above the dropped ceilings.

All at once, 1892 returned to view, and I began to design the loft I had imagined, but not found, behind the Clock.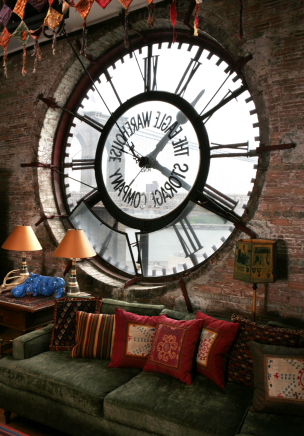 Photo by Nick Wood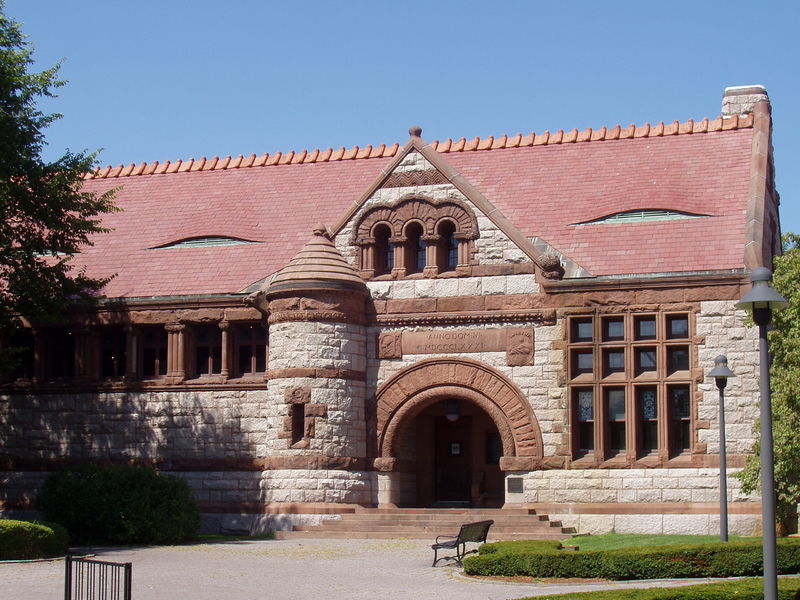 Crain Memorial Library, Quincy, MA by H.H. Richardson. Photo by Michael Davis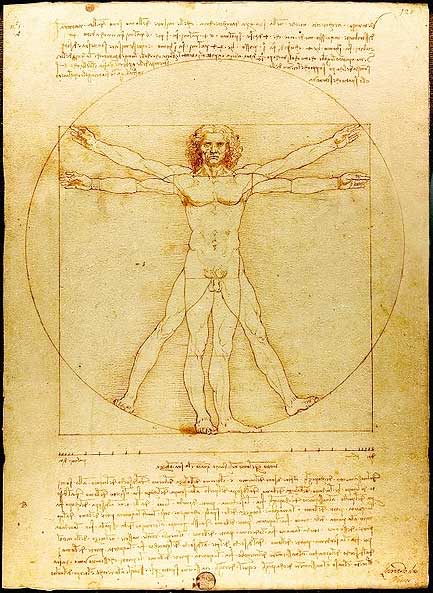 Leonardo da Vinci, Vitruvian Man ca. 1498