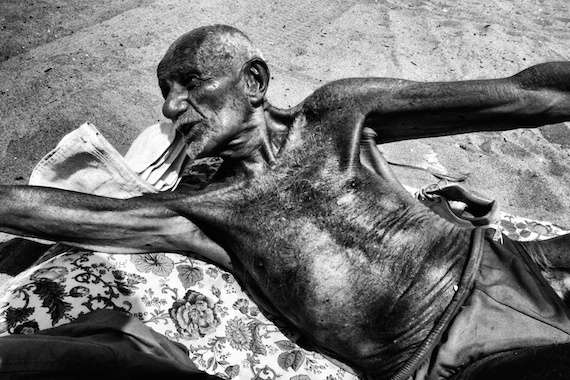 Image Copyright Michael Ernest Sweet Courtesy of Brooklyn Arts Press
Photography books can be really expensive. I know, I've said this before. But seriously, some of us just don't want to fork over hundreds of dollars every time we buy a book. So what are the options? Well, there are a good number of great street photography books out there which are really quite budget friendly. Here are my own personal favorites. There is a mix of both books on technique and books showcasing talent. They are in no particular order.
The Street Photographer's Manual by David Gibson - The Street Photography manual leads the reader through a series of fully illustrated tutorials, including how to shoot the face, be inspired, train your eye for the scene, and how to capture the unexpected. Readers will also be exposed to a wide variety of street photographers - some known and others unknown. The book contains more than 250 illustrations. Thames & Hudson, 2014. 200 pages. $13.44
The World Atlas of Street Photography by Jackie Higgins and Max Kozloff - This 400 page monster from Yale University Press takes the reader on a global journey through both contemporary and classic street photography alike. More than 700 images are presented between these covers including artists such as Daido Moriyama, Jeff Wall, Christo and Jean-Claude and David Goldblatt. As the publisher says, "The World Atlas of Street Photography offers a peek through the lenses of photographers chronicling the fever, furor, and intimacy of urban life." Indeed it does. A complete steal at just $31.62 for the hardcover.
Humans of New York by Brandon Stanton - This book was an instant #1 New York Times bestseller. Not so much with the street photography crowd, initially, as with simple New Yorkers hungry for a glimpse at their own archetype. The book is a photographic census of New York City. The book is a product of the widely popular blog, Humans of New York by the same author who covered thousands of miles with his camera to capture these unique images and stories. Surprising and moving; full-color and hardbound. A total giveaway at only $18.06 for 300 pages complete with vellum jacket. St. Martin's Press, 2013.
Magnum Contact Sheets by Kristen Lubben - This book offers not only a glimpse into the work of many of the world's best and brightest street and documentary photographer, but it also offers a unique look into the evolution of these photographers and their work. 139 contact sheets from sixty-nine photographers as well as written texts from the photographers themselves. 446 photographs, 240 in color. 524 pages, Thames & Hudson, $47.73.
The Americans by Robert Frank - This book is a modern classic. I simply had to include it on this list. First published in France in 1958, this book features 83 black and white photographs of American life complete with an introductory essay by Jack Kerouac. This innovative book is as powerful and provocative today as it was when it was first published. Robert Frank still photographs from his home in Mabu, Nova Scotia. Steidl, 180 pages, $23.55 (hardcover).
Garry Winogrand by Leo Rubinfein et. al. - This fantastic retrospective catalogue looks at this great street photographer's career in one sweep. A handful of good essays are thrown in as a bonus. This book weighs in at an impressive 448 pages. Yale University Press, 2013. $53.48
Bruce Gilden by Bruce Gilden (Stern Fotografie) - I love these Stern Fotografie portfolios. They are HUGE hardcover books and sell very cheaply when they are first released. As they go out of print and become more and more collectable the prices steadily rise. Some older editions are well over a hundred dollars now. This one on Bruce Gilden is an affordable and very beautiful way to discover his work. It's a Bruce Gilden book on a budget! 96 pages. Stern Publishing. $34.88
William Eggleston's Guide by John Szarkowski and William Eggleston - This book is a real gem. No street photography book collection is complete without a book of Eggleston's This one, from The Museum of Modern Art, is a great deal at just $25 for over 100 pages of fantastic photographs in blinding color. This is the book that forced the art world to recognize the importance of color photography - a true classic. Get your copy!
Street Photography Now by Sophie Howarth and Stephen McLaren - This book depicts 46 contemporary street photographers and their work. Also includes four thought-provoking essays and more than 300 color photographs. Coming in a 240 pages this book is a great deal from Thames & Hudson at only $21.95 for the paperback.
Walker Evans American Photographs by Lincoln Kirstein - This is a great collection of great photographs by one of the legends. The hardcover version is only $22.79. Again we can thank The Museum of Modern Art Press for bringing us a great collection of photographs in hardbound form for a fantastic price. This is a no-brainer for any photography book collection. Also would make a terrific holiday gift.
So, there you have it. 10 great street photography books that will fit just about any budget. This is obviously not an exhaustive list. There are many others that deserve to be on here and I know that full well. I am not making any claims about these books other than that they are good, solid publications available at very affordable prices. That's it. These books are also favorites of mine and reside in my collection. Feel free to add your own suggestions in the comments below!