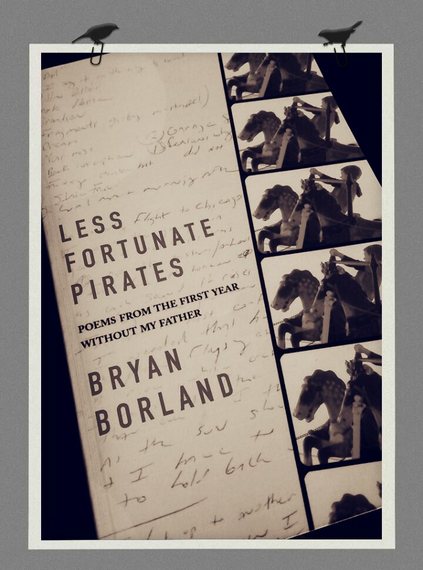 There is a distinct pleasure in rediscovering a favorite book. There is both familiarity and newness. We read words we've read before, and yet we read them differently because we have changed.
I recently returned to Bryan Borland's Less Fortunate Pirates and reveled in this unique experience of rediscovering the old, the familiar, but in a new way. Subtitled Poems from the First Year Without My Father, Borland's collection is a powerfully moving and sincere glimpse into the very essence of grief. When I read the book for the first time in 2012, I was only a couple years from my own father's death. Now, reading the poems again, I read with more distance, which allowed me to truly appreciate the sentiments Borland so poignantly captures.
With each page, each line, Borland carefully walks a tightrope between the insanity of grief and the raw experience of life. He brings us close enough to take comfort in knowing that someone else has also seen a lost loved one in the shadows of the night, but yet stops comfortably short of peddling ghost stories. The effect is that I can read this volume and know it is from genuine experience and others, less acquainted with this form of grief, can enjoy its message without being overwhelmed with the drama of death and loss.
The poems here are short. There is but a poem or two which spills beyond a page. This I appreciate. Borland sets the scene with an economy of words to be envied by the best of writers. He then closes the majority of his poems with a crescendo of emotion; a line which cuts like death itself. The result is always breathtaking and sometime overwhelming.
The poetry in this volume illuminates the everyday of grief. We are shown that one need not be at a cemetery or in a hospital to feel loss. While we are taken through the obvious difficulties of the first Father's Day and the first Christmas Borland experiences without his father, we are equally taken through the days in between - the moments made remarkable only for the overwhelming pain which they deliver.
Whether you've experienced the premature death of a loved one, or merely waken in the night breathless to the thought of it, this text will resonate from beginning to end. Less Fortunate Pirates is grief as it should be written. The emotion is raw and the delivery compact. Borland's humility as a writer is perhaps what gives this collection its true force. I can only guess at Borland's struggle in committing this to paper. I imagine the manuscript for this volume stained with tears of sadness and joy - of anger and relief, just like every page in this copy. If you've experienced the death of a loved one - especially a father - or know someone who has, this book is essential reading. I thank Bryan Borland for this worthy contribution. We are fortunate for Less Fortunate Pirates.
Sibling Rivalry Press, 2012. $14.95 on paper.