Recently I suggested that investors have become emboldened to own stocks based on improving economic data as well as the implied safety net of the Fed's quantitative easing programs. While we still believe this is the case, it is also clear that investors are not jumping into stocks with both feet. Rather, the evidence tells us that investors have carefully and cautiously rotated out of some fixed income investments and into the relatively more attractive and defensive blue chip stocks. So this begs the question, what are investors favoring within the universe of stocks?
The action in the stock market this year reflects an economy growing at a modest pace, coupled with a cautious investor base that desperately seeks acceptable returns in an ultra-low rate environment. Investors increasingly recognize the need to be invested in stocks given the ridiculously low yields available in the bond market. In fact, the Fed's nudging of investors out of bonds and into stocks through monetary policy is perhaps the best explanation for the S&P 500's 10%+ increase year-to-date through yesterday. However, investors clearly remain cautious nonetheless. The degree of caution among stock investors is perhaps the single-biggest reason we have not seen a meaningful correction in stocks over the past several months. Paradoxically, corrections tend to occur when the consensus outlook for stocks becomes overwhelmingly positive. The rationale is that once optimism becomes nearly unanimous, most investors have already established their long positions and there are few incremental buyers for stocks!
So how do we know that there is still significant caution among the investor base? In order to get a read on the investor's mindset, we like to look at stock returns by market sector from time to time. In fact, an article in the Wall Street Journal on April 3, 2013, ("Stocks Hit New Highs", by Jonathan Cheng) spoke about these very trends. To paraphrase, the sectors leading the market higher this year are those generally considered the most defensive and least cyclical. Health Care, Consumer Staples, and Utilities are each up in the low- to mid-teens this year, reflecting an investor that seeks safety and dividends. At the same time, those sectors that are most cyclical (ie, dependent on a strong economy) have been the worst performing sectors so far this year. Materials, Information Technology, Industrials and Energy are up only about 5.5% on average this year. The relative weakness among these groups signals that investors aren't ready to make a definitive bet on an acceleration in economic growth just yet. In addition, investors may be worried about tail risks - such as renewed problems in Europe or failure to reach a budget agreement in the US - that could potentially spark a sell-off in these more volatile areas of the market.
The graph below (source Farr, Miller & Washington, LLC) shows the performance of each industry sector within the S&P 500.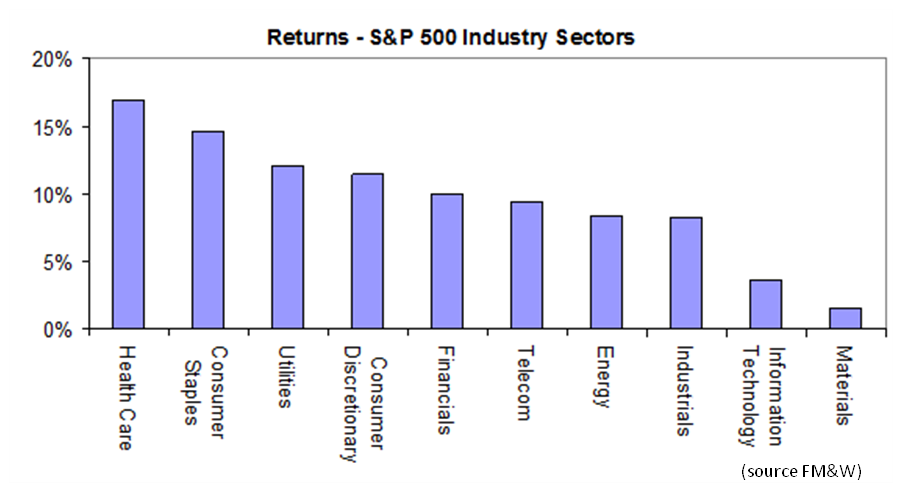 What are some other indicators of cautious sentiment? More recently, we have seen a pull-back in the Dow Jones Transportation Index as well as shares of small-capitalization stocks. As the Wall Street Journal noted, the DJ Transportation average is down 3.6% so far this week even as the overall market hovers close to new highs. Similarly, the Russell 2000 index, which is the most widely used barometer for small cap stock performance, is down 3.0% this week. Given that these two sectors of the market tend to lead the overall market (while being more volatile in general), investors might want to hunker down for a little while.
One final indication of the lack of investor conviction is trading volumes. In the first quarter of 2013, trading volumes were down about 7% compared to the first quarter of 2012. Generally speaking, if investors have strong conviction about the future direction of stock prices, trading levels will reflect this conviction. Since we haven't seen the increase in trading volumes, we can only conclude that there isn't much conviction.
As we have suggested many times over the past several months and years, stocks are increasingly viewed as a more attractive investment versus bonds. While this is not necessarily a bad thing, it is not necessarily an indicator of continued strength either. What we can glean from this year's trading action is the following: 1) nobody is really expecting a dramatic improvement in economic growth anytime soon; and 2) the gains we continue to see in stocks are heavily dependent on the Fed's aggressive monetary policy. Given these two conclusions, we remain defensive as well.
Content concerning financial matters, trading or investments is for informational purposes only and should not be relied upon in making financial, trading or investment decisions.