Not to take away some of the blush pink satin and vanilla frosting from your wedding fantasies, but let's be real: over 50 percent of U.S. marriages don't last. What happens to the engagement ring and wedding bands? Whether or not the bride returns her precious bling to her ex, or they figure out some other compromise, one thing is quite clear: neither he nor she is wearing that jewelry anymore. It would be silly and even possibly a sign of denial if either member of the couple were to continue wearing the symbols of their erstwhile commitment.
So what happens? Well, according to an article in JCK magazine, going through a rough break-up or divorce will often lead to two behaviors: drinking alcohol and/or retail therapy. While neither of these behaviors is healthy, I would venture to guess that buying oneself a pricey jewel is probably less destructive than abusing alcohol.
In any case, it seems that the jewelry industry would like to tap into this, unfortunately, growing market. And newly-divorced women, it appears, are happy to be their customers. Looking for a positive symbol of their newly gained freedom, some women are now sporting a divorce ring. Maybe it's because that ring finger started feeling naked, or maybe it's because the new ex-wife wanted a way to publicly declare her new single status. Or maybe she just wanted to gift herself with a well-deserved trinket after months of divorce proceedings.
Whatever the reason, she may be looking for "breakup jewelry" -- possibly from a company like Breakup Gems, with the slogan, "It's not about your breakup, it's about your new beginning." The line of rings features a pricey diamond-studded broken heart called "Libertà Divorce Ring" for the divorcee with $20K, as well as the more humble $85 band engraved with the word "SINGLE."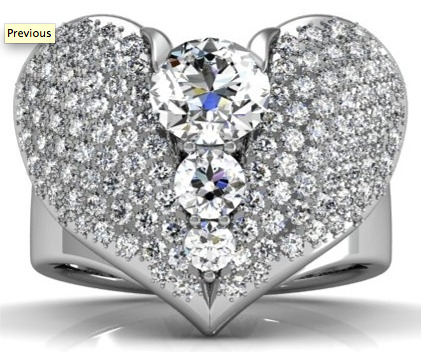 Another statement-making ring is Spritzer And Furman's yellow gold divorce ring with two halves of a broken heart pierced by a diamond dagger in the center. Ouch. Sounds like there's still a lot of bitterness there.
I wonder how DeBeers will spin this into their marketing? I can just see it now: "A Diamond is Forever*"


*Even Though your Marriage Wasn't