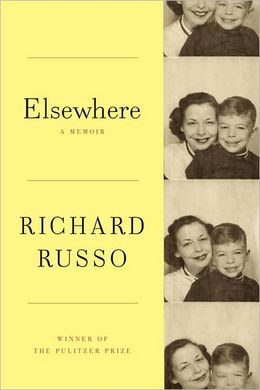 ELSEWHERE: A MEMOIR BY RICHARD RUSSO
$25.95; Knopf
Novelist Richard Russo tackles the memoir form to tell the story of his difficult mother and the town -- Gloversville -- that served as a lodestone for both of them throughout their lives. She was always battling to get away from that narrow, mean, dead-end little world and then immediately regretting the rupture and romanticizing her time there. He would be scared to return there in reality but do so constantly in his fiction, where Gloversville served as the inspiration for his best work.
Russo's dad tells the kid at one point that his mother is "nuts" and it takes a lifetime for Russo to realize that's not merely a figure of speech. Russo spends decades dealing with her eccentricities and her "nerves." He is so used to his mother's rituals and needs and moods that cripple her before she's off on another manic high that he can't imagine her morbid fear of the mentally ill (not to mention the color yellow, an obsessive need for routine and so much more) is rooted in the unspoken acknowledgement that she is one of them.
Quite a bit of the story is painfully funny as his mother moves and moves and moves again, every single apartment and home falling short, then absolutely perfect and then -- after a few weeks of residence -- deemed a total failure and she's off on the hunt for the perfect domicile. Whether a teenager heading cross country to move to the west coast with his mom in tow, barreling down a highway they can barely navigate with not nearly enough money or sense between them or a married father of two children who still schedules his entire life around his mother's needs, Elsewhere is pointed and amusing and frustrating and exhausting.
It's also scrupulously fair. Russo details his mother's reaction to this and that situation with patient care, seemingly worried even now about showing her in an unflattering light. He understood her thought process, he could anticipate her reaction to most situations and he wants us to know how it all worked. What is fascinating to him ultimately becomes a little repetitive and dry. Instead of telling her story, Russo explains it, which is the enemy of drama. For example, Russo details her reading habits at one point and why she liked this sort of book and not that sort of book and it's interesting but not exactly riveting. You're never bored but you're not exactly enthralled either.
Those who love this genre will find Elsewhere a polished entry while children with parents suffering from dementia will certainly discover the final section sadly familiar. Russo never pities his mother or explains her away and you won't either. But you might wish he'd turned her into a character and let her loose in all her frustrating, fascinating glory. He's the dutiful son to the end, careful to present her narrative with as much supporting facts and commentary and analysis and understanding as possible. But what she really needed was her son the author to let those facts come to life without any fear over what she'd make of it.
BOOKS I'VE READ IN 2012
1. The Underneath by Kathi Appelt ***
2. Jack Holmes and His Friend by Edmund White ***
3. The Last Unicorn by Peter S. Beagle **
4. Fun Home by Alison Bechdel ***
5. Death Walks In Eastrepp by Francis Beeding ***
6. Lumious Airplanes by Paul La Farge ***/
7. The Professionals by Owen Laukkanen ** 1/2
8. Unterzakhn by Leela Corman **
9. The Child Who by Simon Lelic ***
10. Hinterland by Caroline Brothers ***
11. The Yard by Alex Grecian *** 1/2
12. The Alienist by Caleb Carr ***
13. On The Wings Of Heroes by Richard Peck *** 1/2
14. A Princess Of Mars by Edgar Rice Burroughs *
15. The Gods Of Mars by Edgar Rice Burroughs **
16. The Warlord Of Mars by Edgar Rice Burroughs ** 1/2
17. Undefeated: America's Heroic Fight For Bataan and Corregidor by Bill Sloan ** 1/2
18. Stoner by John Williams ****
19. The Sisters Brothers by Patrick DeWitt *** 1/2
20. The 500 by Matthew Quirk **
21. The Age Of Innocence by Edith Wharton ****
22. The Alienist by Caleb Carr ***\
23. Crispin: The Cross of Lead by Avi **
24. Rogue Male by Geoffrey Household ***
25. The Perks Of Being A Wallflower by Stephen Chbosky **
26. Traitor's Gate by Avi ** 1/2
27. Cogan's Trade by George V. Higgins ***
28. 2312 by Kim Stanley Robinson *** 1/2
29. The Twelve Rooms Of The Nile by Enid Shomer ** 1/2
30. Bring Up The Bodies by Hilary Mantel *** 1/2
31. In One Person by John Irving **
32. A Million Heavens by John Brandon ***
33. The Case Of The Deadly Butter Chicken by Tarquin Hall ***
34. Seward: Lincoln's Indispensable Man by Walter Stahr *** 1/2
35. The Case Of The Missing Servant by Tarquin Hall ***
36. The Kings Of Cool by Don Winslow ***
37. Savages by Don Winslow ***
38. The Case Of The Man Who Died Laughing by Tarquin Hall ***
39. Alif The Unseen by G. Willow Wilson ** 1/2
40. I Am Spartacus: Making A Film, Breaking The Blacklist by Kirk Douglas ***
41. Showdown At Shepherd's Bush by David Davis ***
42. The Trillion Dollar Meltdown by Charles R. Morris ***
43. Mrs. Robinson's Disgrace by Kate Summerscale ** 1/2
44. The Age of Miracles by Karen Thompson Walker **
45. The Panic of 1907 by Robert F. Bruner and Sean Carr ***
46. The House That Ruth Built by Robert Weintraub *** 1/2
47. The Last Lion Winston Churchill Alone -- 1932-1940 by William Manchester ****
48. City Of Women by David R. Gillham ** 1/2
49. The Great Unexpected by Sharon Creech ** 1/2
50. Bright Island by Mabel L. Robinson ***
51. Live By Night by Dennis Lehane ** 1/2
52. Big Sky Mountain by Linda Lael Miller **
53. Mr. Churchill's Secretary by Susan Elia MacNeal **
54. Princess Elizabeth's Spy by Susan Elia MacNeal **
55. Elsewhere: A Memoir by Richard Russo ** 1/2
56. The Malice Of Fortune by Michael Ennis **
57. Hallucinations by Oliver Sacks *** 1/2
58. Garment Of Shadows by Laurie R. King ** 1/2
59. Making "Tootsie" by Susan Dworkin * 1/2
60. 38 Nooses by Scott W. Berg ***
61. John Saturnall's Feast by Lawrence Norfolk ***
62. Dead Cat Bounce by Nic Bennett ** 1/2
63. What's Left Of Me: The Hybrid Chronicles Volume One by Kat Zhang *** 1/2
64. A Possible Life by Sebastian Faulks ***
65. In Sunlight And In Shadow by Mark Helprin **
66. E.T. The Extra-Terrestrial: From Concept To Classic by Laurent Bouzereau ***
67. Steven Spielberg: A Retrospective by Richard Schickel ** 1/2
68. Never Mind by Edward St. Aubyn ***
69. The Devil In Silver by Victor LaValle
70. Bad News by Edward St. Aubyn ***
71. The Yellow Birds by Kevin Powers ***/
72. Some Hope by Edward St. Aubyn *** 1/2
73. Sweet Tooth by Ian McEwan ***
74. The Eyre Affair by Jasper Fforde *** 1/2
75. A Hologram For The King by Dave Eggers *** 1/2
Thanks for reading. Michael Giltz is the cohost of Showbiz Sandbox, a weekly pop culture podcast that reveals the industry take on entertainment news of the day and features top journalists and opinion makers as guests. It's available for free on iTunes. Visit Michael Giltz at his website and his daily blog. Download his podcast of celebrity interviews and his radio show, also called Popsurfing and also available for free on iTunes. Link to him on Netflix and gain access to thousands of ratings and reviews.
Note: Michael Giltz is provided with free copies of books to consider for review; he typically receives far more books than he can cover and no guarantees are given that any particular book will be written about.