I've always loved science fiction, one of the most flexible of genres. It's a canvas for startling and surprising leaps of the imagination. It can hold up a mirror to our current world by exaggerating trends. It's pure escapism. It's social commentary. And it's fun. Here are five titles that run the gamut.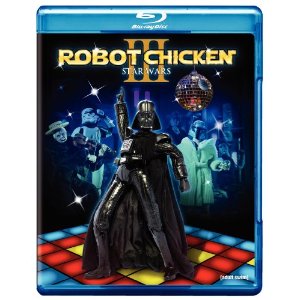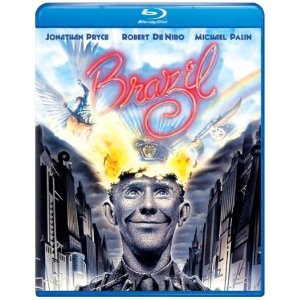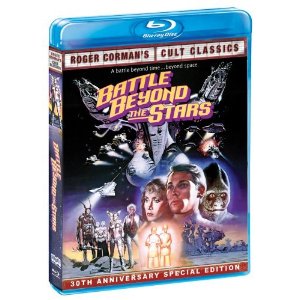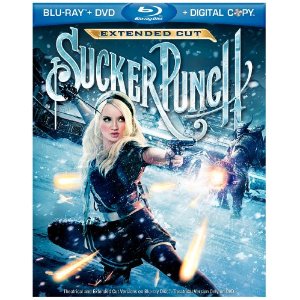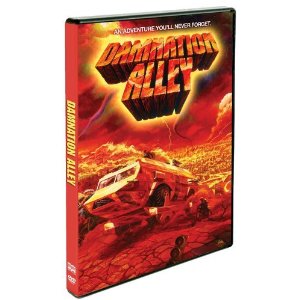 ROBOT CHICKEN STAR WARS III ($19.98 BluRay or $14.98 regular; Warner Bros.)
BRAZIL ON BLURAY $26.98; Universal)
BATTLE BEYOND THE STARS ($26.97 BluRay or $19.93 regular)
SUCKER PUNCH ($35.99 BluRay or $28.98 regular; Warner Bros.)
DAMNATION ALLEY ($19.93; Shout)
I'd like to give props to the much maligned George Lucas for allowing Seth Green and friends the freedom to tease and parody the Star Wars world via Robot Chicken. It's too loving to term it a vicious parody; these Emmy-nominated specials could only have been made by fans deeply in love with the originals. But still, credit where credit is due. The more jokes you get, the geekier you are (and the more you laugh, so it's not so bad).
Brazil is easily the best of the bunch here. Its a perfect example of how sci-fi can illuminate so well our fears and desires, all while delivering a tale of a dystopian future that is funny, smart and oh so bleak. This is the original US theatrical cut, so you'll have to wait for Criterion's Bluray to see all the variations on this much-edited film.
Battle Beyond The Stars is Roger Corman at his most ambitious. It's a baldheaded attempt to cash in on Star Wars mania, but this time Corman actually spent some money. Never fear: he recycled much of the effects and sets for years to come. Not good, but an early break for some serious talent.
Sucker Punch shows director Zack Snyder becoming less and less interested in coherence as time goes on.
Finally, Damnation Alley is pure silliness with survivors of a nuclear holocaust looking to cross a radiation belt to reach other survivors. Corman in B movie mode, again presented lovingly by Shout. If you like Westerns, there's no reason to sniff at this similar trek through hostile territory that a million Westerns employed as well.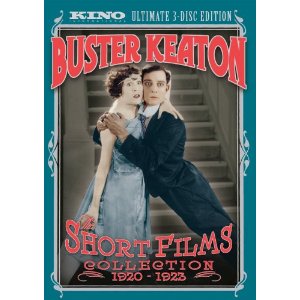 BUSTER KEATON SHORT FILMS COLLECTION 1920-1923 ($34.95; Kino) -- Film Forum in Manhattan has been packing them in on Mondays with an ongoing Buster Keaton retrospective. And no wonder: his movies are pure delight with Keaton easily the equal of Charlie Chaplin, Harold Lloyd and Laurel & Hardy, to name some contemporaries. You might have seen The General but his shorts are much harder to track down. No more, now that Kino has this terrific collection of 19 shorts lovingly restored and filled with bonus features. They date from 1920-1923 and from "The High Sign" to "The Love Nest" they are bursting with great gags, witty stories and that deadpan mug.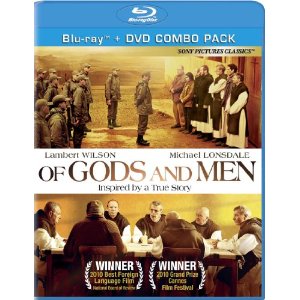 OF GODS AND MEN ($45.99 BluRay combo; Sony Pictures Classics) -- A disarmingly simple film about faith. Monks living in Algeria know a vicious group of rebels is on the loose and will come soon to kill them. Why don't they take the army's offer of protection? Why don't they flee? This movie provides some answers by watching these very human men as they go about their lives and then face this horrific choice of abandoning the poor people they've lived in harmony with for years or face likely death. It's moving and illuminating. But me? I identify with the monk who quite understandably thought hiding under his bed and evading death was not such a bad idea after all.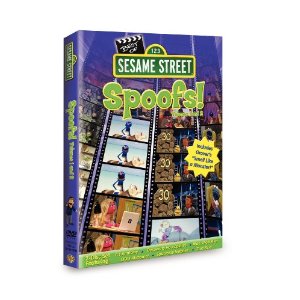 BEST OF SESAME STREET SPOOFS VOLUME ONE AND TWO ($19.98; Warner Bros.) -- Parents looking to share some silliness with their little kids can happily enjoy this collection of spoofs that cover everything from TV to movies to music. Sometimes the spoofs are very pointed; other times they just play off a title. But they're all goofy and the weak ones are over soon. "Mad, Mad Men," "Hill Street Twos" (one of my favorites), "OOOO-Klahoma!" and "True Mud" show the gang is staying nimble right up to the present.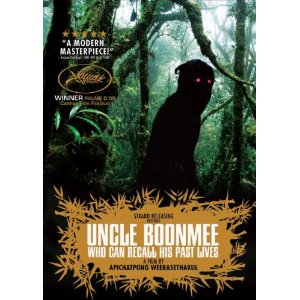 UNCLE BOONMEE ($27.99; Strand) -- Terence Malick's Tree Of Life is a walk in the park compared to this Thai film about reincarnation that also won the top prize at Cannes and charmed critics worldwide. Be prepared to end your viewing of the film with more question than when you began and you could enjoy this strikingly photographed meditation that covers centuries of time, ghostly dead relatives who look like monkeys and a very lascivious catfish. One of a kind and more accessible than the rest of director Apichatpong Weerasethakul's body of work.
ZAZIE DANS LE METRO
BLACK MOON ($39.95 each on BluRay; Criterion) Some of my favorite films by director Louis Malle focus on boys and young men, such as Au Revoir Les Enfant, Murmur Of The Heart and Lacombe, Lucien. But he has put young women front and center at times, as shown by these two Criterion presentations out on BluRay. Zazie is a very atypical comedy with the Eloise-like heroine creating all sorts of havoc as she hangs out with her gay uncle. The even odder Black Moon shows Cathryn Harrison stranded in a farmhouse while war rages on outside. her budding sexuality soon lights a match to the household, which was far from stable in the first place. Neither film is among his best but Criterion presents them with its usual painstaking care.
ALSO OUT:
SOUTHLAND COMPLETE SECOND SEASON ($34.99; Warner Bros.) -- The little show that wouldn't die will be back for a third season. This set of episodes from season two contains brief touches of language and the like that didn't make the cut for its cable airings but don't change the essential nature of this solid ensemble about cops in the LAPD.
THE MAKING OF THE PRESIDENT: THE 1960S ($59.99; Athena) -- I'd often heard of the famous nonfiction book by Theodore H. White called The Making Of The President, 1960 that won the Pulitzer Prize and changed the coverage of politics forever. Yet I had no idea it also spawned a series of TV documentaries. But here they are: TV specials 80 minutes in length covering the campaigns of 1960, 1964 and 1968. If you liked The War Room, here's an even more penetrating look...from the outside.
THE SACRIFICE ($39.95; Kino) -- A newly remastered print of Andrei Tarkovsky's slow moving, deeply felt final film about people facing the likelihood of being wiped out in a nuclear holocaust. An excellent bonus feature is Directed By Andre Tarkovsky, a warm but unblinkered look at the director by his editor on this film.
DAMAGES SEASON THREE ($39.95; Sony) -- This juicy melodrama continues to benefit from some of the most enjoyable casting on television. This season they feature Martin Short, Ted Danson, Campbell Scott and Lily Tomlin key roles, all of them eating it up with relish. Glenn Close is at the center of it all as litigator Patty Hewes and she's probably thrilled to be working on this instead of some dumb, unsatisfying movie where they'd want her to play the mother to some talentless hack.
DAS BOOT COLLECTOR'S SET ($35.99 BluRay; Sony) -- I have the happy problem of trying to keep track of tons of DVDs and what comes out when. How? By clearing off a bookcase and sorting the DVDs by week as they come in. Sometimes, friends come in and rifle through them and then replace the titles on the wrong shelf and I don't notice. That might explain why I reviewed Das Boot weeks before it came out. By accident. It's out now and it's a classic and if you haven't seen it you should. Check out my review here.
THE LINCOLN LAWYER ($39.99 BluRay or $29.95 regular; Lionsgate) -- Actor Matthew McConaughey provides his usual rakish charm to this thriller about a high-flying attorney who chooses to do business out of the backseat of his car (why waste money on office space?). Ryan Phillippe is the wealthy young client embroiled in rape and murder charges who sucks our hero into a world of betrayal and lies. Not a flop, but probably not the start of a franchise for McConaughey, who has always been more charming than his taste in material.
POIROT SET 6 ($59.99 BluRay or $49.99 regular; Acorn) -- Three more TV movies starring David Suchet as the unflappable Hercule Poirot, the master sleuth created by Agatha Christie. No one gets away with murder when Poirot is around. God help the network executive who ever tries to kill this series, which just continues to roll along 22 years after Suchet began.
Thanks for reading. Michael Giltz is the co-host of Showbiz Sandbox, a weekly pop culture podcast that reveals the industry take on entertainment news of the day and features top journalists and opinion makers as guests. It's available free on iTunes. Visit Michael Giltz at his website and his daily blog. Download his podcast of celebrity interviews and his radio show, also called Popsurfing and also available for free on iTunes. Link to him on Netflix and gain access to thousands of ratings and reviews.
NOTE: Michael Giltz is provided with free copies of DVDs to consider for review. He typically does not guarantee coverage and invariably receives far more screeners and DVDs than he can cover each week.