I'll admit it: I'm a little overwhelmed with TV shows right now. I've got the new fall season to sample PLUS of course most studios delay the release of the previous season on DVD until right before the new season begins. That means in the last four weeks we've had an avalanche of TV releases, including some of the best shows on television. Some I've watched, some I've sampled and some (like Homeland) I've been saving for BluRay, so I could enjoy it in one big gulp. (Comedies are best enjoyed like dessert -- not too many at once. Dramas are a feast, especially serialized dramas that frankly benefit from being seen over a two- or three-week span rather than four to six months.) So here's a roundup of many of the shows released in the last four weeks. Buckle in; there's a LOT to cover.
THE BEST AND THE BRIGHTEST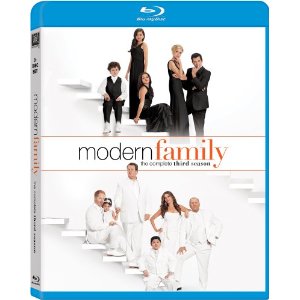 MODERN FAMILY ($59.99 BluRay; FOX) -- The biggest sitcom hit on TV just won its third Emmy in a row for Best Comedy, joining the likes of The Dick Van Dyke Show, All In The Family, The Mary Tyler Moore Show, Taxi, Frasier and 30 Rock. That's heady company indeed. So they can handle my caveats about the series, which I've never quite taken to. Still, I admire the smarts behind it and the strong cast, especially Julie Bowen who is the anchor that keeps it somewhat rooted in reality a la Patricia Heaton in Everybody Loves Raymond. It's amazing the Emmys have recognized her subtle work over more flashy (and just as fun) performances in her category. They have solid extras though commentary from the creators (who alternate directing episodes) would be very welcome.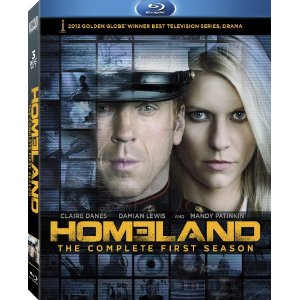 HOMELAND ($69.98 BluRay; FOX) -- Boy, 20th Century Fox had a good night at the Emmys, didn't they? Homeland won Best Drama its first time out, joining the ranks of other notable shows that did the same, including The Defenders, Mission: Impossible, The Waltons, Hill Street Blues, LA Law, thirtysomething, Picket Fences, The Practice, Lost, The West Wing and Mad Men. As you can see, Emmy has a pretty good track record of spotting new talent in drama, so Homeland can be proud. I can't wait to watch it. I don't have any pay cable channels at the moment. But I don't quite miss Showtime (or HBO) because their best shows are best enjoyed in a rush. Still, this has meant I've stumbled across a number of spoilers, including a big one. Still, two episodes in and I'm hooked. With a truly good show, spoilers don't really matter. Now my only remaining question is how long before Mandy Patinkin gets bored and moves on?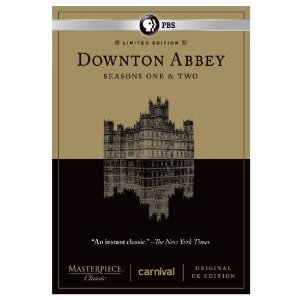 DOWNTON ABBEY SEASONS ONE & TWO ($64.99 BluRay; PBS) -- I've been wary of this show from the start but there's no denying it enjoys massive critical and popular success. Season One felt too much in the shadow of Upstairs, Downstairs; one of the great TV shows of all time. Season Two, for me, was a disaster creatively, rushing through events, turning vivid characters into tiresome ones and so on and so forth. I despaired so much I didn't even have the energy to watch the Christmas special that topped off the season with a 90-minute movie. Excellent actors all around and beautifully designed and shot but a load of nonsense. Many people I know agreed, but first one person and then another said, "But I quite liked the Christmas special." Really, I thought? How could that be? Finally, months after finishing the season I took the time to watch that special. Well, you could have knocked me over with a feather! I haven't the foggiest idea what happened but out of nowhere they delivered the strongest moments of the series. Characters returned to their sensible, believable roots, events hurtled along but not with unseemly haste and everything was rooted in reality and a believability more akin to drama than the consequence-free world of Peyton Place it had descended into. In short, it went from terrible to solid in one clear leap. Did they know they botched season two? Did they simply have more time to work on the holiday show? I've no idea but something knocked them upside the head and thank goodness. I'm actually looking forward to Season Three and hoping it can be the guilty pleasure the series always promised.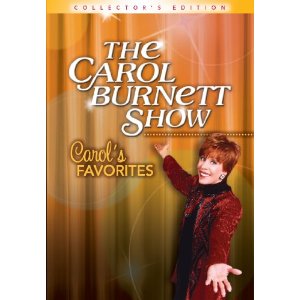 THE CAROL BURNETT SHOW: CAROL'S FAVORITES 6 DISC SET ($59.95; Time Life) -- Complicated musician and music rights are the reason so many variety shows and music-heavy TV series (like The Wonder Years and China Beach) have been invisible on DVD and in reruns on TV. Frankly, since they've already lost out on decades of syndication and DVD sales, you'd think the unions involved would realize they've been fools. So it's long overdue and especially welcome to see collections for The Carol Burnett Show finally appear again on DVD. Her show was one of the most beloved in TV history. Fan friendly as ever, Burnett has made selections of her favorite episodes available in one disc sets, two disc sets, this six disc set and a truly lavish ultimate collection of 50 episodes on 22 DVDs that unfortunately I was not sent to review. God knows how you go through 278 episodes and pull out complete ones that you consider the best but Burnett has chosen 16 of them for this particular set, including sketches like "Went With The Wind," "As The Stomach Churns," characters like Mrs. Wiggins and so many others instantly familiar to viewers. Its durability lies in the family feeling that the show brought to its team. Watching it is more like watching your friends and neighbors in community theater -- not the level of acting, which of course is superior -- but the sense that these are friends of yours having a ball and letting you share it with them. As always, my favorite moments are when they make each other laugh. What a trouper Burnett is and what a pleasure to see these shows again.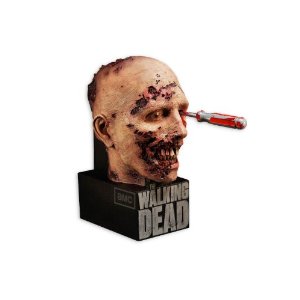 THE WALKING DEAD SECOND SEASON ($99.99 BluRay limited edition) -- You can find less expensive editions of the second season of this zombie show, but if you want to be ready for Halloween, this gruesome boxed set limited edition features a zombie head complete with a screwdriver shoved through the eye socket. It's that kind of show. Actually, while the show is proudly and rightly a B-movie affair down to its core, it also tackles complex issues with a moral ambiguity rare on television. (Well, not so rare anymore, but still very welcome.) Season Two delivered on the promise of Season One. But like Buffy The Vampire Slayer, it has been wrongly overlooked by the Emmys. Not by viewers and hopefully not by you -- just look away during the carnage, like I do. Believe me, the sound effects are plenty gross enough. Season Three looks to be even more over the top and I can't wait.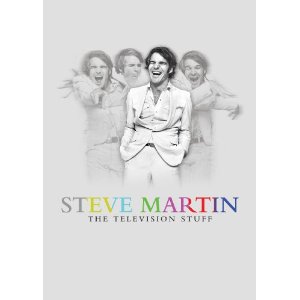 STEVE MARTIN: THE TELEVISION STUFF ($34.98 DVD; Shout) -- Another strong boxed set from Shout at an excellent price point. You get three DVDs with six hours of entertainment, including six TV and stand-up specials, video interviews with Martin and a final disc with all sorts of odds and ends like appearances on Letterman and the like. It's fascinating to remember how huge a stand-up star Martin became, certainly the equal of Richard Pryor and Eddie Murphy in terms of audience size (at the end he was playing rock venues) and arguably bigger. You can see Martin creating and pushing his persona to extremes, enjoying the irony at first and then going bigger and broader as the audiences multiplied until frankly he probably got a little bored and walked away from it for Hollywood. He literally took the medium of stand-up as far as he could go. Others would have more sustained brilliance as stand-ups (Pryor, George Carlin, Bill Cosby) but Martin's distinctive accomplishments are remarkable. Some elements of the variety specials are a bit dated; personally, I enjoyed his memoir far more than watching every minute on display here. He's gone on to deserved acclaim as an actor, screenwriter, novelist, playwright and musician but this is where it began. Somewhat lacking here is his seminal work on Saturday Night Live (represented by three clips) but of course that's available in an 80-minute DVD of its own and makes the perfect adjunct to what's here. This is a nicely compiled set for an excellent talk show guest (a rarified art if there ever was one) and protean talent.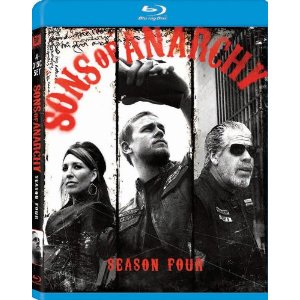 SONS OF ANARCHY SEASON FOUR ($69.99 BluRay; FOX) -- Like The Walking Dead, this is a hit with fans on fX but bizarrely overlooked by the Emmys. TV has an embarrassment of riches right now but that's no excuse for not recognizing the work of this show. Is it because SoA centers on a biker gang? Are high school teachers really that more acceptable as drug dealers than biker gangs? A terrific cast and as we've seen, it's never too late to catch up. This show continues to grow its audience, with the fifth season premiere its biggest ever. So fans of serious drama, find out what you've been missing.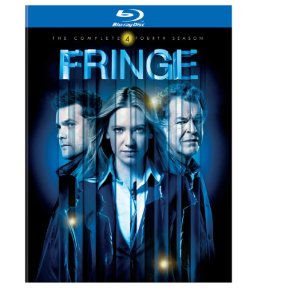 FRINGE SEASON FOUR ($69.97 BluRay; Warner Bros.) -- Frankly I NEED BluRay to figure this sucker out. I sampled the show in the first season and stepped away. When it came back for season two and my friend John insisted it was amazing, I said, sure, I'll give it another try. I watched one episode and hadn't a clue as to what was going on. By that point the backstory was so complicated I knew I needed to start from the beginning. Never mind, I thought. I'll wait until it's over and decide if it's worth it then. (How that must break the heart of producers and TV networks everywhere.) Well, they've announced the fifth season will be its last, giving this cult favorite a chance to work towards a finale that wraps up as many loose ends as they want. So why wait? Dive in now and you can DVR this season as it unfolds and be ready for the finale in February no matter what layer of the multiverse you're watching the show in.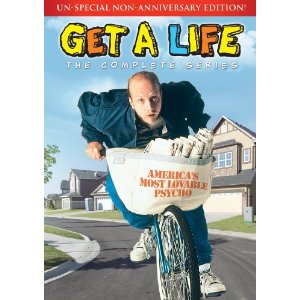 GET A LIFE: THE COMPLETE SERIES ($59.97 DVD; Shout) -- Chris Elliott's "unauthorized autobiography" comes out on October 11th, so what better time than now to dive into his cult classic TV show? Get a Life truly deserves that appellation since it aired on FOX for two seasons only because FOX was a young network and -- let's be honest -- it probably took them two years to figure out what the heck Elliott was up to. He plays a 30-year-old man with a newspaper route who still lives with his parents. Elliott called himself "America's Most Lovable Psycho," the show an "anti-comedy" (you can watch some episodes without the laugh track) and this DVD set the "Un-special Non-Anniversary Edition!" It's that kind of humor. Truly offbeat.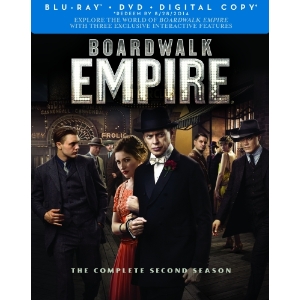 BOARDWALK EMPIRE SECOND SEASON ($79.98 BluRay; HBO) -- Great cast, great setting, great production values and still it doesn't make my heart race. As with many HBO shows, the extras are absorbing, including looks at new sets, characters, the year of 1921 and other aspects of an ambitious period piece like this. Superior to most television, just not the Emmy worthy event it has been called.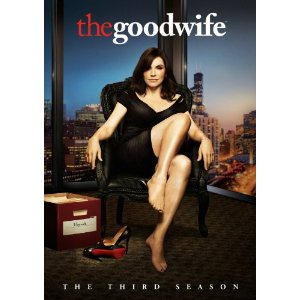 THE GOOD WIFE ($55.98 DVD; Paramount) -- In its third season, this acclaimed drama moved away from the season-long arcs and became more of a self-contained series with each episode having a beginning and middle and end. That was probably for the best since any more high drama would have turned it from a serious show into a soap. They may get back onto more challenging storylines soon, but consider this season a breather. That also makes it a good starting point for new fans not quite ready to start back at season one. You'll have to fill in the blanks as you go along but the excellent cast led by Julianna Margulies will make that easy.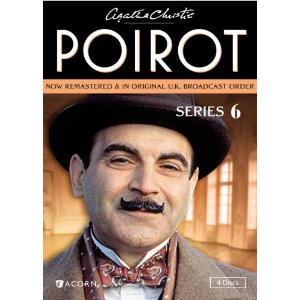 POIROT SERIES 6 ($39.99; Acorn) -- Is there a more dependable pleasure than Poirot? Not for Anglophilic mystery buffs. I'm still eagerly awaiting the long-desired massive boxed set that covers the entire run of the show. But for those of you just looking to dip in (or those who have already purchased many previous sets), this release contains four feature length mysteries from the mid-1990s on four DVDs, with its usual top-notch guest stars including Emmy winner Damian Lewis of Homeland (and Band of Brothers!) in fine form. This set is remastered and it shows. Here's hoping all the rest of the series will be offered in uncut UK editions in this same high quality.
*****
Most titles listed here will be available in multiple formats and in multiple combinations, including DVD, Blu-ray, digital download, video on demand, streaming and the like. The format listed is the format provided for review, not all the formats available. It is often the most expensive version with the most extras. Do check individual titles for availability in all their various guises and price points.
Thanks for reading. Michael Giltz is the cohost of Showbiz Sandbox, a weekly pop culture podcast that reveals the industry take on entertainment news of the day and features top journalists and opinion makers as guests. It's available for free on iTunes. Visit Michael Giltz at his website and his daily blog. Download his podcast of celebrity interviews and his radio show, also called Popsurfing and also available for free on iTunes. Link to him on Netflix and gain access to thousands of ratings and reviews.
Note: Michael Giltz is provided with free copies of DVDs and Blu-rays with the understanding that he would be considering them for review. Generally, he does not guarantee to review and he receives far more titles than he can cover.