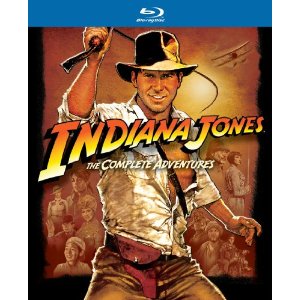 INDIANA JONES THE COMPLETE ADVENTURES ON BLURAY ($99.98 BluRay; Paramount) -- The Indiana Jones quartet on BluRay for the first time. Raiders looks better than it has, but is it possible this film needs a full restoration? I couldn't help thinking it should look even better throughout. Perhaps my expectations are too high for one of the all-time great adventures. It's good to have all four films together in one compact set and the packaging looks nice, though it uses cardboard sleeves to hold the discs so you have to slide them in and out causing smudging and the like. Are plastic spindles really that much more expensive?
Raiders of course is the ultimate Saturday morning serial and Harrison Ford gives one of the great physical performances in movie history. Has an actor ever brought more character and depth to an action film? I've always defended Temple Of Doom as a winking spoof of the genre, pushing everything to extremes from the get-go. But the bad elements (that horrible roller-coaster joke late in the game during an action scene) get worse and worse with time. Last Crusade has always bored me. The smashing opener with River Phoenix puts the rest of this rote film in stark contrast, Sean Connery notwithstanding. But even that is a welcome pleasure compared to the embarrassment of Crystal Skull. (No wonder Shia Labeouf mocked it; his character looks like an outcast from the Village People. On the other hand, the Transformers films are even worse, so zip your lip, Shia.) I've just seriously critiqued three out of the four films in this set. Yikes! But if you have small kids, they'll likely be far more forgiving of the sequels. And the one extra that I love -- on the set footage from Raiders -- is amazing to uncover at this late stage. Let's do one more and finally recover the mojo that launched this series. Or am I a glutton for punishment?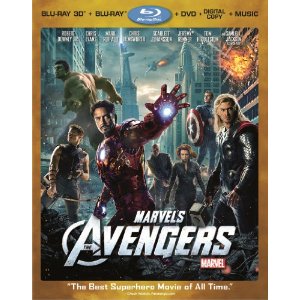 THE AVENGERS ($49.99 BluRay combo; Marvel/Paramount) -- I think The Avengers is a good movie, a solid three stars out of four, which is darn impressive in an era where most summer blockbusters are witless. Others may enthuse over how awesome it is. But can we all take a moment to pause, thank director Joss Whedon, and heave a sigh of relief over the simple fact that The Avengers didn't turn into a godawful mess? There's a very good reason why these superhero collectives have not appeared on the big screen before, despite being a staple of Saturday morning TV and comic books. What's the reason? In live action, they invariably teeter on the edge of camp. The DC superheroes are such loners that I honestly can't imagine a live action film where Superman and Batman are chatting away with Wonder Woman sitting in the background dishing with Aquaman. The mere thought makes me giggle. The Marvel universe has the huge benefit of being a quirkier, more real world collective of very human, very flawed heroes (and the occasional god) and that makes the tone of family bickering that Wheedon beautifully maintains ideal when the Hulk and Iron Man and the rest hang out together. Seriously, the fact that we don't burst out laughing in derision when Captain America and Iron Man and Black Widow and Thor (for Asgard's sake!) are sitting around a table is a huge accomplishment. The fact that they've actually devised a good tale with action and humor in fine balance is remarkable. Loki is too weak a villain to make this a great film (I never thought for a moment he was a threat to anyone). But it's a lot of fun and for that I am eternally grateful. Who knows, maybe the Justice League flick will work, but they'll be hard pressed to match what Wheedon does here. And now I'm hoping the second one will be genuinely great, Tobey Maguire/Sam Raimi/Spiderman great, Christopher Reeve/Superman great. Why not?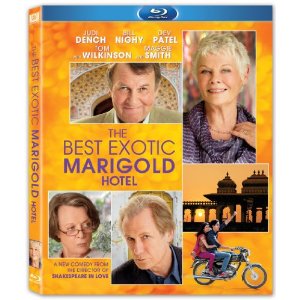 THE BEST EXOTIC MARIGOLD HOTEL ($39.99 BluRay; FOX) -- You thought The Avengers was jam-packed with stars? If you're over 50 or simply have good taste in actors, then this gentle drama is the real all-star event. Judi Dench? Bill Nighy? Tom Wilkinson? That nice boy from Slumdog Millionaires, Dev Patel? That woman from Downton Abbey? (Penelope Wilton.) And MAGGIE SMITH! Dame Maggie Smith to be exact. Good lord, when will it end? You'll find few surprises in this story of senior citizens who decide their pounds will go much further in retirement if they decamp to India. But that's the way the audience wants it. The film is a little more serious than I expected from the trailer, which emphasized the comedy but it's a low-key pleasure.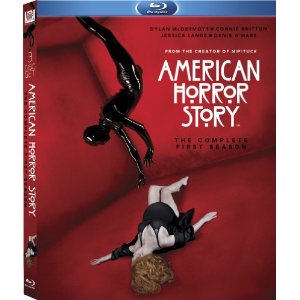 AMERICAN HORROR STORY FIRST SEASON ($59.99 Bluray; FOX) -- For good and ill, those of us watching AHS for the first time on BluRay are having a very different experience from those who watched it episode by episode. We now know that this series is actually a mini-series: each season is a self-contained story with a beginning and middle and end. Cast members like Emmy winner Jessica Lange might appear in future seasons but they'll be ostensibly playing new characters. So we're braced for anything and know that no character is safe from the get-go. I'm sorry to have that modest spoiler in mind but relieved to know I can tackle this season and get a complete tale without having to commit to a five year run just to find out what's going on. (I'm looking at you Revolution; or rather, I'm not.) The team behind Glee is involved but of course the better comparison is their earlier hit Nip/Tuck. I'm not a horror fan and that leather-encased creature in the show promos kept me from watching in the first place. But with all the acclaim and this cast -- including Connie Britton of Friday Night Lights -- I'm on board and after three episodes, I'm intrigued and a little freaked out. I better make sure I finish soon. I don't think I want to watch the finale on Halloween, the way I watched The Exorcist for the first time years ago. Not smart.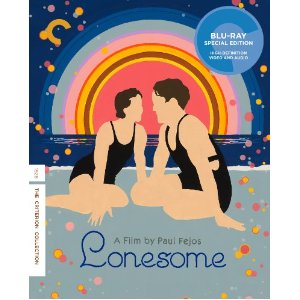 LONESOME ($39.95 BluRay; Criterion) -- I might sue Criterion for false advertising. They claim this is a release of the (mostly) silent film gem Lonesome by Paul Fejos, an absolute charmer about two lonely young people who meet and fall in love while spending the day at Coney Island. But what Criterion has actually delivered is a Paul Frejos boxed set. You get Lonesome and among the bonuses you discover TWO MORE COMPLETE FEATURE FILMS. Those are some bonuses. The Last Performance is a silent film starring Conrad Veidt and is in shaky but watchable condition. Broadway, however, is a big budget Universal musical that looks very good indeed and was a landmark in terms of its use of the crane shot. A virtually unknown Hungarian master with a lengthy career both in Europe and the U.S. in feature films and documentaries, Fejos is arguably a very important innovator. Certainly his claim to lasting fame on the evidence presented rests with Lonesome, a simple tale told with dazzling technique. A celebration of the common man, Lonesome sets the pace of life in New York City very cleverly with its cavalcade of images on the street, people pushing and pulling their way on and off the subways, going to work, coming home and -- in the case of our two lovers -- watching friends head off for romantic dates while they are alone. Fejos never flags in his invention, creating montages of frenzied excitement, bold avant garde touches for certain romantic high points and always, always keeping the simple charms of his characters front and center. It was released in 1928 during the transition to sound and a few rather awkward talking scenes are inserted (for some reason those scenes come from pristine prints) but it's clearly a plus that the film was one of the last silents and had the freedom to innovate. Fejos is a fascinating guy and most of his work remains unseen (it's a pity we can't glimpse here some of his ethnographic work that consumed most of his life after Hollywood). But Lonesome genuinely deserves attention as one of the greats of the silent era and Criterion has done it justice.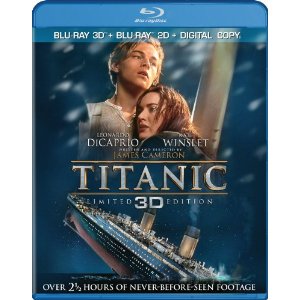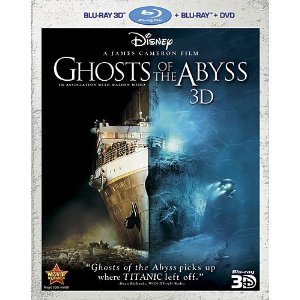 TITANIC ULTIMATE 3-D EDITION ($54.99 BluRay; Paramount)
GHOSTS OF THE ABYSS 3-D ($44.99 BluRay; Disney) -- James Cameron is most excited about the fact that these movies can be seen in 3-D. Not me. I'm thrilled they are out on BluRay, the current format that brings you the best picture and sound. But seeing Titanic in theaters again, I was surprised that Cameron didn't realize 3-D made his spectacle less impressive. They took great care with the 3-D process and it showed. But with the layering of the image that 3-D uses to create depth, the use of blue screens and other effects is far more obvious. You can see this during the early scenes when the ship is being launched and the people on the dock are clearly separate from the image of the Titanic itself. Everything in the 2-D version works to seamlessly integrate these elements and make them appear to be part of one reality. But 3-D explicitly pulls them apart again, revealing the trickery at work. This happens again and again, whenever you've got actors working against a blue screen rather than on some elaborate set they've flooded with water. You already know what you think of the film. It's less impressive as a ride and was never very good as an actual film, but in 2-D and on BluRay, the sinking of the ship - which granted, takes up a huge chunk of screen time -- is still a lot of fun. And Leonardo DiCaprio and Kate Winslet rank with Montgomery Clift and Elizabeth Taylor in A Place In The Sun as one of the prettiest couples in movie history. South Park just wickedly mocked Cameron for his science work, but frankly Ghosts Of The Abyss is very entertaining and fun, an ideal counterpart to his feature film. And it looks great. In 2-D. (I don't have the option of watching it in 3-D on my TV and missed it in theaters.)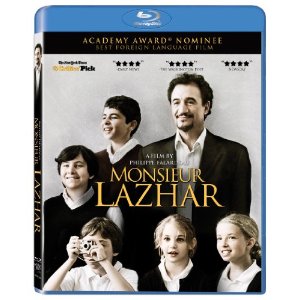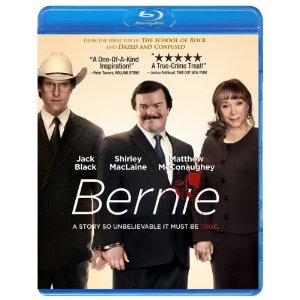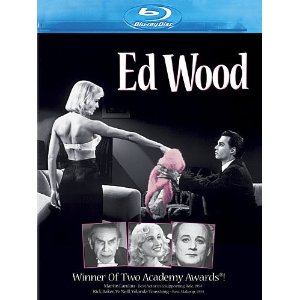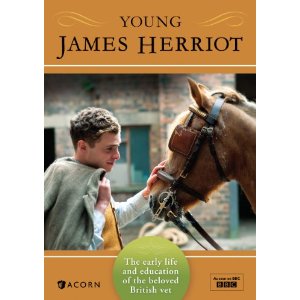 MONSIEUR LAZHAR ($38.94 BluRay; Music Box)
BERNIE ($29.99 BluRay; Millenium)
ED WOOD ($20.00 BluRay; Touchstone)
YOUNG JAMES HERRIOT ($29.99 DVD; Acorn) -- Four works with sweetness at their core. Monsieur Lazhar was an Oscar nominee for Best Foreign Film. It was rightly overshadowed by the masterpiece A Separation but this story of a substitute schoolteacher is very fine indeed and worth a look. Jack Black seems like a nice guy in this small town tale of murder; one thing not in question is that this is Black's most restrained and effective performance in a long time. Shirley MacLaine and the ubiquitous Matthew McConaughey costar. Tim Burton's best film by a mile is Ed Wood, an ode to the schlock filmmaker with a magisterial performance by Martin Landau by Bela Lugosi. And while it's clearly not a patch on All Creatures Great & Small, that show's goodwill makes it almost impossible for me not to watch this tale of the vet learning his craft while storm clouds cover Europe.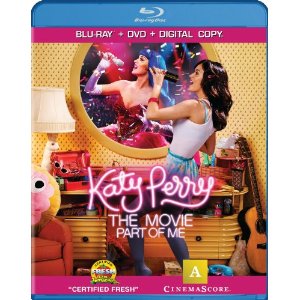 KATY PERRY: PART OF ME ($39.99 BluRay; Paramount) -- What a lost opportunity. The film itself is more of a documentary, covering Katy Perry's backstory, life on the road and her thoughts on her career and her fans and her marriage. It's catnip for fans and a good buy for them. Anyone looking for an actual concert film was probably disappointed since the movie is more of a behind the scenes affair. On this BluRay release, you get two full performances of two songs. For heaven's sake, they surely filmed entire concerts. Why not include one? Are they saving it for another release? Including an actual full concert from beginning to end would have turned this from a pretty good souvenir for fans to a great deal.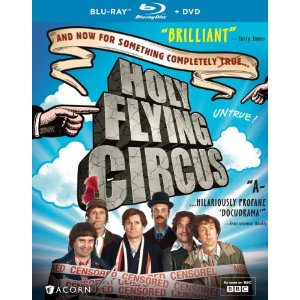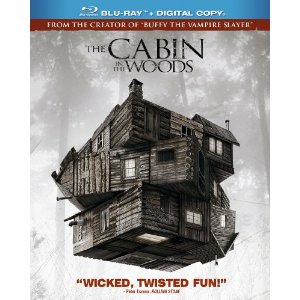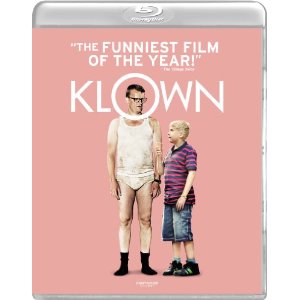 HOLY FLYING CIRCUS ($34.99 BluRay; Acorn)
THE CABIN IN THE WOODS ($34.99 Bluray; Lionsgate)
KLOWN ($29.97 BluRay; Drafthouse Films) -- Three films that court controversy. Holy Flying Circus is an absolutely daft docudrama that turns the brouhaha surrounding Monty Python's Life Of Brian (which does NOT mock Christianity but mocks pious believers indeed) and turns it into a Pythonesque film with the comedy legends played by other actors. It's a nutty idea that works very well. The other two films have twisty finales: Cabin is Joss Wheedon's other project from 2012, this one with a very high concept take on the horror film. And Klown is the latest film rescued from obscurity by Drafthouse Films. It's a raunchy tale about two pals on the lam from responsibility, with one of them "kidnapping" his girlfriend's 12 year old nephew to prove he would make a good dad. Smart plan! Like the best comedies of this sort, it has a sweetness at its core.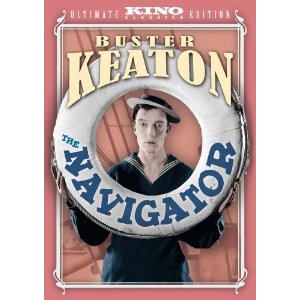 THE NAVIGATOR ($29.95 DVD; Kino) -- The honest truth is that if you can't see great work from the early days of cinema, then you can't champion it and truly get to know it well either. If you're wondering why Max Ophuls didn't rank higher on the latest Sight & Sound poll of the best films and directors of all time, the simple fact is that many of his movies haven't been widely available on DVD and BluRay for years. (That's slowly being corrected.) If you can't watch 'em, you can't trumpet 'em. So Kino may be solely responsible for a new surge of appreciation for the great Buster Keaton because they are seemingly making everything -- and I do mean everything -- he made available in great editions. The Navigator has been reissued in an ultimate edition and I'm reminded again what an inventive tale it is, only slightly less brilliant than The General in its variations on playing with a mode of transportation and milking that for every possible variation. What a treat. If it took me a few weeks to get to it, hey, I've got a backlog of Keaton thanks to Kino. Look for his stock to rise ever higher.
*****
Most titles listed here will be available in multiple formats and in multiple combinations, including DVD, Blu-ray, digital download, video on demand, streaming and the like. The format listed is the format provided for review, not all the formats available. It is often the most expensive version with the most extras. Do check individual titles for availability in all their various guises and price points.
Thanks for reading. Michael Giltz is the cohost of Showbiz Sandbox, a weekly pop culture podcast that reveals the industry take on entertainment news of the day and features top journalists and opinion makers as guests. It's available for free on iTunes. Visit Michael Giltz at his website and his daily blog. Download his podcast of celebrity interviews and his radio show, also called Popsurfing and also available for free on iTunes. Link to him on Netflix and gain access to thousands of ratings and reviews.
Note: Michael Giltz is provided with free copies of DVDs and Blu-rays with the understanding that he would be considering them for review. Generally, he does not guarantee to review and he receives far more titles than he can cover.