Two DVD sets that came out in the fall are exceptionally good and worth the time of any film/tv/documentary lover. One is a collection of movies by the late Canadian Allan King. The other is a forgotten TV classic.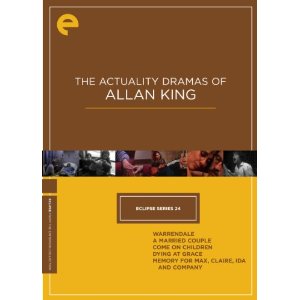 The Actuality Dramas of Allan King ($69.95; Eclipse/Criterion) -- I'd never heard of Allan King, who died in 2009. He dubbed his documentary films "actuality dramas" but people are so comfortable with the genre now that there's no need to gussy them up. His work falls into the Frederick Wiseman mode: fly on the wall observations of various groups, whether it's kids on their own in a social experiment or people facing the onslaught of Alzheimer's. This set from Criterion's increasingly essential Eclipse series contains five films from across his career: you get three from his breakthrough period and two late in life gems. Warrendale is the eye-popper here and the one that established him as a force in the field. We watch kids with severe social issues living together in a group home with care-givers who practice a radical (and odd) form of therapy where they cradle the kids in a passive sort of human strait-jacket method during times of great stress. It's absolutely fascinating to get to know the kids -- including a boy who loves, really loves, to curse -- and the people working with them. When the adult cook of the house unexpectedly dies, the outpouring of emotion is so primal it's frightening. That's followed by A Married Couple, in which King decided to observe up close the marriage of two friends only to discover it was ripping apart. Cassavetes has nothing on this one. King wandered all over while trying to make a living but he returned to the documentary with a vengeance, including the intimate epic Dying At Grace, which chronicles a group of people facing death. King deserves to be in the documentary pantheon for his signal work and this compelling set is both great -- if searing -- entertainment and the first step for ensuring he gets his due.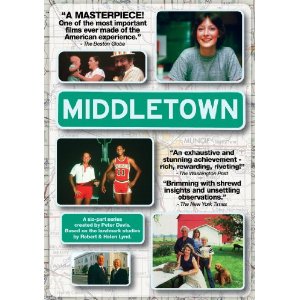 Middletown ($44.98; Icarus) -- This set was the jaw-dropping discovery of the year for me. When you name classic TV documentaries, titles like The Civil War, Eyes On The Prize, Blue Planet and An American Family spring to mind. Middletown belongs right up there on that list and though it was released to great acclaim (and controversy) in the early 1980s, I'd absolutely never heard of it. So far, this DVD set hasn't received the accolades it deserves either. The work itself doesn't even have an entry on Wikipedia, the IMDB entry is minimal -- it might just as well not exist. That must change.
Middletown is a six-part series made for PBS that modeled itself on a classic social study of Muncie, Indiana. Here was the plan: get a group of filmmakers to make six separate movies about Muncie, capturing in some way an essential truth about major institutions like work, education, religion, politics, race and so on. The directors included new talent and major stars and was overseen by Peter Davies, the Oscar winner for the Vietnam documentary Hearts & Minds. Each episode is a winner -- taken as a whole, it's one of the best shows of its type or any type ever done for TV, real time capsule material and also really entertaining. Each section plays like its own complete work but of course seeing them all together creates a fascinating snapshot of a time and place.
The Campaign -- directed by Tom Cohen (who also did the series peak "Family Business"), this is a look at the race for mayor. It's a real nail-biter, coming as it does with the sweep of Ronald Reagan into office. The glad-handing Democrat is embroiled in scandal but knows everyone in town by name. The bland, inoffensive Republican spends most of his time in privileged enclaves and doesn't even seem terribly interested in running or winning. Utterly fascinating for the way it shows how politics has changed but the essentials remain the same.
The Big Game -- directed by E.J. Vaughn, this is a canny look at race through the lens of a basketball game between two cross-town rivals and the lives and challenges facing their respective top players. This familiar territory has been covered so well by Hoop Dreams and the like that it doesn't have quite the impact it once did, but it's solid nonetheless.
Community Of Praise -- directed by Richard Leacock and Marisa Silver, it observes with sensitivity and insight the lives of a family that finds its strength through evangelical Christianity, to the exclusion of all else. The pressures and benefits of this way of life get a full airing and allows those who don't speak in tongues or hold worship and sing-alongs in their home to identify with those who do.
Second Time Around -- directed by Peter Davis and John Lindley, it's an engrossing look at a couple who are both divorced and tentatively but eagerly looking forward to their marriage. You honestly won't be certain if they will actually go through with the wedding as they both enter this union with eyes wide open and perhaps more warily than they should. It's tense, romantic, funny and revealing and should give any couples coming together later in life a glimpse as to how adults really do it.
Seventeen -- directed by Joel DeMott and Jeff Kreines, this was the original show-stopper of the series. Filled with teenagers cursing, drinking, smoking pot and dating interracially, it was a powder keg of controversy. PBS refused to air it and the section eventually was edited into a two hour film that debuted at Sundance to great acclaim and top prizes. Like the sports section, we've seen this sort of thing so regularly now that it doesn't have the shock of the new, but it's still a very funny and observant work that stands the test of time.
Family Business -- directed by Tom Cohen, this is the fourth film of the six in the series. But I saved it for last because it's clearly the crowning masterpiece. By all means, buy or rent or stream the entire series and watch it in order. But if you only have time for one segment, this is the one. It focuses on Howie Snyder, a retired Marine colonel with a large brood of kids who is struggling to make a go of his Shakey's Pizza franchise. Choosing a location away from the strip of major franchises seems to have been the nail in the coffin for the business, but Howie keeps plugging away. The life of the entire family is consumed by Shakey's -- just like the evangelical family seems to live in a bubble as well. The kids both support their folks wholeheartedly but long to have a life of their own where every waking moment isn't devoted to pouring time and energy into what clearly seems to be a dying business. To top it off, Howie and some of the kids and a few others also provide entertainment for the guests. So you watch Howie wrangle on the phone with creditors and the franchise headquarters, the kids bitching about the work or heading out on dates but always always returning to Shakey's, mom trying to hold it together, family meetings to discuss each new crisis and then every once in a while Howie goes out and straps on a banjo and bangs out a song. It's no wonder this was optioned by producers for a potential TV series (it would still make a great one.) It's just a great film, period.
Middletown as a whole is a TV landmark that should never fall off the map again. In fact, it may be too late but PBS should have commemorated this award-garlanded event by commissioning a 30th anniversary production that would do the same thing again. Not necessarily in Muncie, Indiana and certainly not with the same subjects. But like the 7 Up series, this is a concept and approach to documenting a town and culture and way of life that should be done again. In any case, anyone with a love for TV or documentary films should dive into Middletown as soon as they can. It's a classic. By the way, the booklet includes very brief updates about what happened to the people profiled. The movies are so good, you'll find this information to be a bombshell time and again. Make sure you don't read it until after you've watched the movies for maximum pleasure.
*****
Thanks for reading. Michael Giltz is the cohost of Showbiz Sandbox, a weekly pop culture podcast that reveals the industry take on entertainment news of the day and features top journalists and opinion makers as guests. It's available free on iTunes. Visit Michael Giltz at his website and his daily blog. Download his podcast of celebrity interviews and his radio show, also called Popsurfing and also available for free on iTunes. Link to him on Netflix and gain access to thousands of ratings and reviews.
NOTE: Michael Giltz is provided with free copies of DVDs to consider for review. He typically does not guarantee coverage and invariably receives far more screeners and DVDs than he can cover each week. Also, Michael Giltz freelances as a writer of DVD copy (the text that appears on the back of DVDs) for some titles released by IFC and other subsidiaries of MPI. It helps pay the rent, but does not obligate him in any way to speak positively or negatively of their titles.