With the flood of TV shows on DVD in the past few years, you might be forgiven for thinking everything has already been released. Ha! Not even close. I've got a list as long as your arm of TV shows I'm waiting for on DVD. Don't forget: even in the days when there were only three networks, TV had a lot of hours to fill. Now we have hundreds of cable channels and all of them strive to create original programming. At this rate it seems like we may never catch up to the massive library of programming. But the studios sure are trying. I'm getting happily buried in TV shows past and present, some on DVD for the first time and others at new bargain prices. As they sing on Raising Hope, one of my favorite new sitcoms, "Here we go!"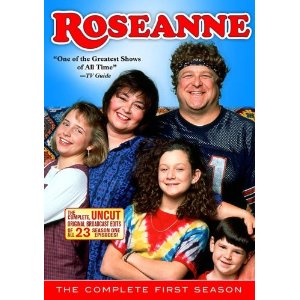 ROSEANNE COMPLETE FIRST SEASON/SECOND SEASON ($14.98 each; Mill Creek)
3RD ROCK FROM THE SUN SEASON ONE/SEASON TWO ($14.98 each; Mill Creek)
THAT 70S SHOW SEASON ONE/SEASON TWO ($14.98 each; Mill Creek) -- This is the best reason to put out a new editions of a show that has already been on DVD -- great, low prices. None of these season sets have lavish extras and the packaging is no-nonsense (individual DVDs come in sleeves stacked in the case). If you're like me, you won't care. $15 (and less on sale) for an entire season? That's awesome and entirely appropriate for shows that are ten to 20 years old and widely available in syndication. Fans should snap them up -- mostly. Roseanne continued the blue collar tradition of The Honeymooners but was especially notable for capturing how parents and kids talk to each in knowing, teasing ways that reflect a lifetime of watching sitcoms and knowing how families are "supposed" to talk but rarely do. 3rd Rock brought a fresh, broad theatricality to the sitcom that TV had never really seen before. (Though Dr. Smith on Lost In Space is an obvious precursor in his campy way.) That 70s Show, like the other two, has an exemplary cast, which helps it paper over thin material. Roseanne and 3rd Rock proudly state they contain all the original episodes in their uncut broadcast form. 70s Show doesn't so I have to assume it's the syndicated edits, which are shorter. As a fan, that's where I draw the line. If a set doesn't contain the original broadcast version (including all the original music), I won't bite no matter how low the price. NOTE: The company releasing That 70s Show says the set does contain the original full broadcast edits, with most (their word) though not all of the original music.
CARLOS ($49.95 BluRay or DVD; Criterion) -- Originally a TV miniseries about the terrorist known as the Jackal, Carlos was shown as a movie but is probably best appreciated over three nights. However you view it, the film is very entertaining and includes Edgar Ramirez in a career-making performance that would unquestionably won the Emmy if voters didn't sort of consider the work as a movie, I guess. How else to explain not making him the winner? Criterion's package is unquestionably a winner, too. You get a great looking print with loads of extras, including video commentary, an hour-long documentary about the historical Carlos the jackal, a feature length documentary about one of his raids, archival interviews, and a making-of look at the marvelous set piece when terrorists take over an OPEC meeting. The life of the terrorist and self-styled revolutionary Carlos is shrouded in mystery. The only biographies I could find focused mostly on the efforts to track him down. So it's no surprise that director Olivier Assayas plunges right into the action. Within ten minutes, Carlos has passed a job interview with people fighting for the Palestinians and is quickly tossing bombs around with aplomb. Convincing in period detail, the miniseries hurtles through his public career, from assassinations to hijackings, from clumsy early efforts to more sustained operations. The final half hour may slow down -- Carlos In Retirement isn't terribly thrilling. But the overall arc is compelling. I love how the filmworkshows so much without making a big fuss over it. Yes, Carlos savors the media attention but it's never shoved in our face as a sign of him becoming too hubristic; it's merely an almost inevitable result of his highly public attacks. He wasn't exactly a shrinking wallflower even at the start. Great stuff and one of the best of 2010 in any medium.
RESCUE ME: SIXTH SEASON AND SEVENTH AND FINAL SEASON ($45.99; Sony) -- Now that we've said goodbye to Denis Leary's boldly weird and funny drama about firefighters in a post 9-11 world, we can catch our breath and take another look at the quixotic journey the characters made. Sometimes it's hard to grasp a show's significance until after it's over and this one is ripe for discovery by those who like to devour their TV shows whole. Plus you get the final two seasons at a good price. This is out right after the season ended just because it's the series finale. But I desperately wish US studios would follow the UK model and get a season out as soon as possible. It seems crazy to hold back and not release the last season until just days before the new season begins. How does that encourage fans to catch up with a show? You're making it as difficult as possible for them to do so.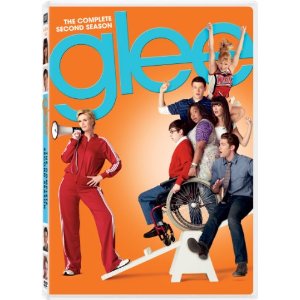 GLEE COMPLETE SECOND SEASON ($59.98; FOX) -- Yes, Glee is wildly uneven. But there's no show like it on TV (at least till perhaps Smash debuts in the spring) and when it's good it's very good. Too many episodes devoted to random celebrity tributes rather than the characters and storylines that matter seem to have driven away some of its audience. It didn't help that they bungled the introduction of Chord Overstreet because they had no idea what to do with him. And yet, like the talent showcase it is, Glee rebounded creatively at the end by stumbling upon Darren Criss as the new love interest for Chris Colfer's Kurt. A star is born! If it's going to stay fresh, Glee needs to keep graduating kids and sending them into the real world and keep presenting new talent. If they do it right, this could be our generation's Mickey Mouse Club or Arthur Godfrey's Talent Scouts.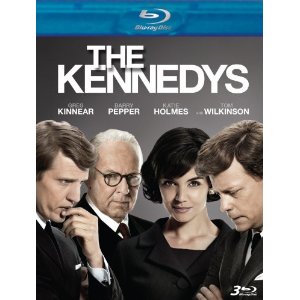 THE KENNEDYS ($39.95 BluRay and $29.95 DVD; New Video) -- From pariah to Emmy winner. That's the journey of this harmless, soapy miniseries about the Kennedys that is no more or less scandalous than a thousand other movies, TV films, and books about that clan. And few have had as strong a cast, especially Barry Pepper who stole the Emmy with his performance as Bobby.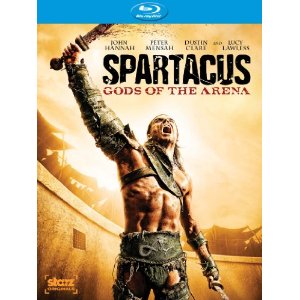 SPARTACUS: GODS OF THE ARENA ($49.99 BluRay and $39.98 DVD; Anchor Bay/Starz)
CAMELOT COMPLETE FIRST SEASON ($59.98 BluRay and $49.98 DVD; Anchor Bay/Starz) -- Speaking of trashy good fun, the second season of Spartacus has a blast despite the painful loss of Andy Whitfield as the heart of the show. It's a testament to a cast (including Lucy Lawless) that knows exactly what sort of show they're in (think I, Claudius with a LOT more nudity and violence) and has fun. The prequel was a good decision for this fill-in season and doesn't feel forced on the storyline at all. Both versions contain lots of extras, with the BluRay featuring extended episodes, audio commentaries (that really should be on the DVD as well) and a 3-D battle scene for those with the right technology. It airs on Starz, which also shows Camelot. Instead of mindless fun, it's just mindless, with no discernible reason for being. Camelot demonstrates that it isn't so easy to have a good time.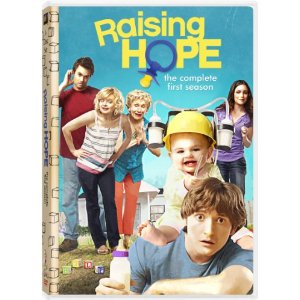 RAISING HOPE COMPLETE FIRST SEASON ($39.98 DVD; FOX)
MODERN FAMILY SECOND SEASON ($59.99 BluRay and $49.98 DVD; FOX)
MIKE & MOLLY FIRST SEASON ($59.98 BluRay and $44.98 DVD; Warner Bros.)
OUTSOURCED THE COMPLETE SERIES ($39.98; Universal)
IT'S ALWAYS SUNNY IN PHILADELPHIA SEASON 6 ($49.99 BluRay and $39.98 DVD; FOX)
THE MIDDLE SEASON TWO ($44.98; Warner Bros.)
THE BIG BANG THEORY FOURTH SEASON ($54.97 BluRay or $44.98 DVD; Warner Bros.)
HAPPY ENDINGS FIRST SEASON ($35.99; Sony) -- The sitcom is coming back strong, led by some new hits this season and the current crop of primetime shows represented here. Let's catch up. Modern Family is cock of the walk, the Emmy winner, the growing ratings champ and the series with all the buzz. It's certainly smart and funny but I'm just not enamored with it, try as I might. But here's an opportunity to give it another shot in the best possible way. Mike & Molly won Best Actress at the Emmys but that seemed to be more like a reward for star Melissa McCarthy's work in the hit film Bridesmaids. For a show meant to be empathetic for heavy-set people, I still find the relentless fat jokes rather off-putting. But I still crush on McCarthy from her work on Gilmore Girls, so I'm glad she's coming into her own. Outsourced is not a stellar sitcom, but it was pretty good and I really enjoyed it. Credit the strong ensemble, which is half the battle. That wasn't enough to get it renewed, but it will surely be the only US primetime series set in India for quite some time to come. (Now someone prove me wrong with some obscure oldie I'm forgetting about.) Sunny is the bastard child of Curb Your Enthusiasm and Arrested Development, combining the former's misanthropy with the latter's wacky plots. It's a genuine cult hit. The Middle is a mild, diverting show. I don't feel driven to watch it but enjoy it when I do. It's nice to see Patrcia Heaton in another show and Charlie McDermott as son Axl is definitely one to keep an eye on. The Big Bang Theory was fresh for a brief moment but already after four seasons the stories and characters are burnt out and repetitive. Happy Endings is this year's Parks & Recreation, the show everyone says is the most improved. I gave up early on it but will dive back in to see if the critics are right. (But what do they know?) Out of all of these (and everything else on TV), my current favorite live action sitcom is Raising Hope, a show with the same casual charm and big heart as My Name Is Earl. It was a little spotty in the first season (why make Cloris Leachman such a grotesque figure?) but the characters are great, the humor subtle and sharp, and the cast up and down the line is terrific. Give it a shot.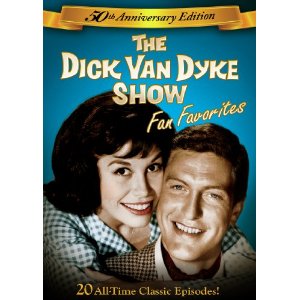 THE DICK VAN DYKE SHOW FAN FAVORITES ($24.98; Image) -- Here's the rule of thumb for sitcoms (and dramas like Law & Order). If a series ran for three seasons or less, it should be released in a complete package. No one is going to want just one season of a sitcom that only ran for two years. If it's a long-running show -- especially classics like I Love Lucy, Mary Tyler Moore, The Cosby Show and many others -- studios should release complete season sets AND a greatest hits package. The Andy Griffith Show put out an exemplary package and now the classic sitcom The Dick Van Dyke Show has done the same. It contains 20 episodes and loads of extras (including the original pilot). You'll find exactly what you'd expect: the funniest and best episodes from a great show, the ones fans love most like the walnut episode, the flashback to Rob and Laura's marriage, the one with the inflatable raft and more. And at $25, it's a great value, perfect for casual fans or people who want to check out one of the best sitcoms of all time and a direct influence on current hit 30 Rock. If only the shows I mentioned and many others would get the same loving treatment. It can work for a formula show like CSI and Law & Order (though not a serial drama like Hill Street Blues). Doesn't every great sitcom deserve a greatest hits set like this?
NOTE: Michael Giltz is provided with free copies of DVDs to consider for review. He typically does not guarantee coverage and invariably receives far more screeners and DVDs than he can cover each week.