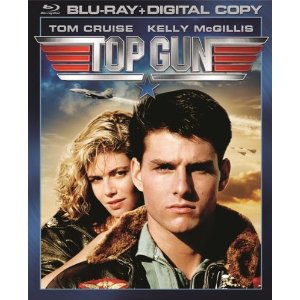 TOP GUN ON BLURAY ($24.99; Paramount) -- Tom Cruise became a star with Risky Business, a classic that has endured as both an entertaining comedy and a wicked satire of the go-go Eighties. (That studio-enforced ending actually makes the satire perfect because Joel Goodson only gets into Princeton because he runs a brothel.) But Tom Cruise became a superstar with Top Gun, a hokey melodrama of the most contrived sort. It fails on almost every level -- as an action film, as a romance, as a coming of age story, as a music video. On almost every level but one. It is a star vehicle of the first order, the sort of tailor-made movie that the studio system used to create for rising talent they believed in.
Here the film is crafted by director Tony Scott to showcase Cruise to perfection. His smile, his sexiness, his easy camaraderie with his male pals. It's all cannily designed to make America weak in the knees for Maverick, right down to the mistiness in his eyes when his best friend must be sacrificed... so that Maverick can get a little misty eyed and then push past that momentary weakness to kick a little Russian ass. It's a spectacle and this new BluRay makes the most of it. Turn up the volume as loud as possible; the less thinking you do, the more you'll enjoy it.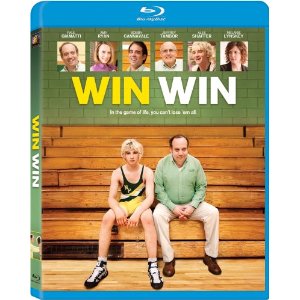 WIN WIN ($39.99 BluRay or $29.99 DVD; FOX) -- Here's one of the treats of the year, a movie that restored my faith in writer-director Tom McCarthy. He broke out with the quirky, very good film The Station Agent. Then he made the maudlin, hatefully open-minded movie The Visitor, which clearly annoyed the heck out of me. Was Station Agent a fluke? Far from it. Win Win is a thoughtful, genuinely independent movie with a quiet focus and dignity that allows this simple story to breathe and become real to us. Paul Giamatti is a down-on-his-luck lawyer who also coaches high school wrestling. Unquestionably a good guy, he makes a questionable decision that allows him to receive income for a client that he doesn't deserve. That one choice spirals out of control for him. But at the same time his loser of a team is blessed by the unexpected arrival of a natural, a kid also tied into that fateful decision. It all becomes deliciously complicated and funny and raw, with sterling supporting work from Amy Ryan, Bobby Cannavale, Jeffrey Tambor and Alex Shaffer as the kid. Don't miss it.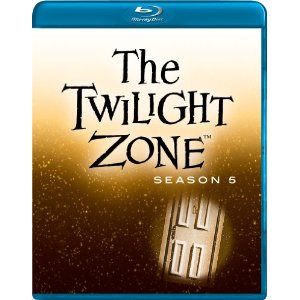 THE TWILIGHT ZONE SEASON 5 ON BLURAY ($99.98; Image) -- For its combination of terrific remastering and sound plus a wealth of pertinent and revealing and just plain desirable extras, The Twilight Zone on BluRay from Image is the gold standard of classic TV reissues. It just doesn't get any better than this. The show was shot with care by top cinematographers but no one saw exactly how good it looked until now. You get all 36 episodes, with dozens of new commentaries, 22 radio dramas, all the previous extras from regular DVD and much more. Season four was the boondoggle of the hour-long episodes. Season five happily returned to the half hour format, but creator Rod Sterling was burned out, a new producer alienated other writers and the quality was patchy. The writing was on the wall, though not before some final classic episodes like "Nightmare At 20,000 Feet," "Living Doll" and the savvy use of a French short film called "An Occurrence At Owl Creek Bridge" that is one of the show's very best and even won an Academy Award.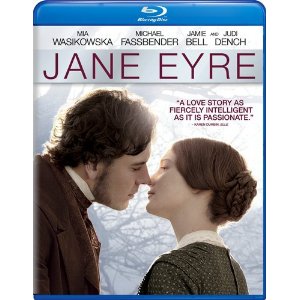 JANE EYRE ($34.98 BluRay or $29.98 DVD; Universal) -- How do you possibly tackle a classic that has been filmed (and quite well) so many times before? With intelligence and restraint and some very fine actors, notably Mia Wasikowska as the strong-willed governess, Michael Fassbender as a convincingly brooding object of desire, Judi Dench amusing as a housekeeper with airs and Jamie Bell compelling as always playing a determined man of the cloth. Director Cary Fukunaga previously made the notable indie Sin Nombre (about young lovers escaping gang violence on a trek to a new life in the US) and he brings a similar intelligence to this oft-told tale. No one tries to reinvent the wheel or give the story some modern angle. Like a solid Broadway revival of a classic play, it moves swiftly and smartly and satisfies.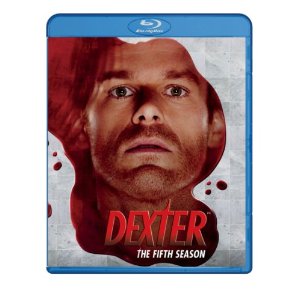 DEXTER THE FIFTH SEASON ($64.99 BluRay or $54.99 DVD; Showtime/Paramount) -- Why oh why do American networks wait to release the last season just weeks or days before the new season begins? (Yes, the new season of Dexter begins October 1 on Showtime.) Let me make another plea that they release a TV show on DVD as soon as possible after the season ends. They're usually shooting all the bonus material while the show is in production anyway. Except for the audio commentaries (which could be one more chore the creative team would do during production), everything else can be worked on and ready to go as soon as the season is over. That way fans could jump on episodes right away and newcomers would have as much time as possible to jump in before a new season begins. As it is now, it's almost impossible to catch up without gorging on the most recent episodes right before a new season begins. I'd love to have more people appreciate the almost remarkable, convention-defying job that Michael C. Hall and the show has done by making a serial killer the star of a series. It's truly astonishing and if you haven't been watching, get cracking. You don't want Dexter angry at you. P.S. There's a Dexter board game? Sick. I love it!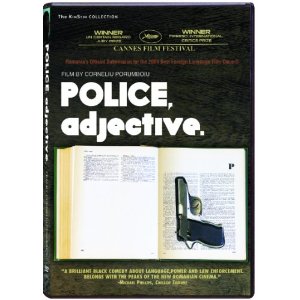 POLICE, ADJECTIVE ($29.99; Zeitgeist/Kimstim) -- Director Corneliu Porumboiu's last film was the droll but dagger sharp 12:08 East Of Bucharest. His art-house reputation should solidify further with Politist, Adjectiv. In it, a Romanian detective is investigating three teenagers (two guys and a girl) who smoke pot once a day in a courtyard. One kid has turned into a narc and reported his friend but not the girl. Though it's officially a case of "drug dealing," the one boy seems to get pot from his brother and he and his friends just smoke a joint. He doesn't sell it to them or anyone else and their lives are thoroughly unremarkable otherwise. They're just kids and the detective is aware that possessing such a small amount of pot is legal in many European countries and probably will be soon in Romania. But if he launches a "raid" (a grand word for arresting three kids), it's likely the kid targeted won't want to turn in his brother for providing the drug and could be sentenced to seven years. Only fest goers and art house cineastes will get past this film's deliberate style to the heart of the film. And the heart of the film is language, funnily enough. Slowly, subtly, the film evolves from this specific story to a universal struggle over personal responsibility versus fealty to the state. It's fascinating, compelling, and quietly funny, though certainly not mainstream fare. One of the best films of the past year.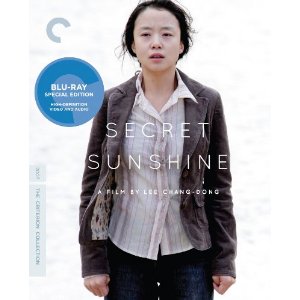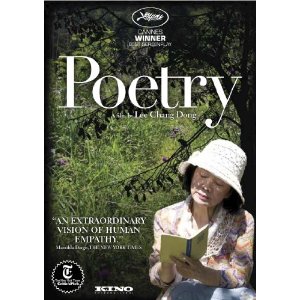 SECRET SUNSHINE ($39.95 BluRay or $29.95 DVD; Criterion)
POETRY ($29.95; Kino) -- Korean director Lee Chang-Dong has crafted an impressive body of work and showcases for two incomparable actresses. In Secret Sunshine, Jean Do-yeon (who deservedly won the Best Actress prize at Cannes) is a widow who moves with her son to the hometown of her late husband and slowly, awkwardly makes a new life for herself. IN the more recent Poetry, the great Yun Jung-hee plays an even trickier role as an elderly woman who is trying to care for her grandson while struggling with the onset of Alzheimer's. I think Secret Sunshine is the better film (I especially love the subplot of a local mechanic who wants to woo the widow but ends up with being wooed by a new faith instead). But both are worthy watching for the terrific performances at their heart. As you might expect, Criterion has solid extras including a video interview with Lee, an on-set documentary and a substantial essay by Dennis Lim about the filmmaker and this movie.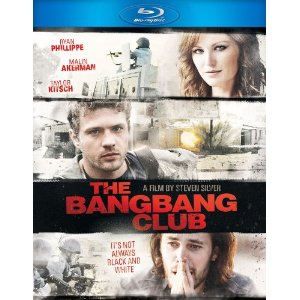 THE BANG BANG CLUB ($29.98 BluRay or $24.98 DVD; eOne) -- Young photojournalists in South Africa became world famous and snag Pulitzers while documenting the last days of apartheid. I'm a fan of Ryan Phillippe (who is always underestimated and has good taste in projects) and was eager to see how Taylor Kitsch fared on the big screen after growing by leaps and bounds on the fine series Friday Night Lights. The common complaint is that the story of four or five young white guys is not the best way to get insight into apartheid. But who cares about that? If the film were more effective, that wouldn't matter. But the guys behave like only journalists in movies can behave: they stride into the office like rock stars, have groupies and dodge bullets by day and down beers by night with wild abandon! What fun, and for all I know it's thoroughly authentic. It's also thoroughly earnest, my catchphrase for well-intentioned movies that have their heart on their sleeve and forget to tell a story. Doing their job in a war zone takes its toll, with broken relationships, danger and even suicide. It really must have been an adventure of a lifetime to be in the Bang Bang Club. But there's a reason journalists avoid making themselves the story -- the people they're covering are usually a lot more fascinating. The movie does its level best by them, but these lads are best revealed through their work, not their raucous war stories.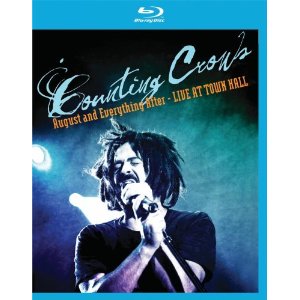 COUNTING CROWS LIVE AT TOWN HALL ($19.98 BluRay or $14.98 DVD; Eagle Rock) -- I've always had a fondness for Counting Crows. Their debut CD was the first album I got paid to review after leaving college, for the now-defunct CD Review. I was wildly enthusiastic and must admit they haven't fulfilled that promise (my friend Joe will kill me for saying so). But they're still around and have a loyal following, putting out new music and giving a great live show 17 years after they began. That's an accomplishment in and of itself. This intimate show at Town Hall (one of my favorite venues in New York City) lets the band perform that debut -- August and Everything After -- in full and in order, joined by special guests. Fans deserved a fuller show with a second set drawn from their many other albums. But what's here will satisfy the faithful and maybe win a few new ones.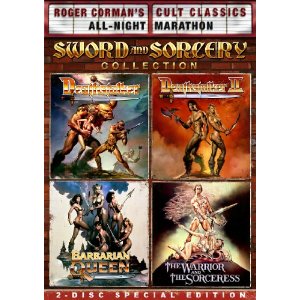 SWORD AND SORCERY COLLECTION ($24.97; Shout) -- The new reboot of Conan The Barbarian is truly awful. But if you want to see bad B movies set in the world of sword and sorcery, check out this collection of four flicks from Roger Corman. Deathstalker I and II, Barbarian Queen and The Warrior and the Sorceress -- even with David Carradine in the latter, these flicks know they're drive-in fodder and are a lot more fun to watch than Conan could ever hope to be. Not that they're actually good, mind you.
HOUSE SEASON SEVEN ($74.98 BluRay or $59.98 DVD; Universal) -- House was always a formulaic show. A mysterious illness pops up, the House team knocks ideas back and forth and by the end House himself steps in by cracking the code. Sure, sometimes someone else gives him an idea, but that's basically it. Nothing wrong with formula, but after seven seasons it is wearing thin, even with Hugh Laurie as the irascible doctor. He's finally cozied up (sort of) to Lisa Edelstein's Cuddy, with predictably on and off results. It's fine for the faithful, but the show should really have left us two seasons ago, wanting more. So few shows have the strength to say goodbye when they're on top. Why would the egotistical, self-centered House be any different? Of course he's outstayed his welcome.
Thanks for reading. Michael Giltz is the co-host of Showbiz Sandbox, a weekly pop culture podcast that reveals the industry take on entertainment news of the day and features top journalists and opinion makers as guests. It's available free on iTunes. Visit Michael Giltz at his website and his daily blog. Download his podcast of celebrity interviews and his radio show, also called Popsurfing and also available for free on iTunes. Link to him on Netflix and gain access to thousands of ratings and reviews.
NOTE: Michael Giltz is provided with free copies of DVDs to consider for review. He typically does not guarantee coverage and invariably receives far more screeners and DVDs than he can cover each week.