NOTE: I belong to a group of film buffs called the IRAs who gather annually to vote on their favorite movies of the year. Many of these people I see only once a year and know nothing about, so I'm always vaguely astonished when I see they actually exist in the real world. This one has just published a novel called The Big Crowd and got a rave review from Scott Turow in the New York Times. That one is a renowned expert on film noir and is hosting a series on Alfred Hitchcock at the 92nd St. Y.
So I shouldn't have been surprised when critically acclaimed and best-selling author Ed Sikov sent me an MP3. I knew him best as a film historian, including his masterpiece On Sunset Boulevard, a biography of director Billy Wilder. But music? I'd never heard Ed so much as whistle the theme song for 20th Century Fox. He sent me a tune and asked what I thought about it. The tune was rock and roll, in the roots rock vein. I liked it -- a lot -- and had a nagging sensation I should know the artist. He sent me another one. And another one. Who is it?? I finally begged.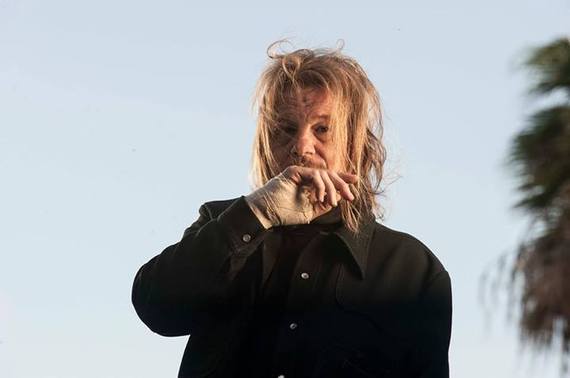 (Jimmer Podrasky)
"It's Jimmer Podrasky," he 'fessed up. Of The Rave-Ups? The band that was depressed before No Depression, the group that was Americana before Americana was cool, an act so bedeviled by bad luck that they were featured prominently in the film Pretty In Pink but their classic song "Positively Lost Me" didn't make it onto the best-selling soundtrack? Yes, he said, that Jimmer Podrasky. What's more, he was producing Jimmer's comeback album, the artist's first release in 23 years! (You can check out the excellent album on his website.) Say wha?
Here is Ed's story of how it happened in his own words. It involves -- among other things -- Beverly Hills 90210, the power of Facebook, cousin Oliver from The Brady Bunch, a weekend in lockdown in Los Angeles' terrifying mental health system, Chief Justice John Roberts of the Supreme Court and not incidentally some great, great music.
Rave-Up/Grow Up
or
How a Retired College Professor and Film Biographer
Became an Executive Producer in the Hollywood Music Industry
Jimmer Podrasky is 55 years old now. In the 1980s and early 1990s, he was the singer-songwriter for a band called The Rave-Ups. You could call them a cult band, but that's because their first major label, Epic, kept them from growing beyond cult status for reasons known only to the marketing geniuses at Epic. Sky Daniels, the programming director at Los Angeles's hipster radio station KCSN, still plays their songs regularly. When they reunite for concerts at Molly Malone's and Pappy and Harriet's Pioneertown Palace in LA, they play to sell-out crowds. I mentioned my old friend Jimmer in passing to a student of mine at Haverford College, where I used to teach, and he said, "Jimmer? You mean Jimmer Podrasky? Of The Rave-Ups?" I looked modestly at my nails and acknowledged that yes, I knew Jimmer from the days when, as 11-year-olds, we used to play touch football in our neighbors' yard. A sudden shower of coolness rained down on me from the heavens. I did not reveal that I was the shittiest football player this side of the nearest school for the blind.
Like most bands, The Rave-Ups faded away after 10 years or so. They lost their contract with Epic. Their patron Molly Ringwald (with whom they appeared in Pretty in Pink), moved on to other projects. Shannon Doherty (with whom they appeared in a prom episode of Beverly Hills Beverly Hills 90210) decided she didn't want to marry Jimmer (who had next to nothing to say about their exceptionally short engagement) after he expressed to her father the apparently preposterous idea that he could never love Shannon more than he loved Chance, the son he'd had with Molly's sister, Beth, who split up with Jimmer when Chance was 2. He got a job at William Morris as a script reader until Hollywood fired him and about 50,000 other people in 2009. The Rave-Ups played here and there over the years, but the group's members weren't close anymore. They didn't exactly loathe each other, but there was no love lost. Chance dropped out of high school and did a lot of drugs. Jimmer was unemployed, depressed, and living on Kraft Mac 'n Cheese. Then his dog died.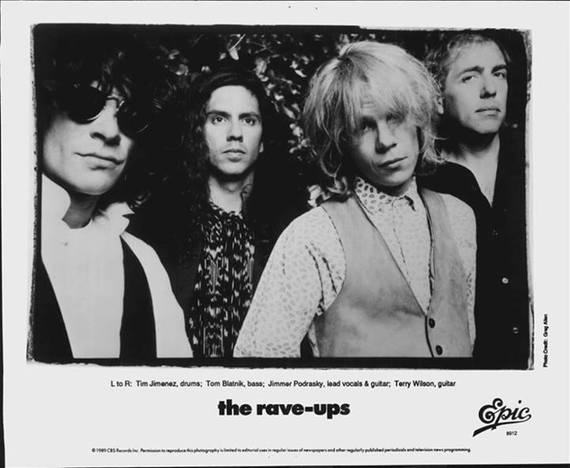 (The Rave-Ups in their glory days.)
After college I lost touch with Jimmer for no good reason until -- it humiliates me to write this -- one day on Facebook there his picture popped, under a caption reading something like "You may know Jimmer!" Well, goddamn it, I had to admit that Facebook got it right, so I dropped him a "How ya doin'?" message, and since then we've become even closer friends than we were when we grew up together in drab, dreary Natrona Heights, Pennsylvania, a steel mill town nestled in the sad little Allegheny Valley north of Pittsburgh. Jimmer and I and our equally morbid buds called it "the Vale of Tears."
Jimmer wasn't a bad football player for an 11-year-old. He just didn't give a crap, an outlook he has taken to most things that don't include music, writing, movies, and his son. I quit playing football (and baseball, soccer, tennis, and poker) when the derisive laughter got too loud and my self-esteem began to burrow underground in a vain attempt to run for cover, but after a few years my friendship with Jimmer regrouped and took other forms: lots of talk about books, records, and poetry and lots and lots of weed. We hung with a brilliant, moody-hilarious kid named Michael Kaniecki; Michael and Jimmer and George Carter formed the original Rave-Ups. 30 years passed until the day in 2010 -- I retch -- Facebook reunited us.
Phone calls were suddenly frequent and frequently upsetting. Jimmer sounded ghastly. A drug gang beat Jimmer to a pulp over a debt owed by others -- a broken bone, contusions, loose teeth, constant terror. He slept with a knife next to him. Jimmer had no money and no job prospects -- he was even turned down by Wal-Mart. Jimmer and his son Chance moved out of their vulnerable apartment and into Jimmer's 20-year-old car, which Jimmer parked in a helpful friend's driveway for three weeks until someone ratted him out to the drug gang and they were forced to move into the hills north of the Valley. Jimmer crashed the car. Chance's grandparents stepped in, got him way the hell out of Los Angeles and found him a job. Jimmer got an apartment share back in civilization. After a surreal meeting in an aisle of a local supermarket with the all-grown-up Cousin Oliver from The Brady Bunch, Jimmer started jamming with Oliver, now known by his given name, Robbie Rist, who turned out not only to be a fine musician but a generous friend who worked hard with Jimmer on vocal phrasing and attitude in his own studio space and asked for absolutely nothing in return.
But it seemed to me that Jimmer Podrasky, former Rave-Up, still wasn't living up to his potential. And it bugged the hell out of me. He was too good for a life of Mac 'n Cheese and a dead dog.
Meanwhile, Jimmer's first cousin was doing very, very well indeed. He's John Roberts, Chief Justice of the United States Supreme Court.
I decided in November, 2011, to head out to Hollywood and see the dysfunction for myself. The night I arrived two of Chance's friends stopped by to visit Jimmer. An hour later the two boys were in the park down the street, and within minutes one was shot to death and the other was turned by a few bullets into a lifelong paraplegic.
A couple of fellow do-gooders with similar taste in music -- the multi-talented and multiply connected Alison Freebairn-Smith (who used to be Carole King's assistant, among other amazing gigs), the musician-producer Mitch Marine (formerly of Smash Mouth, now Dwight Yoakam's drummer), and I -- decided to take Jimmer on as our project: part Eliza Doolittle, part George Michael in his comeback phase, part Pinocchio, part Johnson's War on Poverty. This enterprise was gestating when a cousin of Jimmer's decided on the basis of a typically downer phone call with him -- at that point, he could turn the sunniest LA day into a dark gray Western Pennsylvania rain cloud, only it would be full of acid rain -- that he was mere moments away from killing himself. She panicked and called the cops, who arrived on the scene and dispatched Jimmer into a weekend of hell: they led him in handcuffs out onto the steps of his apartment building and made him sit there for an hour while nothing else happened. He was transported to three different Los Angeles hospitals without ever seeing a professional psychiatrist. At one of these hellholes he was treated to a receptionist who recognized him and called everyone in sight over to look him up on the internet, all the while pointing and saying, "We got a celebrity! Take a look at this guy! He used to be famous!" Jimmer stayed awake rather than risk falling asleep in locked rooms full of people who were shrieking, crying, farting, snoring, and otherwise demonstrating that they were clinically insane and also suffering from notable digestive distress and sleep apnea. At the end of the weekend, he finally cornered a licensed psychiatrist who he forced to agree that he was not in fact suicidal and who released him after 72 hours of Los Angeles County's rendition of contemporary mental health treatment. Bedlam was progressive by comparison. Jimmer's experience hastened our intervention.
Mitch agreed to produce a new recording of Jimmer's music, both new and not-so-new. Call it Roots, or No Depression, or Americana with an overlay of pop. Call it anything you want. Jimmer doesn't care. He only wants to write and perform the stuff, not define it. Marine rounded up musicians who would work for (I'll say it) a song. Alison said she'd pull together other musicians and be our den mother (we needed one -- and how). And I? Alison, Jimmer, and I were sitting in a Thai restaurant in Hollywood, and I asked naively what precisely was preventing the recording from being made. The whole thing seemed to be missing one vital piece of the puzzle, and I, dumb as a post, couldn't figure out what it was. After much hemming and hawing, the obvious answer was revealed: cold cash.
"Oh, I got that," I said. "Let's go!"
"Oh no. No! You can't," said Jimmer.
"Oh yes I can," I said. "And I will. Don't argue with me."
"But...."
"Shut up."
This is one of the values of knowing someone for a very long time. You can say, with no rancor whatsoever, "Shut up," and the person simply closes his mouth and says no more. Longtime friendships are marvelous that way.
Mitch, Jimmer, and I formed a partnership, and the always good-natured Mitch immediately made good on his promise to provide talent: Rami Jaffee, the organist for The Wallflowers; Brian Whelan, who Jimmer describes as "a 911 version of Gram Parsons"; Ted Russell Kamp, a talented singer-songwriter in his own right who plays with Shooter Jennings and the 357's; and Marty Rifkin, Bruce Springsteen's pedal steel player. Yes, you read that correctly: we got the guy who plays pedal steel for Bruce Springsteen. And Tom Petty. And Ryan Adams. And Jewel. Dave Leonard did the mixing; he's mixed recordings by lots of unknowns. Also Paul McCartney, k.d. lang, Oingo Boingo, the Indigo Girls, Tony Bennett, Shawn Colvin, and the Neville Brothers.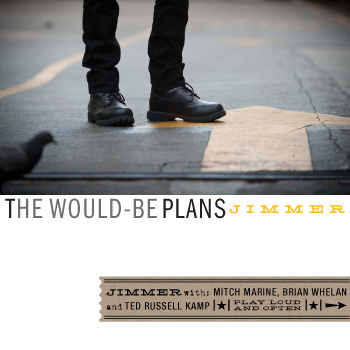 The album is called The Would-Be Plans. Take a listen at www.jimmermusic.com, and maybe even buy a download, a CD, or even a vinyl.
So that's the story of how I became an executive producer in the Hollywood recording industry. My Ph.D. from Columbia, 23 years of itinerant college teaching, two film studies textbooks, and three biographies of filmmakers (personal plug: Billy Wilder, Peter Sellers, and Bette Davis) did not prepare me in the least for this job. Being an executive producer involves writing checks, staying out of the creative people's way, and hogging lots of credit in the end. I'm planning my future as a mogul: Beverly Hills. Swimmin' pools. Movie stars....
In return I get to listen with proprietary interest to songs written and sung by a guy I've known for 44 years. I'm so proud I could cry. I often do.
Oh, and one more thing: we call our production company Chief Injustice.
-- Ed Sikov
As a final treat, here's a YouTube video with footage from Pretty In Pink playing while you hear one of The Rave-Ups' classic tunes.