ROOM *** out of ****
WOMEN'S PROJECT JULIA MILES THEATER
Like director Anne Bogart, I first read Virgina Woolf as a teenager. To The Lighthouse felt so modern and bold and fresh and yet completely accessible, it was a revelation. Her stream of consciousness style was so influential it hardly seemed strange to me some 60 years later, but still I realized how exciting it was. Then I moved on to her other masterpiece Mrs. Dalloway and other works both more and less enthralling on their own, but always with a love for an artist who had scaled such peaks.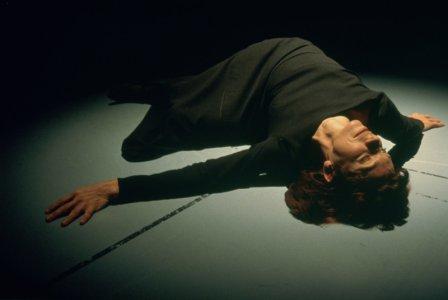 Bogart and actress Ellen Lauren share their love of Woolf not through some sentimental one-woman show that celebrates this iconic figure in the warmth and intelligence she so often displayed. Instead, they delve into her mind and literally embody the thought processes of an artist. This work by Jocelyn Clarke adroitly mixes lectures, essays, letters, diary entries and her fiction to capture Woolf's razor-sharp clarity on so many issues.
It begins simply, with Woolf already seated in the auditorium when you enter, highlighted by a spotlight. Abruptly, she launches into a lecture based on the famous essay "A Room Of One's Own." Wryly amusing but serious, personable but penetrating, simply delivering Woolf's voice can provide an exceptional evening of theater (as evidenced by Eileen Atkins' A Room Of One's Own and Vita and Virginia.) But the pleasures of this Room are more intellectual than emotional.
At first, Lauren seems a bit mannered as she crosses the stage, but naturalistic. Slowly, certain tics appear. When she discusses writing, one hand flies up and points a finger down and then slowly descends until it rests on an open palm. Another arm gets a bit restless and has to be pushed back into place or it flies off on its own, reaching for the sky. As the show progresses, the stylized movements become more and more predominant. Slowly, you realize that at times Woolf is lowering gently to the ground at unexpected moments or is pinned against the back wall during an especially revealing discourse and yet it all proceeds so smoothly you don't question it in the least.
Lauren handles the transitions between conversation/lecture and the choreographed movement, from public lecture to private memory with ease. It climaxes in a wonderful moment where Woolf's insight into what has made her an artist is captured in all its exhilarating thrill by a frenzied explosion into pure dance. The tech elements are handled superbly, especially the movement by Barney O'Hanlon and the soundscape by Darron L. West, all brought together by Bogart and Lauren. Fans of Woolf and adventurous dance/theater shouldn't hesitate to head to this production by Women's Project and SITI Company.
THE 2010-2011 THEATER SEASON (ratings on a four star system)
Angels in America revival at Signature *** out of ****
Beautiful Burnout at St. Ann's Warehouse **
Blood From A Stone ** 1/2
The Broadway Musicals Of 1921 at Town Hall ***
Devil Boys From Beyond **
The Diary Of A Madman with Geoffrey Rush at BAM ***
Driving Miss Daisy **
Elf *
Elling **
A Free Man Of Color ** 1/2
Gatz ***
Good People with Frances McDormand **
The Grand Manner **
The Great Game ***
Gruesome Playground Injuries ***
The Hallway Trilogy: Nursing **
The Hallway Trilogy: Paraffin ***
The Hallway Trilogy: Rose ***
The Importance Of Being Earnest ** 1/2
The Interminable Suicide Of Gregory Church *** 1/2
John Gabriel Borkman * 1/2
La Bete ** 1/2
Les Miserables ***
Lombardi **
The Merchant Of Venice *** 1/2
Middletown ***
The Milk Train Doesn't Stop Here Anymore *
Mistakes Were Made ** 1/2
Nixon In China *** 1/2
The New York Idea **
The Nightingale and Other Short Fables at BAM ***
Other Desert Cities **
Our Town with Helen Hunt ***
The Pee-wee Herman Show ***
The Road To Qatar *
Room ***
The Scottsboro Boys ****
Small Craft Warnings zero stars
Three Sisters (w Maggie Gyllenhaal and Peter Sarsgaard) *** 1/2
Timon Of Athens at Public with Richard Thomas ***
The Whipping Man **
Wings **
Women On The Verge Of A Nervous Breakdown **
AT THE NEW YORK MUSICAL FESTIVAL
Blood Ties ***
Fellowship * 1/2
Fingers and Toes ** 1/2
Frog Kiss *** 1/2
The Great Unknown ** 1/2
Nighttime Traffic **
Our Country *
PopArt *
Shine! The Horatio Alger Musical ** 1/2
Show Choir **
Tess: The New Musical **
Trav'lin' ***
Without You *** 1/2
*****
Thanks for reading. Michael Giltz is the cohost of Showbiz Sandbox, a weekly pop culture podcast that reveals the industry take on entertainment news of the day and features top journalists and opinion makers as guests. It's available free on iTunes. Visit Michael Giltz at his website and his daily blog. Download his podcast of celebrity interviews and his radio show, also called Popsurfing and also available for free on iTunes. Link to him on Netflix and gain access to thousands of ratings and reviews.