After the great success of high-tech bike-sharing program in places like Paris, with its Velib, and Barcelona, among others, it's about time for the US to join the party.
Some cities already had small-scale and/or low-tech bike-sharing programs, but to scale and really make a difference, you need something more. This is what the District of Columbia (D.C.) is now doing with its Smart Bike DC bike-sharing program that launched this week.
It's still a bit small - 120 bikes will be available at 10 stations, compared to 20,000 bicycles at 1,500 stations in Paris - but a good start. The way it works is simple: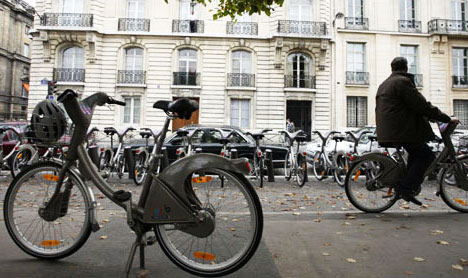 "A $40 annual fee gets riders a membership card, which allows them to pick up a cherry red three-speed bike." Once you pick up a bike, you have it for up to three hours. If you need it longer, you need to go back to a station. There are no limits to the number of trips. Unfortunately, short-term memberships will not be available at first, so the target audience isn't tourists.
We can hope that other US cities - and cities around the world in general - will follow in D.C.'s footsteps and give their citizens a new transportation option. It has been shown that many people will hop on a bike for short distances over the city of bikes are conveniently available. This reduces air pollution, traffic congestion, and everybody benefits (especially cyclists who improve their health).
More about the DC Bike-Sharing program here.
More from Michael Graham Richard on Huffington Post
The Split Personalities of Ford (USA vs. Europe)
Ludicrous Lawns, Wasted Water, and Solid Solutions
Electric Cars Take Over: 17 Electric Cars You Must Know About
4 Fun Green Stories and 2 Sad Ones
Can We Power the Whole World with Solar Power?
Wind Power Success Stories
Wind Power Success Stories, Part 2
Water-Powered Cars: Possible or Impossible?
Will 2010 be the Year of the Green Car?