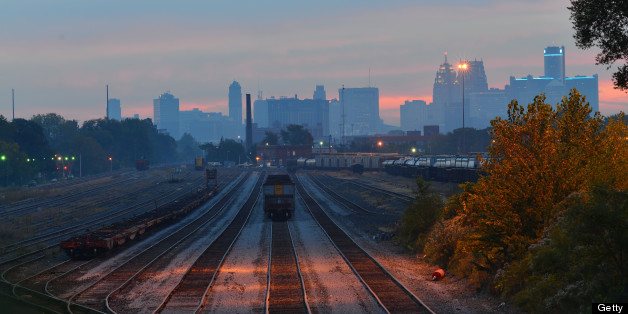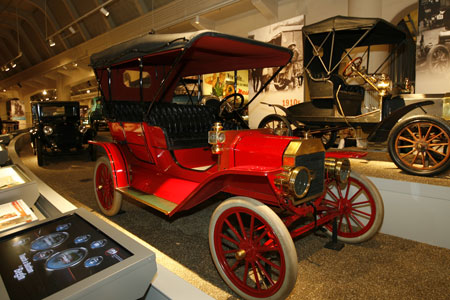 Photo courtesy of The Henry Ford
Whenever I say that I'm taking a trip to Detroit I get that same puzzled look and then the question: "Visiting family?" or "Work trip?" -- as if there is no other reason to go. I get it. My hometown isn't exactly jockeying for a top spot on most travel "to do" lists, like say New York City or San Francisco. But that's not because there's no there there. There definitely is plenty there, as I rediscovered during a recent visit home.
In 1978, my dad quit his union job delivering Wonder Bread and Twinkies, pitched a for-sale sign in front of our aluminum-sided tract home, locked the door, and headed to Arizona -- for a chance at a new kind of American Dream. We rarely visited, but longed for the Red Wings, family we left behind and Buscemis pizza -- square cut, with a chewy on the inside, crispy on the bottom crust and sweet sauce.
Visiting the Motor City as an adult is a road trip through my childhood, but also a chance to explore a great American metropolis.
My partner and I landed at Detroit Metro Airport in the still dark morning hours of a Thursday, in late summer. We hired a car to drive us to my cousin's house in Ferndale, a city on the north side of West 8 Mile Road, immortalized in song by Eminem.
As the black GM Yukon Denali buzzed down the vacant freeway, I could hear the kind of quiet I remember being told in grade school would come before a tornado hit. We turned onto West 8 Mile Road and the driver pointed to a neighborhood of red brick homes to the south and said: "I wouldn't drive over there." The north side was safe, he informed us.
I would soon discover that lines drawn in the asphalt decades ago were still evident today.
Ferndale, with its tree-lined streets, green lawns and bungalows from the 1920s and '30s, is far enough from the epicenter of the inner city to enjoy a recent comeback. Nine Mile Road is Main Street, running east to west, with local shops and restaurants. Ferndale has a sizeable LGBTQ community and elected the state's first openly gay mayor, in 2007.
My cousin squeezed a square, electric fan against a screen in the open window beside our bed, drawing the night air into our room, and offering the white noise needed to drown out the silence. I wondered if the night sounded the same on the other side of 8 Mile Road.
When I suggested walking a few blocks to breakfast my cousin reminded me that "people in Detroit don't walk, we drive." So we climbed into his Ford Explorer and drove north on Woodward Avenue (Detroit's Main Street and the first concrete-paved highway in the U.S.; designated an All-American Road by the U.S. Department of Transportation) to Pleasant Ridge, with larger lawns and statelier homes, and great breakfast choices, including Mae's.
An updated 1950's diner with a curved breakfast counter and friendly waitresses, Mae's subscribes to the "local is best" philosophy, serving Michigan products, including cherries and Faygo pop. Soda is "pop" in Michigan, and Faygo comes in a rainbow of faux colors. One of the specialties is poached egg with homemade crab cakes and hollandaise sauce, on a Wolfman's English muffin.
Ferndale was the perfect hub for our visit because its neighbors include Royal Oak -- a city alive with bookstores, theatres, popular eateries and creative energy. We also had easy access to major thoroughfares -- with names like the Chrysler freeway -- in all directions. As we cruised along in the Ford Explorer, I noticed something was missing: traffic. The expansive roadways had been constructed decades ago for a population more than double its current size.
Dearborn, just west of downtown, near where the rivers Rouge and Detroit meet, is where my Aunt Ruth lived. She was the first secretary at the steel wholesaler where she worked to patiently climb her way to salesman, during the Mad Men era.
The town also is home to the Ford Motor Company, Henry Ford's Fair Lane estate (the grounds remain open during an interior restoration), and The Henry Ford Museum. Spanning 12 acres, it is the largest indoor museum in the world. Ford's vision was to celebrate revolutionary achievements and the contributions of the workers who served as the human links in his assembly lines.
The space is filled with planes, trains and automobiles, from the earliest Model T's to the Ford Escort of the 1980s. I took the wheel of a Model T, imagining wind blowing through my hair as I navigated Woodward Avenue of the 1920s.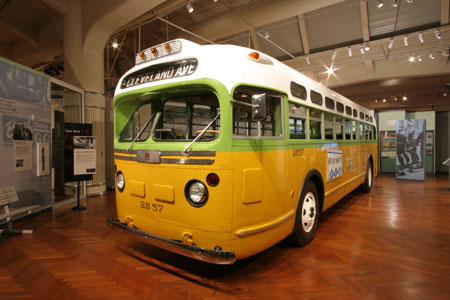 Photo courtesy of The Henry Ford
We saw the Limousines that carried Presidents Kennedy and Reagan to their fateful meetings with mad men; the bus Rosa Parks boarded when she made history; and the theatre chair that President Lincoln was sitting in when he was shot. The "Heroes in the Sky" exhibit features Lindberg, Earhart and others legendary aviators and their planes.

We needed more than a day to explore the entire campus, which includes the Ford Rouge Factory Tour -- conceived by Ford, in 1915, as a self-contained manufacturing ecosystem -- and Greenfield Village, where you can step inside the Wright Brothers' shop and Thomas Edison's laboratory.
While The Henry Ford celebrates the automobile revolution, The Motown Museum, located inside Berry Gordy's original Hitsville, U.S.A., on West Grand Boulevard, celebrates the birth of a revolutionary sound. It's where a young girl from Cass Tech High School named Diane Ross became Diana. The Detroit Institute of Arts houses a Vincent van Gogh self portrait and one of the largest collections of multi-cultural art in the world, including Diego Rivera's frescos inspired by the Ford Rouge Plant.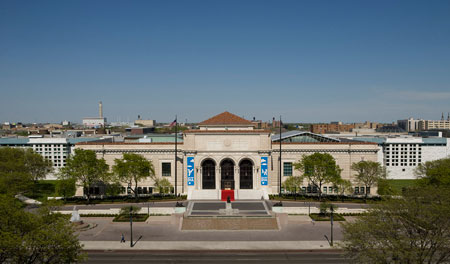 Photo Courtesy of The Detroit Institute of Arts
One of the best museums in town doesn't require a ticket: Detroit itself. Featuring a collection of Art Deco and Mid-Century Modern architecture that date stamps the most prosperous decades of the city's life. Many consider the Fisher Building, designed by architect Alfred Kahn, and completed in 1928, the Van Gogh of this collection.
My cousin drew the line when I wanted to visit my first childhood home in one of the ghost neighborhoods of the inner city. "Nobody goes in there," he said.
He did drive past Highland Park, a city within a city, where Henry Ford put his first assembly line to work, and where our grandparents were raised. The crumbling apartment buildings and homes looked as if they had been fire bombed decades ago, and left for dead. Yet, just blocks away, we discovered an outcrop of newer condos where young professional are taking part in the urban renewal movement. I was reminded that Detroit is a city where hopelessness and optimism live side by side.
Grosse Pointe, at the edge of downtown, begins where the Detroit River pours into Lake St. Clair. Its Lake Shore Drive offers a free driving tour of lakefront estates built by the auto magnets, bankers and manufacturers of the early 20th century, including Edsel Ford. His stone roof, ivy-covered mansion, built in 1929, is open to the public.
I remember when the city was awash in red, white and blue for the Bicentennial celebration of 1976, and my grandparents (my then 40-something grandfather was on disability because he inhaled too much auto factory dust) treated my sister and me to a viewing of the just opened Renaissance Center.
Built by Henry Ford II and now headquarters for GM, it spans 5.5 million square feet and boasts its own zip code. Inside there are shops, restaurants, a GM showroom and the GM Winter Garden. A monorail offers a cool view of downtown.

The Renaissance Center towers over the downtown streets near the Detroit-Windsor Tunnel. Completed in 1930, this two-lane road beneath the Detroit River connects the U.S. with Canada (it's the world's only underwater vehicle crossing connecting two nations). I remember sitting in the back of our Ford Impala station wagon waiting for what seemed like forever to enter the tunnel on the way to my older brother's hockey game.

Thirty years later, we cruised right in, took a dive (75 feet under water) and arrived in Windsor, Ontario, Canada, in less than five minutes. And as we drove along the clean streets of Detroit's more youthful looking sister city, I looked back and watched the skyline of my youth shrinking, and then it was gone. We were on our way to Toronto, a few hours drive away.