I woke up early on Tuesday April 1st, made myself a cup of coffee and sat outside in the rare Pacific NW sun while considering my leisurely day ahead. I didn't expect the following to happen, I didn't have any intention of sparking a match that would start a roaring fire and give birth to National Dinner Party Day.
The following took place in the next 51 hours:
April 1st. 9:41 AM. Ryan Gall, co-founder of Global Citizen posts about #ADayWITHOUTWASTE on his Facebook page and comments: Have More Dinner Parties
9:43 AM. I comment on his Facebook feed: We should talk about national dinner party day
9:45 AM. Ryan comments: Hebb lets do that April 9. Low waste dinner parties.
9:46 AM. I email Ryan: What could we accomplish in the next week? much love!
9:47 AM. Ryan emails back: Looping in my team. We could push for people to have "low waste" dinner parties on April 9th.
9:48 AM. I reply ccing a design firm, a filmmaker, a pr company and a photographer: Everyone chime in if you are interested in creating a micro campaign in the next couple days -- that would support global citizen's #ADayWithoutWaste -- by potentially creating National Dinner Party Day...! This is probably a stupid idea -- given the lateness of the hour -- but why the fuck not.
By noon on April 2nd we have a video being cut by David Llama, a blistering track donated by Seattle band Iska Dhaaf, Foodista is at work gathering Farmers Market recipes for a feature and a visual and interactive campaign is being designed by Civilization using pics by celebrated photographer Jeremy Bitterman. Before the clock hit 1 pm eighteen national and international organizations sign up as project partners.
I live on a sleepy island in the Puget Sound where there are more seagulls than people, so it was especially fulfilling to watch a dynamic national campaign develop overnight, without having to hail a single cab.
Why Should you Have A Dinner Party on April 9th?
As Americans we produce 25% of the world's waste, even though we count for less than 5% of the global population.
We all know that the way we eat, as a society, is incredibly wasteful. For starters, the majority of items in our grocery stores have been flown thousands of miles to reach the shelves. And listen to this -- our food supply is responsible for approximately 25% of total greenhouse emissions on the planet. If that's not startling enough, here is the kicker:
One-third of the food produced on the globe is wasted.
This amounts to 1.3 Billion tons per year.
In pounds, that equals 2,600,000,000,000, (or 254 lbs of waste per person) per year.
On April 9th we are asking that you make a different choice by halting the waste stream in the most lovely way imaginable. Invite friends to dinner! When you buy food locally, and thoughtfully prepare an awe-inspiring meal, you are the change that reduces this thoughtless, insane waste! And most likely, while doing it, you will have a wonderful time! If you do throw down, and toss a spring vegetable stew in the oven and invite your favorite humans, send us a pic and tell us what you are cooking on #ADayWithoutWaste.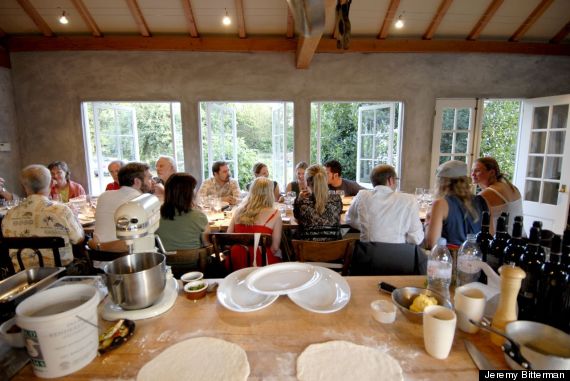 Dinner party held at Kurtwood Farms on Vashon Island WA, hosted by author and cheesemaker Kurt Timmermeister.