Modern balls are quite different from those of earlier times. There are no longer intricate cotillions with string orchestras and elaborate silver favors. Nothing ever stays totally the same, especially in Manhattan. The great thing about landmarks then, be they buildings, institutions or remarkable people, is the ability they offer us today to experience enduring great accomplishments from a storied past.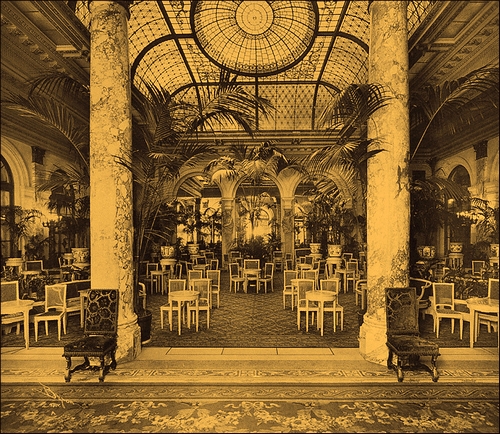 Unfortunate alterations, made by the former Mrs. Donald Trump, remain intact at the Hotel Plaza, alas, and tea is no longer available, not in the empty Palm Court. Even so, for a party, in the entire city there's no more special place so redolent of elegance and festivity!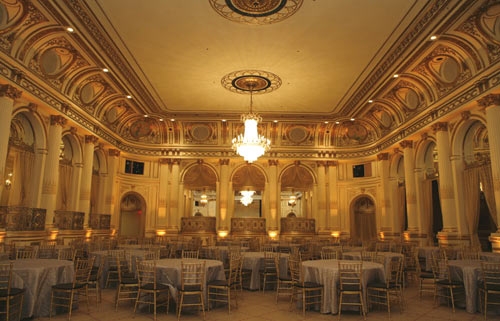 Monday night, February 8th, occasioned a truly enchanted evening. New York's Evidence Dance Company celebrated an eventful quarter century at their 6th annual gala, 'Grace in Winter', the Silver Ball. With the century-old Plaza newly restored, there could not have been a more appropriate or a more beautiful location for a ball. And what more delightful way could one spend one's time than chatting, dining and dancing with some of the cleverest, most handsome and smartly dressed people in existence?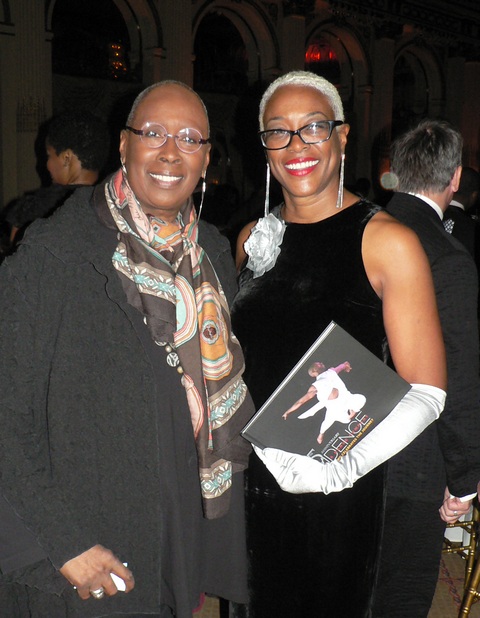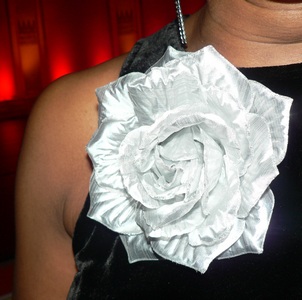 The great Judith Jamison with gloved Cheryl Riley, today's artistic Marschallin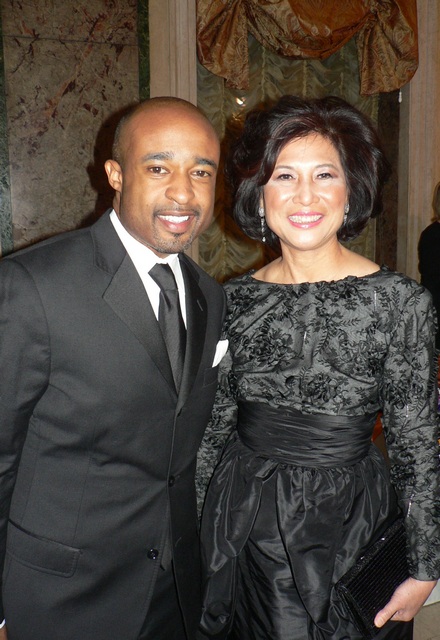 Mike Muse of Muse Records and art patron Loida Nicolas Lewis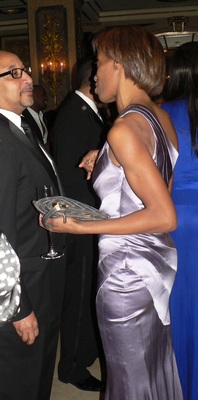 Dawn Davis and Malaika Adero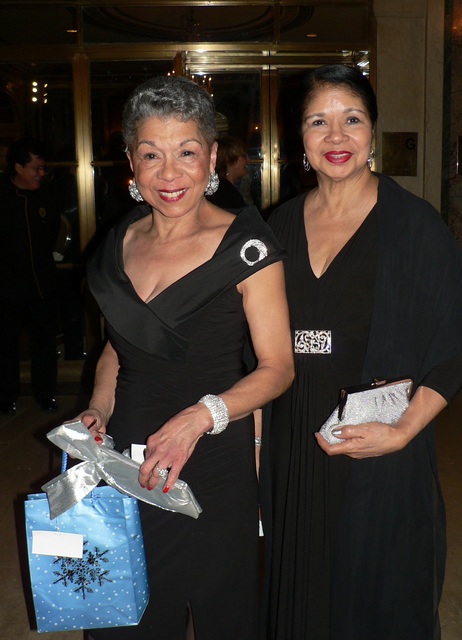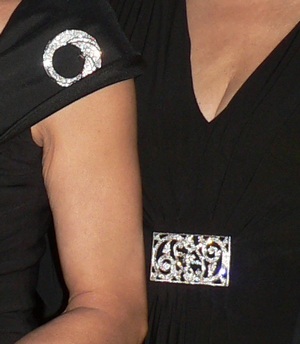 Karen Martin with Hatti Dixon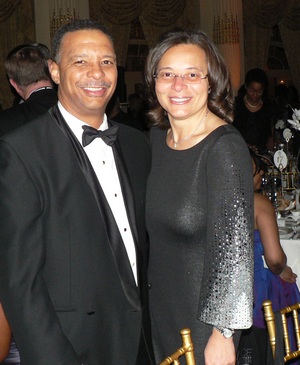 Damon Caldwell with Marilyn Booken in silvered sleeves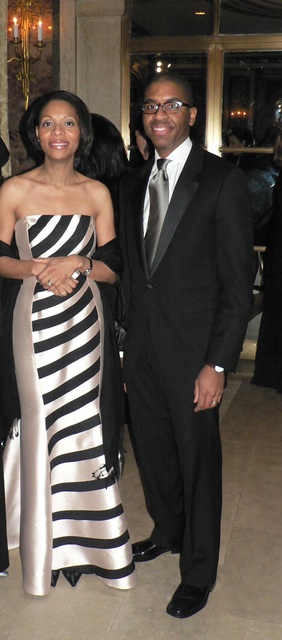 Reggie and Gillian Canal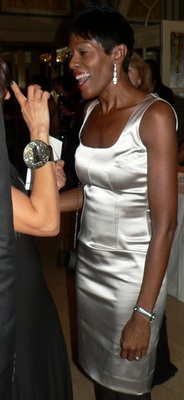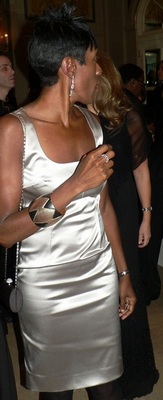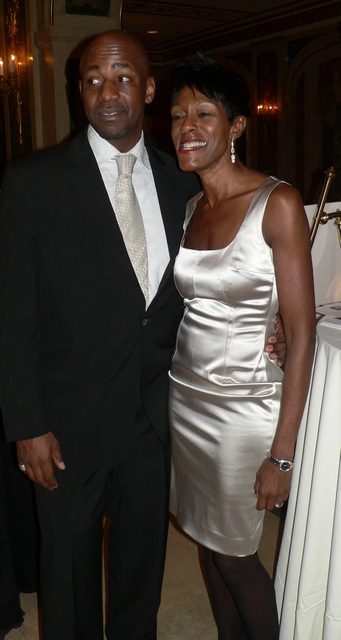 Singer-songwriter par-excellence Gordon Chambers with design diva, Courtney Sloane, wearing a parcel-silvered bracelet by Cheryl Riley .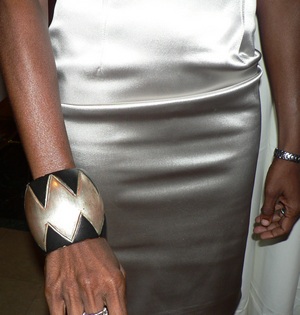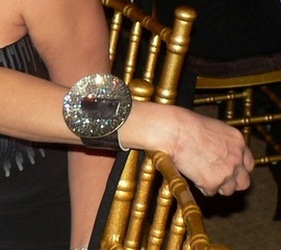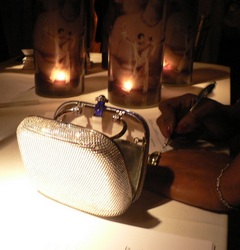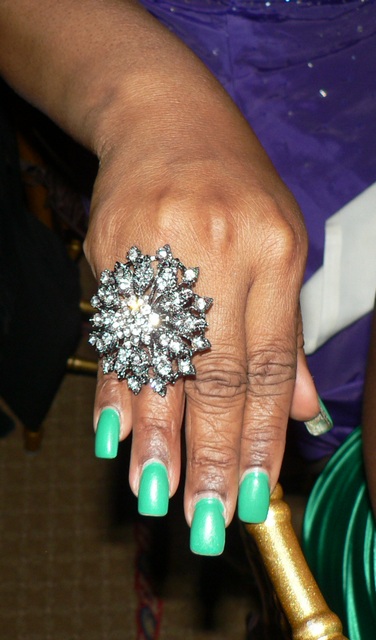 A silvery platinum-set ring, and below, several silver necklaces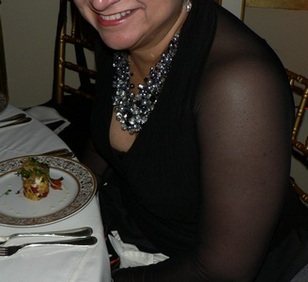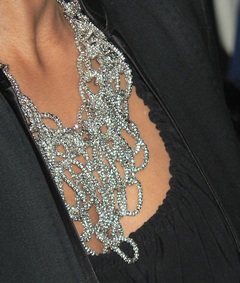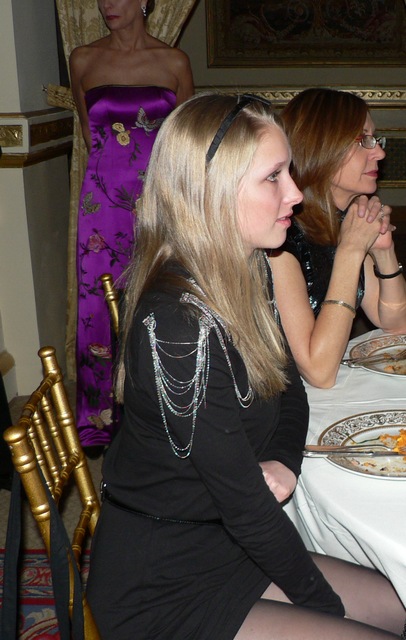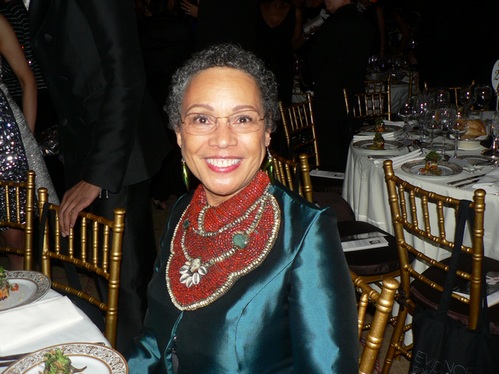 Myrna Colley-Lee in a fantastic necklace, but no silver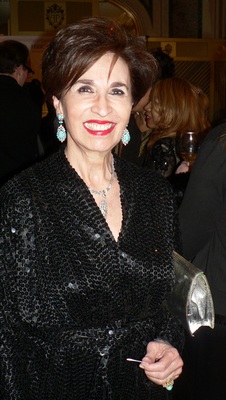 Domna Stanton wore silver-mounted turquoise earrings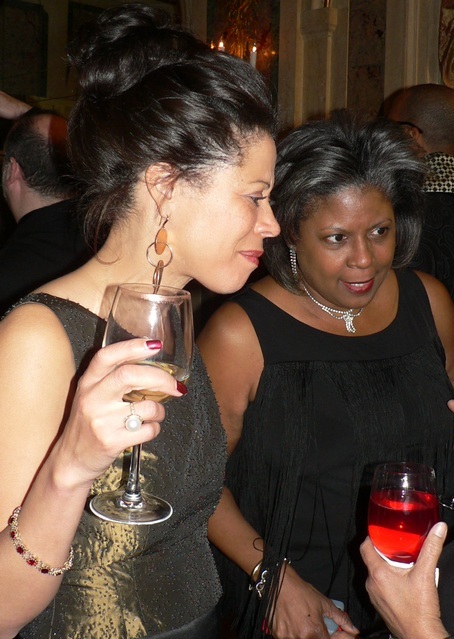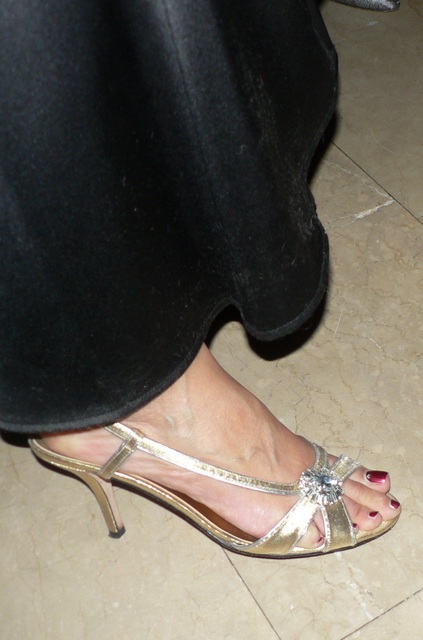 New York State's First Lady, Michelle Patterson, who wore delicate-looking silver slippers, chats with Teresa Savory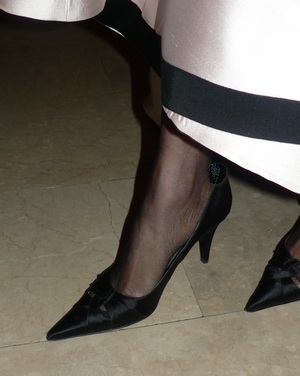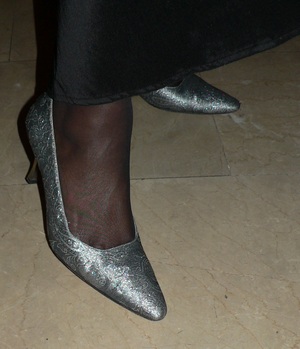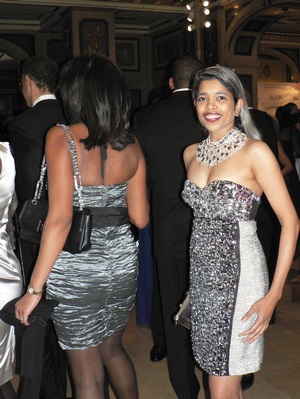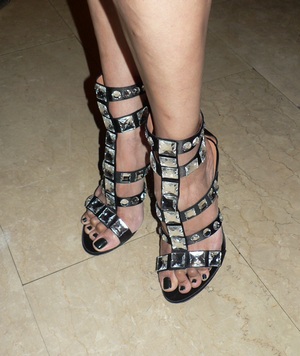 Deepa Pakianathan, in myriad faceted bits of mirror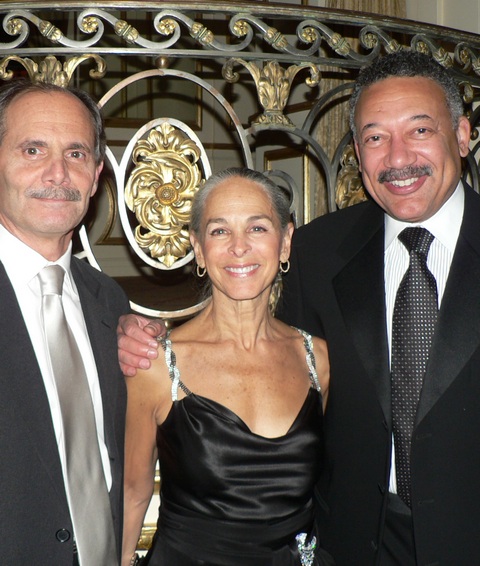 Paul Shapiro and Sharon Luckman, who has silver straps, with Dennis Brownlee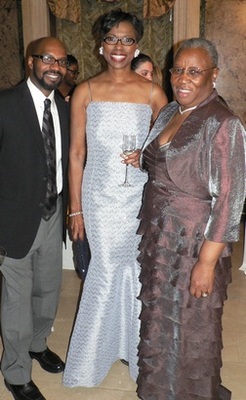 Gail Monroe-Perry in regal purple and Ronald K. Brown, Shirley Marcus Allen and marvelous Marion Burnside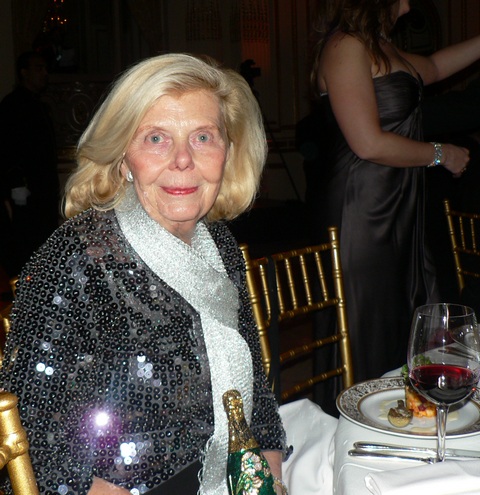 Sharon Baum wearing a silver-spangled bodice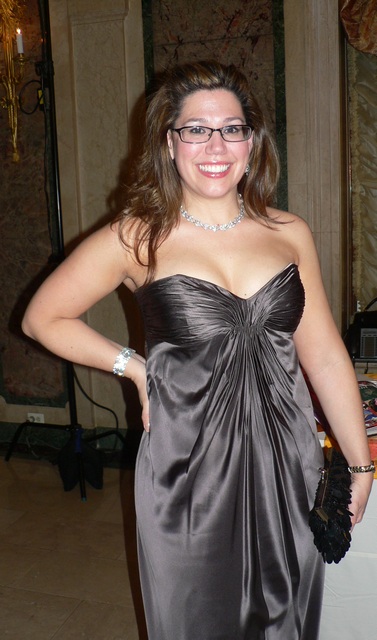 Nicole B. Brewer, executive editor of Hamptons.com in 'tarnished' silver satin and diamonds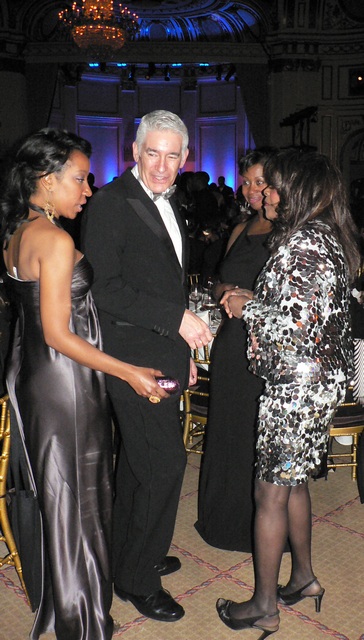 Evidence's nearly -new executive director, Bruce Michael, and in a shimmering silver-sequined cocktail suit, journalist Audrey J. Bernard of the New York Beacon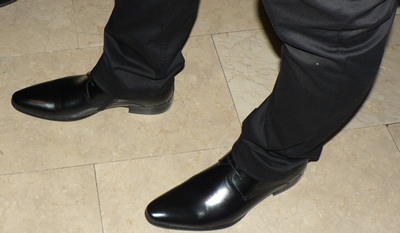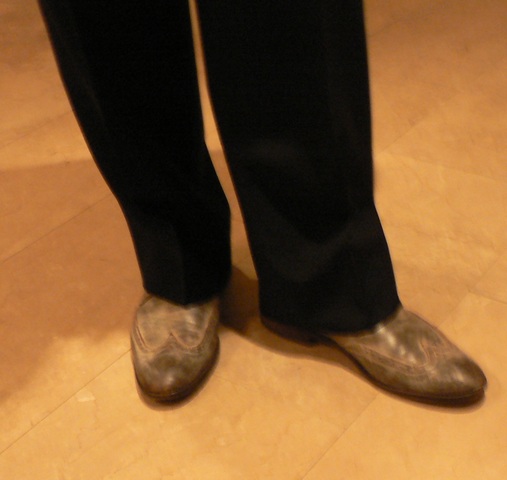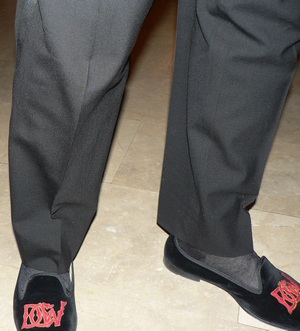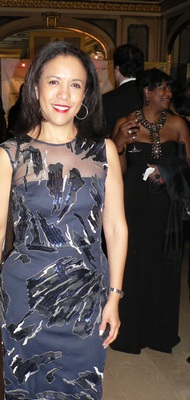 Ada Bordas
Except in 2 respects it was a group of infinite variety. Common among all was admiration for an uncommon troupe of dedicated artists. Uniform too, was the determination exhibited, in accordance with instructions in our invitations, to lend the night extra sparkle with some form of silvery raiment.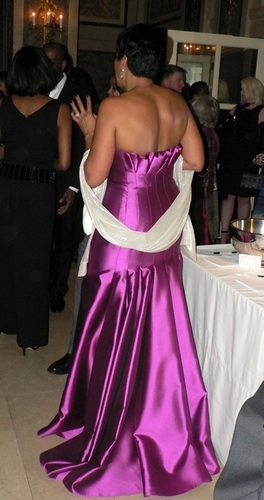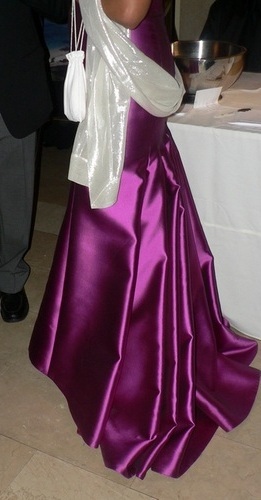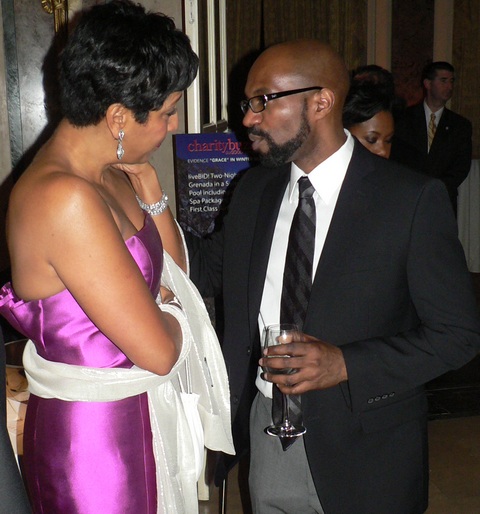 Ronald K. Brown, with Evidence board member Leslie Mays
The company's founder and artistic dpirector is highly talent, Ronald K. Brown. Affectionately called Ron by all who know him, he was surprised by a secretly arranged reunion of former company members who came from across the globe to join in fêting their dancing master's triumph.
Ballet Legend Judith Jamison, of the Alvin Ailey American Dance Theater, certainly didn't bother to dilute her approbation with even a hint of false modesty. Presenting Brown with a watch to commemorate his tenure, she exclaimed movingly and to the throngs' great approval, "You are the physical evidence of faith, with a capital 'F'. Some artists are mountains among us, and you are Kilimanjaro!"
Little could be expected to surpass, or even to match, such a heart-felt tribute. But removing his coat, the formally-attired Ron Brown proceeded to dance in honor of his company's board chairman, financier Reginald Van Lee, whose unstinting patronage has been rather like King Ludwig's support of Wagner. This simple gesture of homage was unforgettable. So was Jennifer Holliday's virtuoso rendition of And I Am Telling You I'm Not Going . Her performance was filled with so much passion and pathos, that it sounded as if she were singing her signature hit from Dream Girls for the first time.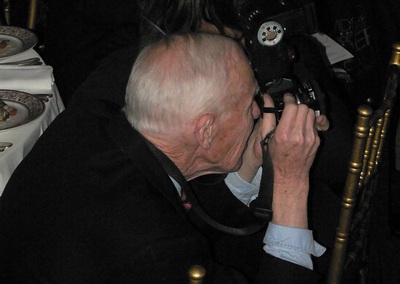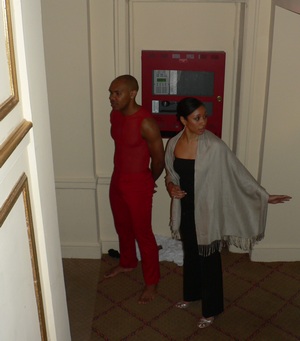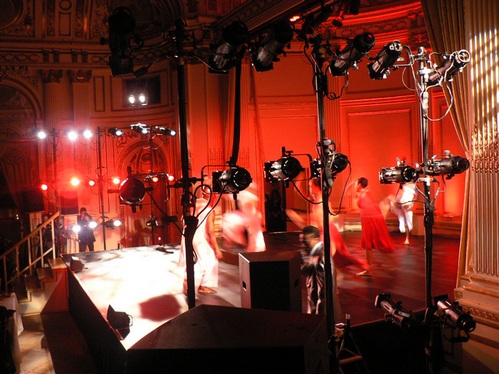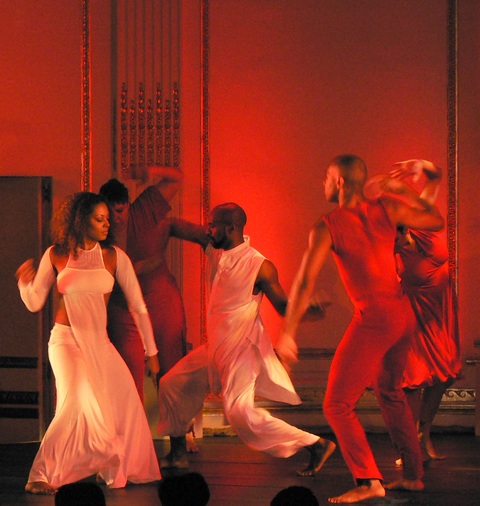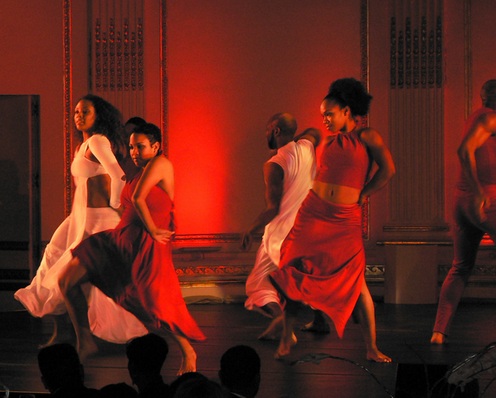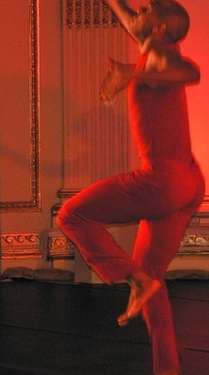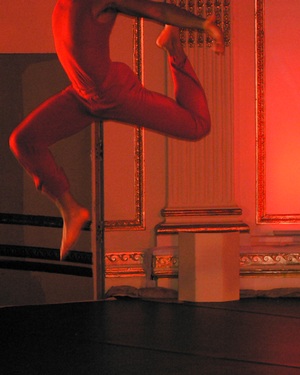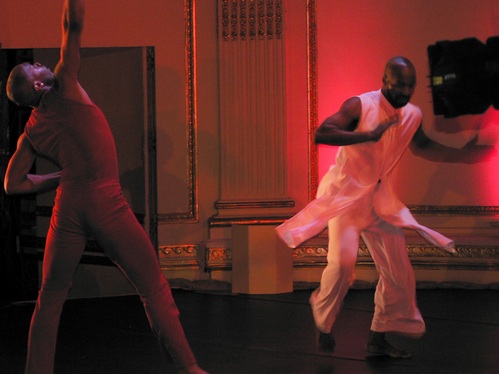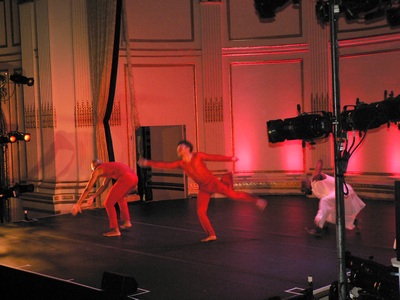 Culminating the great night was a performance by the company of Brown's famed piece "Grace" accompanied by singer and jazz musician Peven Everett. Confirming that Evidence's Grace in Winter Silver Ball was absolutely the hottest ticket in town, recording everything, there was the Time's Bill Cunningham, snapping away frantically.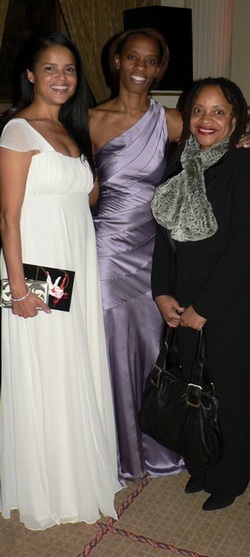 Victoria Rowell, Dawn Davis and photography historian Deborah Willis
Gowned in 'winter white' in a dress devised by b. Michael, at every opportunity, pirouetting gracefully across the stage, actress and dancer Victoria Rowell was the charming hostess who helped keep things moving. When she would twirl, how her dress floated in the light.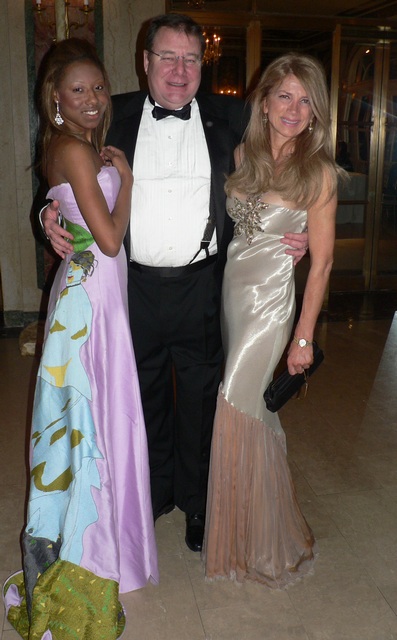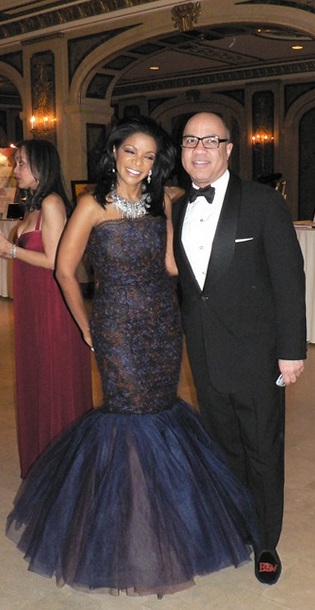 Mr. Darren Walker, Vice President of the Rockefeller Foundation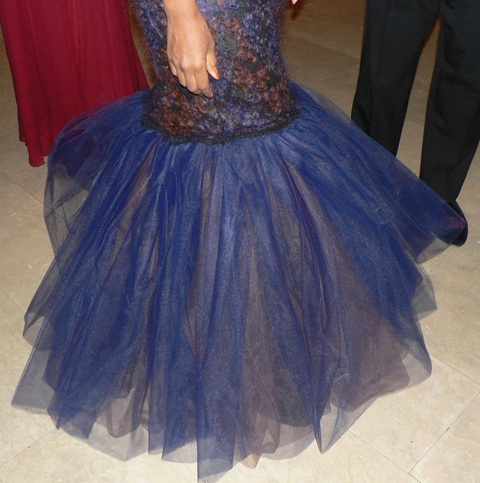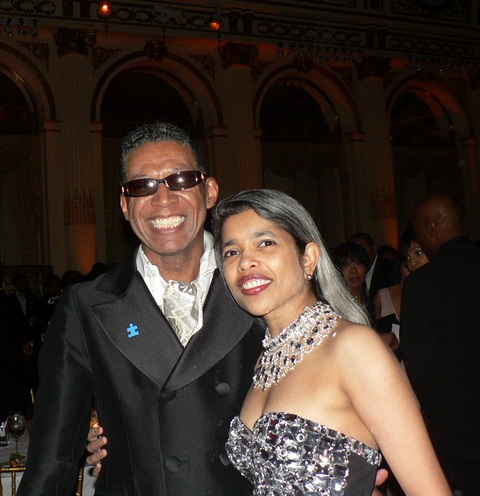 Among so many lovely frocks, Mr. Michael was, in fact, perhaps the most represented couturier. A consummate scholar of historic costume, it was hardly an accident how evocative of the evening dresses of 60 years ago many seemed.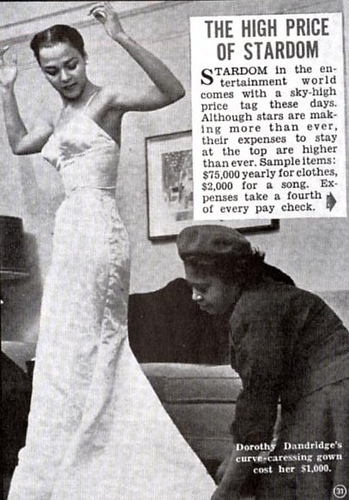 ,
That was the heyday of a largely forgotten, sadly unheralded African American designer who lived in New York named Zelda Wynn Valdez, (June 28, 1905 - September 26, 2001). How I regret failing to have never said much more than 'how are you today?', upon meeting the kindly little old lady who made and mended costume at the Dance Theatre of Harlem. My then-boyfriend danced there in the late 1980's and early 1990's. Pleasant, but quietly retiring and discrete 'Miss Wynn', was greatly beloved by the entire company.
She seemed exactly like my grandmother or my great aunt Cora. Of course she sewed and made clothes, but so had they, so did most black grandmothers I knew. Was that something special? I certainly had no reason to think so. An utter fool, in my shameful ignorance, I didn't learn how extraordinary she was until I mounted the exhibition Black Style Now, at the Museum of the City of New York, with Michael McCollom in 2004. Miss Wynn had died two years earlier.
A native of Chambersburg, Pennsylvania, Zelda Wynn learned needlework and sewing as a school girl. "I just had a God-given talent for making people beautiful," she told a Jet Magazine reporter, late in her life and she was right!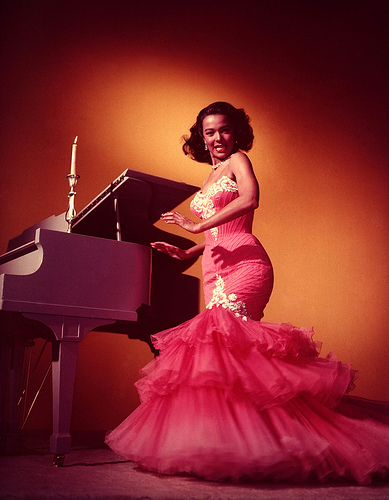 Some of her celebrated clients included Dorothy Dandridge, Sarah Vaughan, Ella Fitzgerald, Marian Anderson, Jessye Norman and Gladys Knight. 'Ice-blue', the wedding dress she made when Nat King Cole married singer Maria Hawkins Ellington on Easter Sunday, at Harlem's Abyssinian Baptist Church, with Adam Clayton Powell, Jr., officiating was exquisite. It cost $700, as much a car! That same year, in 1948, Miss Wynn opened her own shop on Broadway at 158th Street.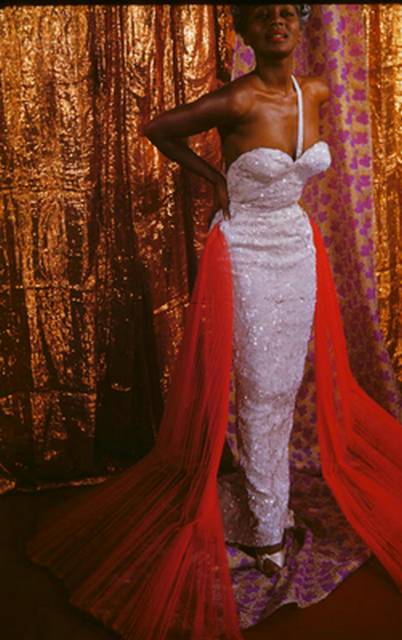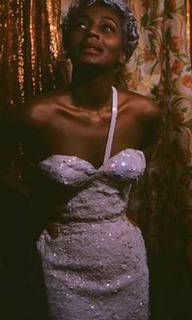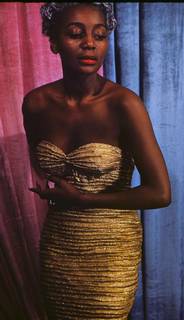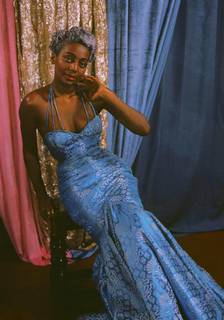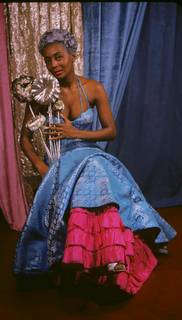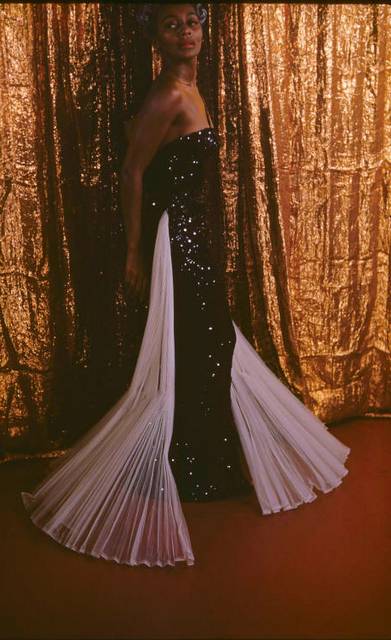 Undoubtedly her better-remembered creation was the abbreviated, clinging costume she designed for Hugh Heffner's Playboy Bunnies. Among Miss Wynn's most loyal clients was the sultry singer Joyce Bryant. Some of the fish-tailed masterpieces made for both Bryant and for movie star Dorothy Dandridge, were reportedly so constrictingly-boned and tight-fitting, that at club dates neither could get on stage unaided.
Ah, such sacrifice is so illustrative of a continuity of commitment to excellence developed among many African American artists. Here we observe the origins of the Evidence Dance Company's ethos, 'all for art's sake!'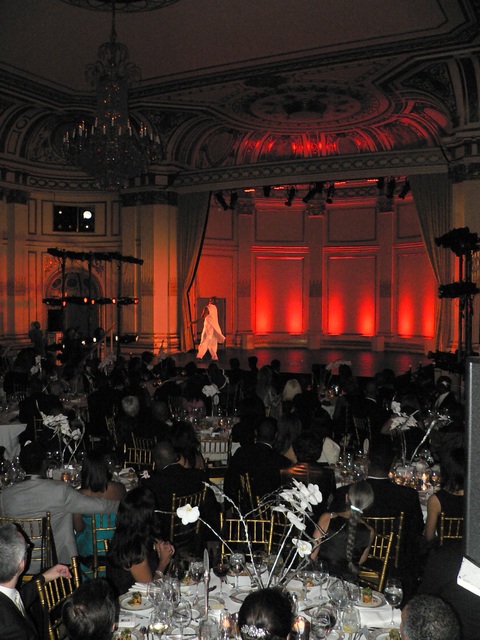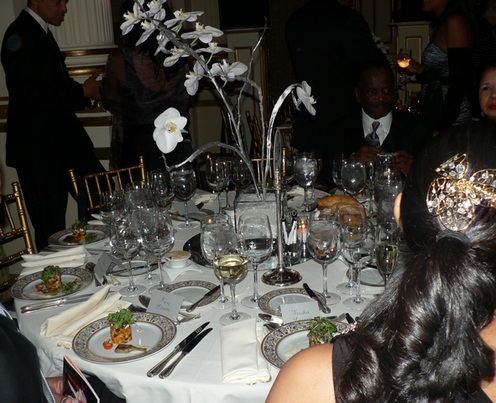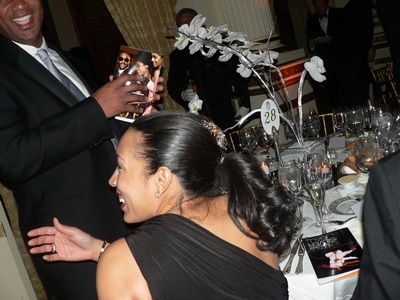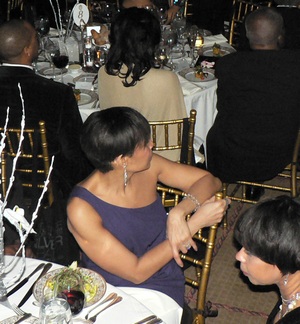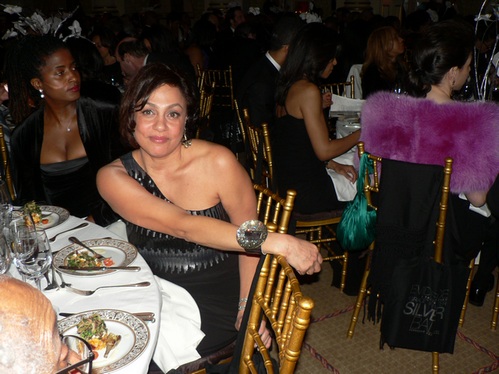 Betwixt eating an excellent meal, with a shrimp salad, barbecued roast beef and chocolate-pumpkin cheesecake with pecans, and beyond talking, laughing, and looking, there was both a raffle and an auction, with such tempting offerings as 2 deluxe weeks in Paris. But was that all there was? No indeed! Even as the ballroom began to clear, all of Ron Brown's young dancers, past and present, quickly made their way to the tiny dance floor, where, joined by a few of us 'older' die-hard fans, we all danced away for the utter fun of it, until well past midnight.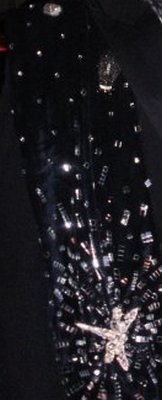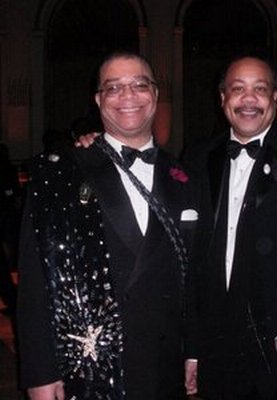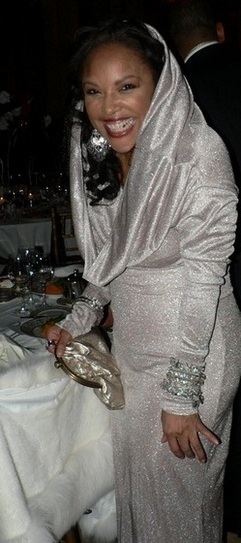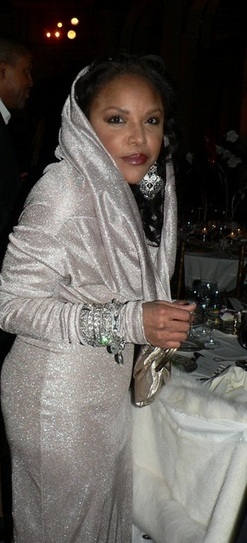 Lynn Whitfield in her hooded silver splendor