Death of the brilliant scholar John Hope Franklin two days ago, reminds us how the 94 year old said there had never been a time in his life when all he did wasn't permeated by race. For those who contend that the era of race is at last over then, think again. The big winner of the prestigious grand jury prize at the 2009 Sundance Film Festival is comic Chris Rock. His thoughtfully-nuanced, bitterly-funny documentary, Good Hair examines some of the ways an age-old African American preoccupation with how we wear our hair, helps reveal as much about who we are, politically or socially, as how we look. Apart from anything else, it's also a pretty good indicator that even at the level of seemingly trivial details issues of race and difference still matter big-time.

"Hair texture and skin color work in tandem: The darker you are, the harder you have to offset it with "good" hair in order to be considered attractive or acceptable,so insists Erin Aubry Kaplan, the distinguished Los Angeles journalist and columnist who has written about African-American political, economic and cultural issues since 1992.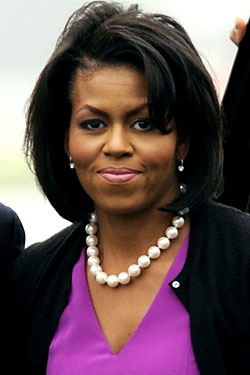 Speaking of First Lady Michelle Obama, Kaplan recently observed on Salon.com,
"If Michelle weren't dark-skinned with classic black features, she might not be so wedded to super-straight locks...The unprocessed black woman is assumed to be a vegan, a rebel, a Rasta, a nationalist, an artist, or some combination of the above. And for a black woman to wear her hair "out" -- that is, to wear it in its natural state with minimal moderations -- well, she must be so far out on the fringe that everyday presentation doesn't matter."
I had at least dared to imagine that we black folks were long past all that, the perennial nonsense of according each other greater status, just because one might have lighter skin color, or straighter hair, because one looked closer to white? But not long ago, on Convent Avenue, on historic Sugar Hill in "Harlem Heights", listening to a pair of 14-year-old boys, I learned the real deal. Peer pressure and conformity remain pervasive and invidious, whether it's derived from Hip Hop culture or the black bourgeoisie.
"Yo man, she's gotta 'chair' out to here," said one youngster to his friend, extending his hand's far apart to suggest the bootylicious form of a girl they admired. "Yea nigga, she real hot alright! She light-skinned, an got good-hair, an everything!"
Just wait a second, I thought, cringing! What about "black is beautiful"? What of all the African Americans who lost their jobs, were court-marshaled and who brought lawsuits, all in order to be able to wear their 'bad hair', bad-ass naturally?
Echoing my concern about hair, class and color anxiety among young blacks is cultural commentator A'Lelia Bundles.
"When I lecture on college campuses," says the award-winning producer and author whose great-great-grandmother was beauty products magnate and philanthropist, Madame C. J. Walker, "students swear that they can't wear their hair un-straightened and find employment...

A veteran of the Great Hair Skirmishes of the 1960s, I witnessed a brief, shining moment when large numbers of black women conquered the fear of unprocessed roots. For a time, I actually believed we had made peace with that multi-textured mass of protein--whether kinky, coiled, crinkly, wavy or straight--that sprouts from our scalps,"
says this chronicler of a fabled rags-to-riches family saga that's deeply enmeshed in the evolution of how blacks regard our self image.
Michel Martin, host of the NPR program Tell Me More, certainly learned the 'approved hair', 'disapproved hair' drill the hard way. Commentary she delivered on the air a few days ago related how cutting off twist, for her new, far shorter haircut, caused a quiet storm of controversy among friends, family and strangers alike.
"The way out of this tangle is, I believe, Sasha and Malia Obama," stresses Erin Kaplan. Throughout the campaign and the inaugural, they were regularly pressed and straightened for the public -- "Sunday hair," we used to call it. And like their mom, they look wonderful. Adorable... The public also sees," Kaplan continues, "that in the girls' everyday lives, they literally let their hair down with braids and cornrows and puffs and whatever else black girls wear."
That's true enough too, but I must confess, seeing the Obamas' daughters' "Sunday hair" on Inauguration day, made me cringe as much as discovering how some black teenagers disdain the loveliness of dark skin and unruly hair. What in the hell kind of tyranny is that, I thought, recalling for a moment the tearful agony of merely having my short 'naps' brushed out by my mom when I was their age. The greater tortures my sisters endured, having their long kinky tresses "fried" with a hot cast-iron comb, is hardly imaginable.
What other group or class or race of people, in what time, has ever been so stupid, I asked myself? Who else would go through so much that's so uncomfortable and artificial, for the sake of a demeaning fashion? What else is hair-straightening other than a lame try at emulating Madonna, imitating Marilyn Monroe, flipping back her hair in a breeze, from a convertible sports car?
"Michael, you're reading a little too much into Michelle Obama and her kids processing their hair," said my friend, designer Michael McCollom. "If you were complaining about Lil' Kim and all that major Michael Jackson kind of madness she's gone through, I could understand."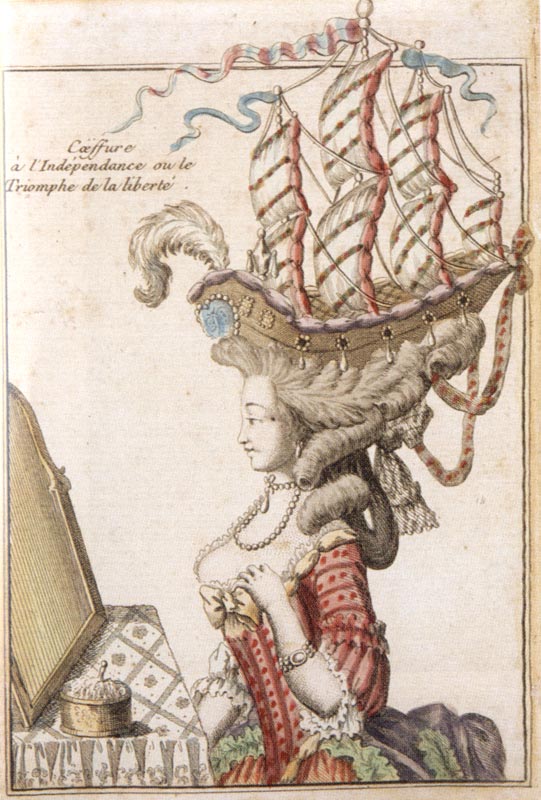 Michael's charge that I put things in perspective prompted me to think of the 18th century. There is a perfect correlation, I reasoned. Rich whites then, not unlike Harlem girls wearing Technicolor weaves, sported expensive, elaborate, powdered wigs. Those who couldn't afford wigs powdered their own hair. And whether one wore a wig or not, a proper headdress required regular curling, oiling and powdering. This surely was a fashion as messy and smelly as a jheri-curl; it was definitely a fashion that equaled the straightened hair of modern blacks both in terms of discomfort and artificiality.
Why do you straighten your hair, I ask Norma Jean Darden, the prominent caterer and onetime high-fashion model?
"I don't use relaxers," she answered matter-of-factly, "my stylist washes it, blows it dry and off I go. I wear it this way because otherwise I couldn't comb it. Brother, when I wore an afro, what a to-do that was, blowing and picking it out constantly."
And so now I, as well, join the legions of Obama enthusiasts who delight in their optimistic appearance, irrespective of what they wear or how they style their hair. Not only because Marie Antoinette had some fantastic coiffures, but because, as Ms. Darden notes,
"With whites adopting afros and dreads, why can't blacks have long or blond hair too, like Dorothea Towles Church did as a model in Paris in the 1950's?"