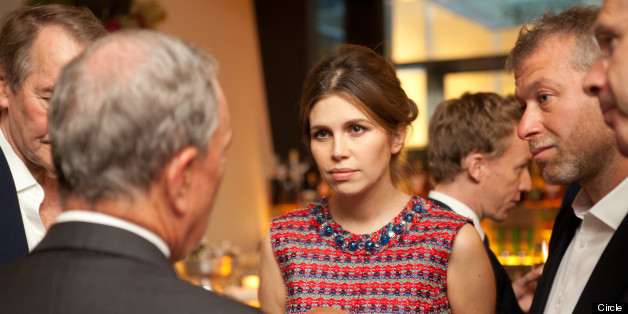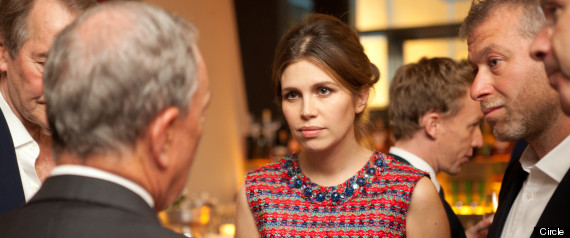 "You look around this room and ask, 'What binds the people in this room together?'" New York City Mayor Michael Bloomberg said at Casa Lever on Park Avenue Thursday night. "It's that they're all creators, they're all doers."
Those words certainly applied to the high-powered collection of about 100 artists, developers, moguls and, yes, movie stars (Leonardo DiCaprio! Anna Paquin!) who convened to celebrate a bold new effort to bridge the worlds of art and technology.
The event was co-hosted by Bloomberg and Dasha Zhukova, the 31-year-old art impresario and former magazine editor who has two children with the Russian billionaire Roman Abramovic. Less than a month after giving birth to a baby girl, Zhukova was introducing her next bundle of joy: Circle, a three-day art-and-tech symposium ("I don't like the word 'conference' for it," she said) to be held in St. Petersburg, Russia.
"What Dasha and Roman are doing is bringing the arts and technology together, and that's the wave of the future and they're really making a difference," Bloomberg said.
Circle will take place in July 2014 on New Holland, a 16-acre island in the heart of the city that Peter the Great built and Dasha Zhukova has turned into a vast and bustling art center.
"I think St. Petersburg is an incredibly important city in many respects, obviously," Zhukova told The Huffington Post, "but it hasn't necessarily crossed the bridge to the now. In many ways, it's asleep, and it needs an infusion of young energy. I hope that by bringing this initiative there we can help stir something up."
As any visitor to the Winter Garden galleries in St. Petersburg can attest, Russians have long forged connections with faraway cultures through art, and Zhukova hopes to achieve something similar again. "There are so many creative young people in St. Petersburg that are so hungry and thirsty to learn and to be part of what's going on in the world, and I think art can do that," she said.
Zhukova originally hoped to have the first event this year, but she opted to devote more time to planning. The delayed launch also gives her more time to hand-pick attendees and persuade them to make the trip -- though, judging from the turnout last night, it's hard to imagine who would turn her down.
In addition to DiCaprio, who acknowledged handing out a few catalogues to his upcoming charity auction at Christie's, attendees included IAC chairman Barry Diller and his wife, the fashion designer Diane Von Furstenberg; the artist Taryn Simon; "CBS This Morning" co-hosts Charlie Rose and Gayle King; NewMuseum curator Lauren Cornell; Ivanka Trump and her husband, "New York Observer" owner Jared Kushner; Wendi Deng Murdoch; VICE CEO Shane Smith; mysterious investors Jean Pigozzi and Vivi Nevo; and Tumblr founder David Karp.
During his pre-dinner remarks, Bloomberg announced that he was making Zhukova and Abramovic honorary citizens of New York, then joked, "We need a translator. Roman's going to have a heart attack thinking he has to pay taxes." (He also pointed out that Zhukova, who spent much of her childhood in Los Angeles, is already a US citizen.)
That moment of political humor aside, it was an evening of lofty ideals and grand ambitions. Bloomberg, whose term as mayor ends next year, is expected to attend Circle and help recruit talent. And he made his admiration for Abramovic and Zhukova plain in his pre-dinner remarks: "The two of them are great collectors, they are great entrepreneurs, they are changing the arts scene in Russia, and we are thrilled to have them doing the same thing here in New York."