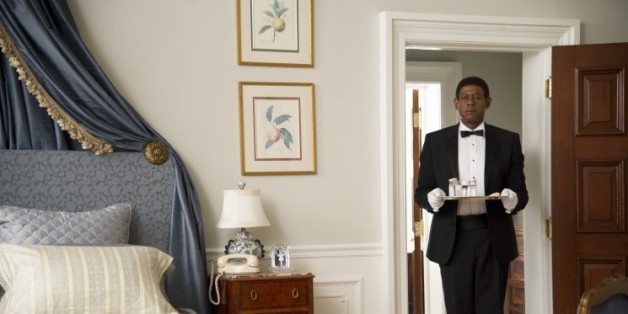 Welcome to For Your Consideration, HuffPost Entertainment's breakdown of all things Oscar. Between now and March 2, 2014, executive arts and entertainment editor Michael Hogan and entertainment editor Christopher Rosen will chat about awards season and which films will make the most noise at the 86th annual Academy Awards.
Rosen: Hello, Mike! Oscar season hasn't really started yet, but everything we are at the moment is because of "Lee Daniels' The Butler." Thanks to Harvey Weinstein's umpteenth shrewd awards-season maneuver -- shifting "The Butler" from the very-busy date of Oct. 18 to Aug. 16 was a stroke of genius -- Daniels' film has positioned itself as the de facto front-runner (unless someone really does want to mount a Best Picture campaign for "Man of Steel"). It won't wind up that way, of course, but despite the early date, I actually don't think it's too crazy to start putting "The Butler" into Oscar conversations. (The film's bullish opening weekend and strong Metacritic rating, with raves from A.O. Scott among others, only enhances this too-early campaign.)
So, what can we expect? Nothing, I guess, but for the sake of some dog-days chatter let's start here: nominations for Best Picture, Best Actor (Forest Whitaker), Best Supporting Actress (Oprah Winfrey), Best Costumes and Best Makeup all seem possible, with Danny Strong certainly on the list for Best Original Screenplay.
Of those, though, Oprah is the one true lock: She rules "The Butler" in a way that recalls the last two runaway Best Supporting Actress winners, Octavia Spencer and Anne Hathaway. Not only is Oprah's nod assured, but I'm ready to call a win -- Meryl Streep's category fraud be damned. Think of it this way: Does anyone really think the Academy Of Motion Picture Arts and Sciences doesn't want to sidle up next to Oprah?
Hogan: Hey, Chris! Yes, the decision to open "The Butler" "Lee Daniels' The Butler" in August looks like yet another Weinstein masterstroke -- though it might not seem so brilliant had the film not benefited from two unique marketing assets. The first, as you suggested, can be expressed in a single word: Oprah. It has been 15 years since her face last lit up the big screen, in Jonathan Demme's adaptation of Toni Morrison's novel "Beloved," and a full 28 since her Oscar-nominated supporting turn in "The Color Purple." Nothing was going to stop her fans from coming out to see her in this picture, and their loyalty surely helped lift it to No. 1 at the box office this past weekend.
That squabble with Warner Bros. over the title of the film surely helped, too. Thanks to a torrent of free publicity surrounding what had to be one of the silliest Hollywood feuds ever, "The Butler" "Lee Daniels' The Butler" enjoyed "Iron Man 3"-level name recognition going into opening weekend. And in this world of near-infinite entertainment options, it helps a lot when people (a) have heard of your movie and (b) believe their friends will be interested in hearing about it afterward.
But let's not lose sight of the movie's inherent qualities. Yes, you've got fine performances by Winfrey, Forest Whitaker, and David Oyelowo (playing Whitaker and Winfrey's oft-estranged son), and a script from golden-boy screenwriter Danny Strong that ranges from sturdy to inspired. But what I really love is that the story, in defiance of established Hollywood logic, approaches the Civil Rights movement from two perspectives, both of them black. To Whitaker's butler, born in an era when simply talking back to a white man could get you killed, getting to work as a servant at the White House is head-spinning progress. To his son, however, escaping the racist South just to become a glorified "House Negro" isn't nearly enough. With all due respect to your comment about Oprah owning the movie, I think the complex conflict between those two men is its beating heart -- and the reason you're going to see plenty more theaters filling up with African-Americans over 35.
But we're supposed to be talking about awards, not box office. And I agree with you that Oprah is a lock for a nomination here -- it's almost as if they wrote her character's temporary, consequence-free struggle with alcoholism into the script just to give her an extra boost -- even if it's way too early to engrave her name on the trophy.
I also have a question for you: the directors' branch gets to choose the nominees for Best Director, and they are a notoriously fickle bunch. (This is the group that boxed Ben Affleck out of the category last year, presumably because they consider him a grasping actor rather than a true auteur.) So, in your expert opinion, does the fact that Lee Daniels managed to wedge his name into the film's title (with an assist from Warner Bros.' legal team) help or hurt him in the race for a coveted Best Director nod?
Rosen: In my interviews with Daniels and Strong (hack plugs), they were both quick to extoll the virtues of the father-son dynamic in the film -- and I think that's what will ultimately decide Strong's fate as a potential Oscar nominee. If voters buy that relationship in the same way that you did, his script is a lock for nomination; if they don't, it's not. Right now, I'd lean toward the former, if only because "The Butler" is the "type of movie they used to make," and Strong's script is a big part of the reason why. Flaws and all, this film is gloriously old-fashioned -- just like Oscar voters. (Danny Trejo, be damned.)
As for Daniels, I'm of two minds: On the one hand, there won't be a more gregarious presence on the awards circuit this year. He is a hoot! It's impossible not to be charmed by Lee Daniels -- and not just because he wore flip-flops to the Winfrey-hosted screening of "Lee Daniels' The Butler" earlier this month. He's a talker and he's beloved -- that's how he convinced 41 producers to give him money to make the film, and how he cast people like Vanessa Redgrave, Mariah Carey and Alex Pettyfer to play glorified extras in the finished product. He's also a past nominee, which makes him an immediate player. If "Lee Daniels' The Butler" is already on collision course for a Best Picture nomination, shouldn't the other man in the title find his own Oscar glory as well?
Probably not. My other mind is why: Woody Allen, Richard Linklater, Ron Howard, Alfonso Cuaron, Paul Greengrass, Ridley Scott, Martin Scorsese, David O. Russell, John Lee Hancock, George Clooney, Spike Jonze, Bennett Miller, Steve McQueen, Alexander Payne, Joel and Ethan Coen, Jason Reitman and Ben Stiller. To say nothing of any surprise films that pop -- maybe Stephen Frears' "Philomena" or Justin Chadwick's "Mandela: Long Walk To Freedom." Which is a long-winded way of noting that Best Director has the potential to be stacked this year, perhaps even more than it was last year when Affleck, Quentin Tarantino and Kathryn Bigelow were left on the outside. With those names in his way, I personally don't see Daniels making the cut.
Keeping in mind that it's Aug. 19 and there are, quite literally, at least 20 films that will bear the title of "potential Oscar nominee" between now and New Year's Eve, let's discuss one other potential "Butler" nomination: Whitaker. Will his quiet excellence stand out after actors like Tom Hanks, Michael Fassbender, Christian Bale, Joaquin Phoenix, Oscar Isaac, Chiwetel Ejiofor, Bruce Dern, Idris Elba and Leonardo DiCaprio plant their flags throughout the fall? And where does Michael B. Jordan fit in for "Fruitvale Station," the film that Whitaker produced?
Hogan: Geez, Chris, put me on the spot with the most unanswerable question of all, why don't you?
If you're of two minds about Daniels, my gut is pulling me in two directions on Whitaker. To the east, there's the fact that Whitaker is a past winner with gobs of respect from the community who turned in a performance that, while far from flashy, basically amounts to a master class in inhabiting a bruised, conflicted soul over the course of a lifetime. Usually, I roll my eyes when actor's talk about their craft, but I found Whitaker's interview with you fascinating, and I'm not just saying that because I want you to stop making fun of the Yankees on Twitter. In particular, I loved what he said about having to carry the weight of past events as the film progressed. We know from the opening scene that this is a man who effectively watched a white man rape his mother and kill his father -- AND THEN HAD TO SERVE THE GUY DINNER. And yet he suppresses his inevitable rage, perfecting the art of invisible subservience around everyone but his son. Somehow, that's all there on Whitaker's face -- and in his tentative body language -- every step of the way. We know actors form the biggest branch of the Academy's voting membership, and I don't think the quality of this performance is going to escape them.
And yet, to the west, there are all those names you mentioned. And the danger that, since Whitaker already has an Oscar, some people might decide he doesn't need another one. And the fact that Harvey will have to choose one candidate to back, and he's already got three in Jordan, Whitaker and Elba.
Whatever happens, I will say this: I find it encouraging that, in the inaugural year of the Academy's first black and female president, there are already four African-American actors on our Best Actor short list. It feels like just yesterday that we were reading headlines about how "The Oscars Are All White." OK, it was 2011. But still!
Rosen: There is something pleasing about the way this year is shaping up -- and not just for African-American actors, but women as well. My "short list" of potential Best Actress nominees already includes Julie Delpy, Brie Larson, Cate Blanchett and Greta Gerwig -- a notable number considering that it was tough to find even five actresses to fill out the category at the Oscars in February.
As for Whitaker, I would also say that it's going to be tough for him, but: If it comes down to a battle between Whitaker and Jordan, I could see Whitaker prevailing on the idea that he's an older veteran, and Jordan will have what we hope are plenty of other opportunities to earn an acting nomination down the line. In the end, Whitaker might be best served (sorry) by "The Butler" (sorry, again) itself. If a rising tide lifts all boats, and Daniels' film earns a Best Picture nomination, Whitaker could easily wind up as Best Actor material. (Please remind me of this August musing when the nominations are announced next year.)
Until Toronto, good buddy!
PHOTO GALLERY
'Lee Daniels' The Butler' Premiere