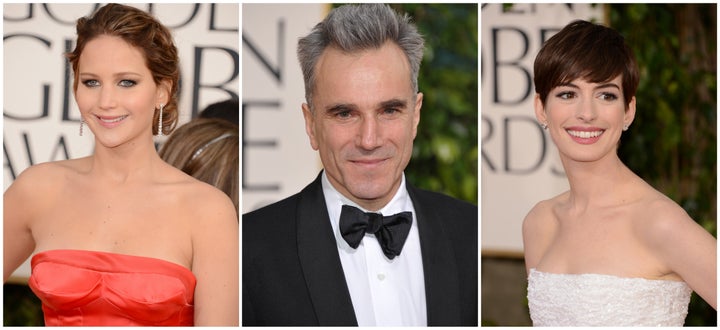 If the media learned anything from the 2012 election (fat chance), it's that today's sophisticated statistical models are far better at predicting outcomes than self-appointed pundits with pet theories. Not that we'll ever be free of the latter, but we now have a license to treat them the way Brad Pitt treated the chain-smoking scouts in "Moneyball" who judged baseball prospects based on their looks rather than their ability to get to first base.
Nate Silver got the lion's share of press for predicting the outcome of the presidential race in all 50 states, but HuffPost's own Simon Jackson and Mark Blumenthal, working under the HuffPost Pollster banner, matched that impressive feat.
That may be a bit optimistic, given the inherent differences between how we elect a U.S. president and how the Academy of Motion Picture Arts and Sciences chooses Oscar winners. As David Rothschild, who devised the data model used by HuffPost's Oscar Predictions Dashboard, pointed out the first time we talked, there is no equivalent to the state-by-state polling data that made last year's election predictions so accurate. The Oscars are voted on by a group of approximately 6,000 film professionals, and they are under strict orders not to reveal their preferences to anyone, least of all prying pollsters and journalists.
Instead of analyzing polling numbers, then, our model crunches a series of metrics, starting with the major prediction markets, Intrade and the Hollywood Stock Exchange. It also looks at such historically predictive variables as box-office success, critical and popular response and success in earlier awards rounds.
Rothschild's analysis has already produced some surprising findings. Popular ratings, as it turns out, are far better than critical ratings at predicting success in the Best Picture category. And the most predictive box-office metric is an obscure one: movies that see a jump in revenues between their fourth and fifth weeks after release are especially likely to win Best Picture.
Between now and Oscar night (Feb. 24!), we will be fine-tuning our predictions model, building out the dashboard and highlighting more surprising findings. We also hope to incorporate your input.
By the time Oscar night rolls around, we hope that our model will feature the most reliable picks anywhere -- supplementing the educated guesswork that constitutes most efforts at awards prognostication. (I say supplementing, not supplanting, because we are, after all, avid fans and practitioners of such guesswork.)
And while plenty of caveats are in order, given the opacity of the Oscar voting process and the small size of the voting body, we're hopeful that this model will eventually rival the ones that informed us with such assurance that Barack Obama would reclaim the White House. In the meantime, we hope you have fun visiting HuffPost's Oscar Predictions Dashboard, exploring the data we've collected so far and letting us know how we could do this better.