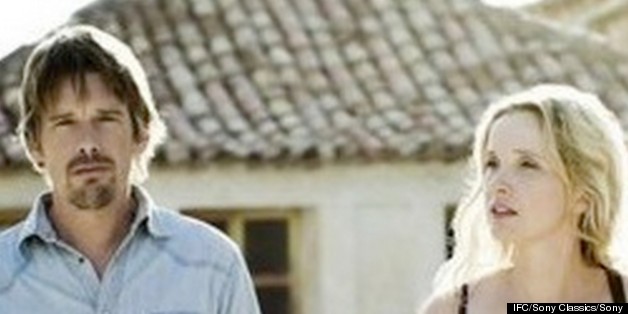 Welcome to For Your Consideration, HuffPost Entertainment's breakdown of all things Oscar. Between now and March 2, 2014, executive arts and entertainment editor Michael Hogan and entertainment editor Christopher Rosen will chat about awards season and which films will make the most noise at the 86th annual Academy Awards.
Rosen: Hello, Mike! To "borrow"* from Bill Simmons: Good lord! That's For Your Consideration's music. July 1 is the official halfway point of 2013, meaning it's a great time to check in on the upcoming Oscar race! **Ducks away from tossed tomato.**
Or maybe it's not a great time: The Oscars don't actually seem to care about movies released from Jan. 1 to July 1. At the 85th annual Academy Awards this year, only "Beasts of the Southern Wild" and its director (Benh Zeitlin) and star (Quvenzhane Wallis; I can still spell it on the first try) represented the first six months of 2012 in the six major categories.
So! Which 2013 release could be the next "Beasts of the Southern Wild"? Of the options right now, it seems only "Before Midnight" would qualify. The festival favorite has a 98 percent Fresh rating on Rotten Tomatoes and some prior Oscar pedigree: co-writers Richard Linklater, Ethan Hawke and Julie Delpy were nominated for Best Adapted Screenplay at the 2005 Oscars. Full disclosure: "Before Midnight" is my favorite movie of 2013 thus far, and I'm totally convinced it can garner nominations for Best Picture, Best Adapted Screenplay and Best Actress. Delpy gives one of the most fully realized performances of the last five years in "Before Midnight," and since there's almost always a dearth of Best Actress performances to choose from, it seems like she should be mentioned among early favorites. (This is to take nothing away from Ethan Hawke, who is excellent, but his road to Oscar will likely be littered with more competition.)
Beyond "Before Midnight," there are festival debuts like "Fruitvale Station" (out July 9) and "Short Term 12" (out in August), and while I think both can factor into the awards race in some capacity, neither film has actually come out yet. (Both, too, might be better suited for the Indie Spirit Awards circuit.)
Other than that? Well, I loved "Iron Man 3," but that's not an Oscar movie. I loved "Spring Breakers," too, but that's not an Oscar movie either -- though I think we'll be hard pressed to find a better performance this year than James Franco in that film. Might the newly minted and more cultural diverse group of Oscar voters (like Lena Dunham and Danny Trejo) push Franco's unbelievable performance art onto the Academy's short list come January 2014?
* Completely steal.
Hogan: Hey, Chris! Yes, it's hard to believe that we are here talking about the Oscars in the hot, humid run-up to July 4 weekend, but an irresponsible speculator's work never stops, so let's stop apologizing and dive in, shall we?
I agree that James Franco deserves everything ever for his go-for-broke portrayal of a skeevy rapper/drug dealer in "Spring Breakers," but I'm not sure the Academy's 276 newcomers will be able to shout down the 6,000 existing members who, if they even saw the film, probably accused the nurse of spiking their prescriptions with that new "love drug" Madonna told them about at Guy Oseary's house.
I also fully endorse your incipient campaign to get Julie Delpy a well-deserved Best Actress nomination for "Before Midnight." Her performance is the ballsiest thing I've seen in a long time, and the fact that Delpy helped write her fierce but not always likable character should give her extra points.
While we're at it, I'm going to come out and predict a Best Picture nomination for "Before Midnight."* It's the third in a series, and the first to appear in Oscar's strange "as many as 10" era. (Until 2009, there were only five nominees in the Best Picture category; now the Academy recognizes between five and 10 films each year.) It's also the best "Before" movie yet, if you ask me. While the earlier films may have felt precious, this one is tougher than the skin on a 40-year-old sunbather's forearm, and its talkiness now makes it a refreshing departure from the inarticulate pyrotechnics shaking the walls of our summer cineplexes.
I'm also not ready to count out Greta Gerwig for "Frances Ha." She badly wants a nomination, I've been told, and I can imagine voters looking back fondly at this charming black-and-white summer fling at the end of the year, when they're trying to figure out how to squeeze in yet another screener between shopping trips. Surely, that montage of Gerwig dancing down the street to David Bowie's "Modern Love" will inspire at least a few votes.
According to Deadline, Focus is going to mount a Best Picture campaign for "The Place Beyond the Pines," but that seems like a long shot to me. Franco himself said he wanted to "make love" to Ryan Gosling's part of the movie, so there's that, but even he had to acknowledge that the whole thing is "damn long." I agree, and I don't think director Derek Cianfrance quite managed to match the audacity of his ambitions.
Apart from all that, though (and the documentary race, which is already popping), you're right: the juicy Oscar targets are mostly on the horizon, starting with "The Way, Way Back," which opens this week. Directed by Oscar-winning screenwriters Nat Faxon and Jim Rash ("The Descendants"), this coming-of-age comedy could yield a supporting nod -- and maybe even a win -- for Sam Rockwell, even if the film feels too formulaic to rank in other categories.
And then I guess we have to contend with the possibility that enough of this year's expected favorites -- "American Hustle," "August: Osage County," "The Butler," "Captain Phillips," "Foxcatcher," "Gravity," "Inside Llewyn Davis," "The Monuments Men," "Nebraska," "Rush," "Saving Mr. Banks" and "Wolf of Wall Street" -- will fall flat, leaving an opening for "The Great Gatsby" to make an unexpected appearance in the Best Picture category.
Speaking of, can I count on your support for my campaign to score a supporting nod for Joel Edgerton?
* I unequivocally reserve the right to change this later.
Rosen: How's this? I'll support your obviously D.O.A. campaign for Edgerton in "The Great Gatsby," if you support mine for Danny McBride in "This Is The End." Maybe it's the humidity -- or because McBride is introduced in "This Is The End" with accompaniment from Cypress Hill -- but I've convinced myself that McBride could score a surprise Supporting Actor nomination in the same way Robert Downey Jr. did for "Tropic Thunder." OK, probably not. But he certainly gives one of the most committed performances ever by an actor playing himself playing a cannibal.
Greta Gerwig doesn't play herself in "Frances Ha," but she might as well: Her parents play Frances' onscreen parents, and it's hard to imagine any other actress in that role -- unsurprising since Gerwig co-wrote the script with Noah Baumbach. As much as I adore the film and Gerwig's performance, it still feels like an uphill climb for her Best Actress candidacy. As previously noted, Best Actress is usually weak, but do we really think Academy members will find room for both Gerwig and Delpy on their ballots? (Unless Lena Dunham's Oscar vote counts quadruple, that is.) If anything, Gerwig has a better shot at scoring a nod for Best Original Screenplay -- that nomination is there for the taking if IFC Films can put the right campaign behind the film later this year.
As for the idea that "The Place Beyond The Pines" could have some kind of resurgence: no. That movie isn't as good as everyone seems to think and really struggles once Gosling leaves the frame. If anything it reminds me of "The Grey," last year's early season testosterone-fueled drama that some prognosticators were heralding as an Oscar dark horse. I'm just not buying it.
What I am buying is "Fruitvale Station" as a serious contender. It's not as good as the Sundance buzz led me believe, but it's a powerful drama that feels like the kind of movie Oscar voters want to reward. (Special note here for the revelatory Melonie Diaz, who could grab a nomination in the always weak Best Supporting Actress field.) If only it wasn't coming out in July?
Oh, P.S.: I love Sam Rockwell, and found "The Way Way Back" to be incredibly charming, but lol at him earning a Supporting Actor nod; that dog won't hunt.
Hogan: Oh, yeah, I'm #TeamDanny all the way. Do you think Arianna will approve a T-shirt budget?
Speaking of Mr. McBride's unforgettable entrance in "This Is the End," though, I like the way you just tinkled all over my other picks and then wiped the rim of the bowl with your boot. Can I at least have half the Milky Way?
But yes, "Fruitvale Station" is exceedingly worthy, if not quite as transcendent as those who managed to see it at Sundance led the rest of us to believe. I suppose I can envision a scenario where it follows the "Beasts of the Southern Wild" route to a surprise Best Picture nomination, especially with Harvey Weinstein in the conductor's seat. Right now, Michael B. Jordan's lead performance as Oscar Grant, the young man who was killed by transportation police at a BART station in Oakland on New Year's Eve, stands out as one of the year's most memorable, but I'm not sure it will survive the onslaught of Leonardo DiCaprio in "Wolf of Wall Street," Forest Whitaker in "The Butler," Tom Hanks in "Captain Phillips" (or "Saving Mr. Banks"), George Clooney in "The Monuments Men," Will Forte in "Nebraska," etc., etc., etc.
Man, I'm getting excited for 2013 at the movies. If only it would start already!
Rosen: Mike, you can have at least a bite of the Milky Way.
PHOTO GALLERY
2013 Oscars