The Iowa Federation of College Republicans are offering cupcakes during lunchtime today, Tuesday, at the Iowa state capitol. With just one caveat: tasty treats will only be provided to those who present a valid photo ID.

"The event is in support of Secretary of State Matt Schultz's Voter ID Bill which would require a valid form of photo identification to cast a ballot in a state-run election," said the Iowa Federation's Vice Chairman, Colin Tadlock on Monday by email. "We, as College Republicans, believe the bill will protect against voter fraud in Iowa."
The initial invitations sent to the legislators did not specify the reason for the give-away, though members of both the Iowa House and Senate are presumably well aware of a proposed Voter ID Bill.

"We will be giving cupcakes to anyone that shows us a valid photo ID based on the Schultz bill," said Tadlock. "Drivers licenses, student IDs (with an expiration date), work IDs (including the state IDs at the Capitol) are all forms of identification that we will accept. A passport would work if it has a picture."

Tadlock also noted that everyone in the Capitol is invited; not just legislators and staffers.

"The main point that we want to make is that it is not that difficult to obtain a form of photo identification," he said. "Proving your identity makes our elections more democratic, prevents voter fraud, and ensures a fair election."
In his initial press conference announcing the bill, Secretary of State Schultz said that his proposal was the result of collaboration with several of the state's county auditors who administer elections.
But the College Republicans aren't the only ones voicing an opinion on the issue. Legislators on both sides of the aisle, as well as area Democratic clubs, and the ACLU have all chimed in.
As reported by Bill Petroski of the Des Moines Register, College Democrats and Young Democratic clubs held their own "Lobby Day" at the Iowa Capitol earlier this month against the voter identification bill. They contend the requirements would make it more difficult for students to vote. In addition, the College Democrats also took the opportunity to meet face-to-face with Schultz about the bill during their visit.

Meanwhile, on Monday, Iowa Democratic Party Communications Director, Sam Roecker, called the proposed voter ID bill "unnecessary" and "expensive." Roecker also said the Federation's event highlights how confusing these types of restrictions can be.

"With Secretary Schultz freely admitting that voter fraud doesn't exist, it's absolutely ridiculous that we're discussing a law that's likely to cost taxpayers millions and add another barrier to exercise a constitutional right," said Roecker in response to a question about the Party's position on the bill.

Much of the confusion Roecker suggested appears to stem from contradictory views of what forms of ID would be accepted under the bill.

"Capitol ID cards fail to meet the requirements in Secretary Schultz' voter ID bill, yet they're being accepted at this event," Roecker said. "While it seems like common sense that a state-issued, photo ID card that grants access to the Capitol would be valid, this bill is so restrictive that these cards, and nearly all student ID cards would not be acceptable."
Tuesday's event in Des Moines may remind observers of the events of last fall on the campus of UC Berkeley, where the College Republicans on campus held an Increase Diversity Bake Sale, selling racially price-adjusted pastries on campus. As reported by SFGate, the Berkeley bake-sale advertised a pricing structure, ranging from $2 per pastry for white men to $.25 per pastry for Native Americans, with a $.25 price break for women.
The bake-sale sparked outrage on the California campus and on social media sites.

Tadlock dismissed any comparison between Tuesday's event in Iowa and the bake sale in Berkeley last fall.

"This event is not at all similar to the UC Berkley event," he said. "We are doing this event in support of voter ID laws, not discussing affirmative action at all."
Meanwhile, in case you didn't get yours, this form is making the rounds of Democratic House staffers in the Iowa State Capitol Building today: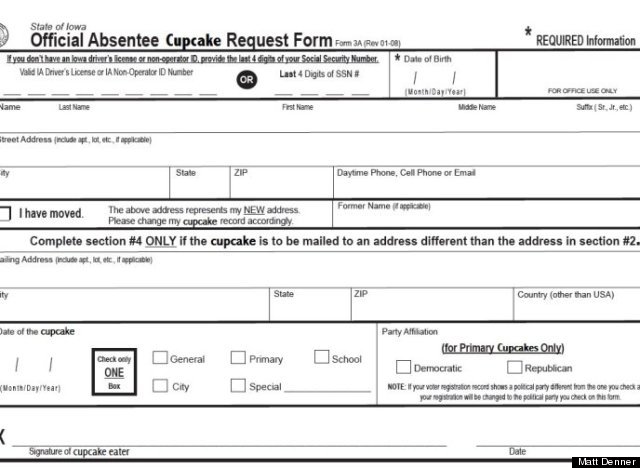 Michael J.Hunt is a citizen journalist reporting from Iowa. If you would like to contribute as a citizen journalist to The Huffington Post's coverage of American political life, please contact us at www.offthebus.org.