As Bike month in New York City and my wife, Yolanda's and my month-long biking sojourn in New York comes to a close I want to tell you about my favorite place on the the Hudson Greenway Bike path that runs 14 miles from Battery Park on the Southern tip of Manhattan to Dyckman St, two miles north of the George Washington Bridge.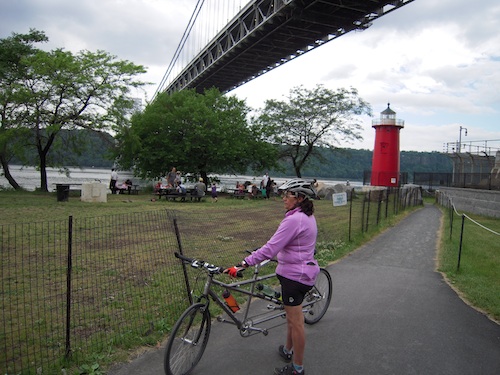 We would never have known that the lighthouse existed if they had not extended the path in Oct 2008 from the Sewage Treatment at W125th St. to where it now ends.
When we first rode the new section we stopped to check it out. Here is what we found.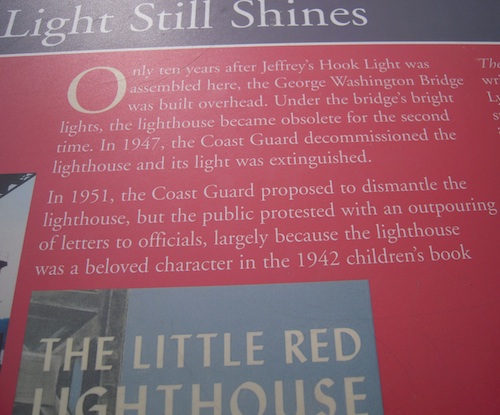 Actually we did not take the photo above on this first visit, because we were more than 9 miles from our apartment and rushing home to beat the rain.
Intrigued by the idea of a children's book so inspiring and influential that it helped save a landmark structure from destruction we returned for a longer look.
We found that on a nicer day we were not the only visitors and that the book helping save the lighthouse was only part of the story.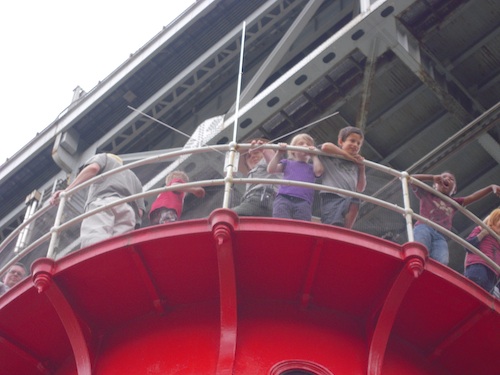 Park rangers had come to open up the lighthouse for a group of school children.
After the children left they took us up to the top and one of the rangers talked about the lighthouse and the visiting kids.
Then, just as we were about to leave, these folks showed up with the actual book.
So we came to understand that not only did the book help save the lighthouse, but the fact that the lighthouse was saved and able to be visited, also helped save the book.
We have visited the Little Red Light House both times we've been since that first visit was in June, 2010. It reminds us that many things that have no obvious utility are worth saving.
Click here to read more about Yolanda and my adventures in New York.