We all know that every woman has her little black dress. It usually takes the form of a dress that fits the best on her. It's not too extravagant and sometimes contains the simplest details that differentiates it from others. In a similar fashion, we at The Underwear Expert would suggest everyman include a little black brief in his underwear drawer. Like the little black dress, the little black brief begins with a simple black color palette and is transformed by minor detailing. Below, we list four things to look for when choosing the black brief that suits your personality.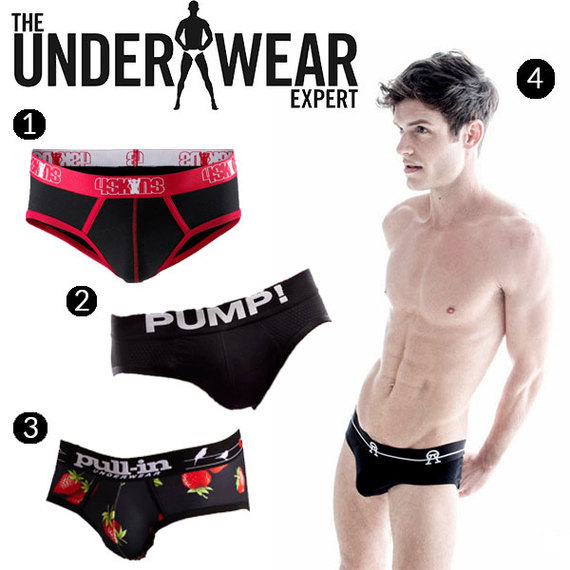 Contrast
We've mentioned contrast before in a few post and will continue to in future posts. Contrasting colors is the best way to pop in any situation. Black is probably our favorite solid to add contrast to because it's so simple and, as the clichᅢᄅ stands, really does go well with everything. The underwear brand 4Skins (1) has an entire line based on contrasts. We have to say that the black brief with red piping brief is clearly the most striking in the collection.
Fabric
If you want to keep the basic solid look of a black brief but want some sort of shock factor, we'd recommend playing around with fabrics and textures. Canadian underwear brand PUMP! (2) has a basic black brief made out of a comfortable mesh material. The mesh material is perfect for athletics because it's highly breathable. Pump!'s waistbands are also a stand out.
Print
We will warn you that some prints are too distracting. Don't get us wrong; we love prints, but, when it comes to choosing the perfect black brief, the simpler the better. That's why we like Pull-In Underwear's strawberry printed black brief (3). You get the fun of a print but can ultimately tell you are still wearing a black brief. The print acts as contrast to emphasize the black in the brief. The black color is still the lead actor.
Cut
Lastly, we'd like to look at cut. It's a popular belief to think that all briefs are cut the same. But, in reality, every underwear style, from boxers to briefs, has many cuts. For example, the Alpha + Omega black brief (4) is not your grandfather's brief. It doesn't have a front fly, has a contoured pouch, and sits really low on the waist. It's also cut high on the thigh. It's a black brief for the boldest of men.