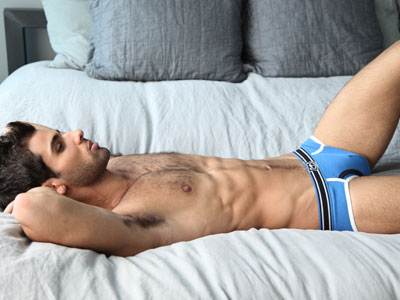 Underwear is arguably the most important part of you or your man's outfit and like every other fashion purchase, requires an attention to detail and knowing what works for him [and you!] and what doesn't. More often than not, though, underwear is overlooked and the cheapest, first thing you find is what you buy.
Bottom line: What you put into your underwear search is what you get out of it.
But how do you know what to look for? And how do you know what's important and what's not when you're looking for that special pair?
Check sizing charts: Brands all use different sizing for their underwear. Sizes tend to run one or two waist sizes apart from each other (29-31 or 30-31 for a small, etc.) but sometimes they can vary as many three or four inches. Keep in mind, too, that what's small in one brand could be medium in another.
Pay attention to fabric: There are literally hundreds of fabric combinations! Some cool, some keep down there dry and some are just plain soft and cozy as all get out. Some fabrics, though, are just not comfortable at all so when you find one that works, take note so you can look for the same fabric in the future (or start making underwear of your own?)
Construction matters: If you pick up a pair of underwear and the threads are loose and the seams are spaced far apart, you're just looking for disaster. Throw those in the washing machine and they'll fall apart faster than you can say, "but hey, they're like so hot." Don't confuse cost with quality, either. There are plenty of brands out there that supply excellently constructed underwear at prices that won't break the bank.
Read reviews, follow trends, and stay in the know! Keeping up to date on these things with probably save you money in the end.
For more expert men's underwear advice, visit The Underwear Expert.
Photo: The Underwear Expert