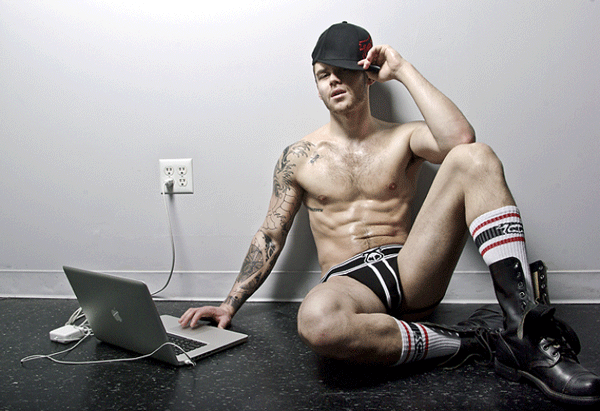 Nasty Pig, a masculine sportswear line with an unabashed fetish edge to it, is in its 18th year of existence. Not an easy feat in the men's underwear industry.
You probably already know that the brand has a connection to a raunchy, sexual subculture of some kind, but what you may not know is how the brand got its name. David Lauterstein, the CEO of Nasty Pig told The Underwear Expert how they chose that exact name: "Nasty Pig is named after our dog -- her name is Piggy," Lauerstein says.
The brand's no bitch, though. "We base our belief system on the idea that men are pigs. So it's about owning those attitudes, but at the same time rejecting the negatives of it. A guy can be cocky but that should stem from the fact that you're a good person. That's how we've built our following without any branding or advertising at all over the years."
And what a following: guys who buy Nasty Pig swear by the brand so much that many send Nasty Pig pictures they take of their Nasty Pig logo tattoos, which Lauerstein says is no longer a rare occurrence. But there's also the moms who will buy the brand's briefs for their sons, or the girlfriends who will see Nasty Pig jocks on the go-go boys at a night out and then buy a pair for their boyfriends. Even for a brand so heavily identified with a kind of marginal sexuality, more and more straight dudes are coming in to the retail store and purchasing a jockstrap or brief.
"The straight guys who buy our stuff represent a different version of the same masculine energy and confidence that we embody," Lauerstein elaborates. "We're less unapologetic, more unbothered about how we portray ourselves. And these guys respond to that -- they say, 'I'm confident, sexy, and I if I like it I'll wear it.'"
For the full interview and a collection of our favorite Nasty Pig photos, visit The Underwear Expert.