Striped underwear can enlist several thoughts: nautical looks; a stern businessman; or perhaps a young, preppy college student. This is why stripes - and in particular, striped underwear - can be extremely versatile. The look also (surprisingly) works well on most body types, and on the young and the older.
Our recent photoshoot captured 13 striped underwear looks - its main purpose? To showcase the trend's adaptability, of course.
Classic striped designs were highlighted by brands Calvin Klein and Blackspade, both of which veer towards more classic looks, regardless of trend. Blackspade interprets stripe width in new and interesting ways, and the Calvin Klein boxer brief looks purple, but it's actually an optical illusion - it is, in fact, a weave of cobalt and red orange stripes.
British underwear brands, James Tudor and Aware Soho, play with red and black stripes, contrasting them with white waistbands. The three-button fly, however, are the real stand-out aspect to the James Tudor's.
The Jor and Agacio brands are the sportiest by far - these two utilize pastels and white.
But our favorite pair - which is, of course, the sexiest - is from the Male Power Radial Sport Collection. It is zippered with dual tone, zigzag stripes.
Whatever your stripes preference, be it zigzag or classic with limited accessories, any of these looks are sure to satisfy your grown-up underwear drawer.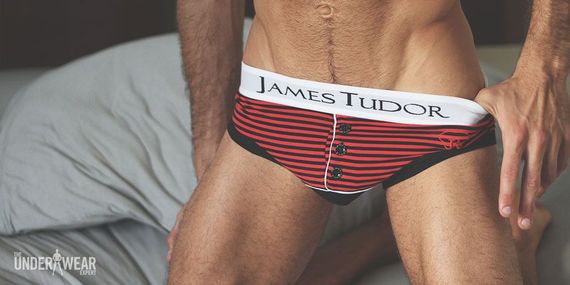 Click for more information about striped underwear, and check out The Underwear Expert for all of the latest men's underwear trends.