In the age of Henry Cavill's Superman and the likes of sci-fi blockbusters like Pacific Rim, you really can't blame us for feeling a little nostalgic for superheroes, giant robots, and crime-fighting vigilantes. And sure, maybe some of us are getting a little too old to break out the old comic book collection, but with rising trends in men's fashion -- we don't have to suffer for long.
Feast your eyes on the "Action Figure," a boxer brief predicted by fashion gurus WWD as the biggest trend for Spring 2014. They've described it as "technical fabrics with pops of bright colors, aerodynamic construction and mesh-panel inserts;" and, when comfort meets atheleticism, we can see why these babies are so popular already.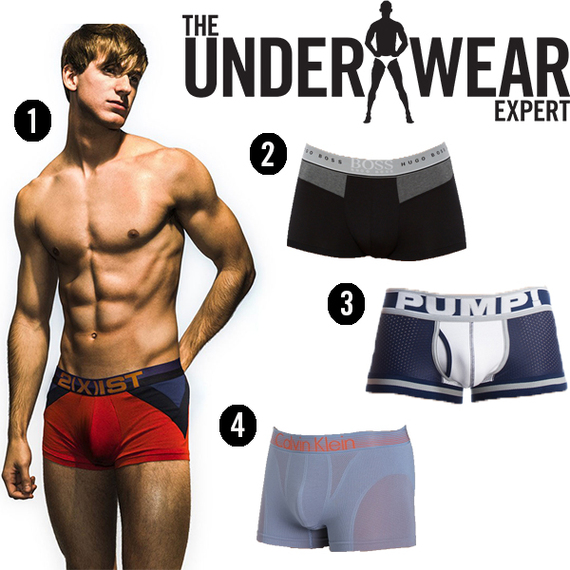 1. 2xist Chevron No-Show Trunk
Vibrant and bold, this purple and orange colorblocked trunk is ideal for the man who isn't afraid to stand out. Reminiscent of old school superhero costumes, it truly embodies the name of the style, the "Action Figure."
2. Hugo Boss Real Cool Cotton Trunk
For flawless construction and tonal colorblocking, look no further than Hugo Boss. Effortless and chic, this Real Cool Cotton Trunk is mid-rise and made out of a blend of 54 percent cotton, 38 percent polyester, and 8 percent elastane for extreme softness. Recommended for a lazy Sunday morning in after a long weekend of fighting crime, or -- whatever.
3. Pump! Touchdown Boxer
If we had you at "mesh-panel inserts," this pair from Pump! is a sure way to go. Made out of a blend of MicroMesh and cotton, these ultra comfortable boxers are fun, soft, and another great example of this rising trend.
4. Calvin Klein Concept Micro Lowrise Trunk
More subtle yet still edgy, this trunk from Calvin Klein is a happy medium of mesh and a pop of color. It's absolutely possible to go neutral without being boring, and the Concept Micro Lowrise Trunk is the perfect example.
For more on this trend, head on over to The Underwear Expert.
The Underwear Expert is the ultimate resource for 200+ men's underwear brands including Pump!, Calvin Klein, Hugo Boss, and tons more. Visit us for the latest men's underwear trends and more; like us on Facebook here.