We all remember the days of ill-fitting underwear and self-inflicted wedgies, caused by wearing pairs that were way too small for our growing bodies. That's why, as grown men, the perfect-fitting pair of boxers, briefs, or boxer-briefs, really goes a long way. And it's not all about comfort - wearing a great-looking pair of underwear makes us look and feel our best. Confidence is incredibly sexy, whether you're at work or at the gym. That's why one of our new favorites is activewear in underwear form.
In our activewear shoot, "Warm Up," by Jerrad Matthew, Exclusively for The Underwear Expert, featured models Callum Aylott and Josh Stevenson show off activewear looks by Papi, teamm8, Emporio Armani, and Junk Underjeans.
What makes these activewear styles superior to your regular gym underoos? For one, they provide much more coverage than regular underwear, and they help you push through that tough workout while simultaneously keeping you cool. In particular, Callum models the the teamm8 Combat Hoodie - the hoodie lets your skin breathe while still keeping your core insulated. Moisture wicking fabric only helps keep you cool and comfortable. Featured long Johns, like the Emporio Armani Eagle Stretch Cotton Long John, and the Junk Underjeans Base Tangerine Extended Trunk, work well for the gym, or for lounging around in at home.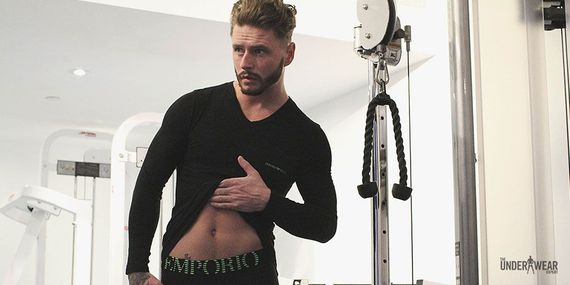 Click for more information about activewear, and check out The Underwear Expert for all of the latest men's underwear trends.