I take a deep breath. The moment of truth has arrived -- the instant when my lofty, aspirational plans for a little family time outdoors will either soar to great heights or dive into a death spiral. I broach my proposal to my kids -- my son, Nate, 12, and daughter, Alex, nine-and-a-half -- that we spend the afternoon cross-country skiing.
It's a few days after Christmas. Their new toys, in their eyes, still glow like gold doubloons, blinding them to other agendas. I'm navigating dangerous ground in trying to lure them away from their booty. Only dragons dwell here.
Alex lobs me a softball question, asking, "Will it be less windy than the other day?" We last went skiing two days before Christmas, in snow blowing horizontally. But today is a bluebird day. "Okay," she says, acquiescing to my plan. My daughter is a relatively easy sell.
But my son sometimes demands all of my amateur diplomatic skills. "I'm not going," Nate insists, shaking his head as if a bobcat had suddenly dropped onto him from a tree and buried its claws in his scalp. "I don't even like cross-country skiing. I only like going when we're also going to downhill ski, which makes it worth my time going there."
Point of clarification: Nate and Alex have both been cross-country skiing since the first winter they each could walk, and downhill skiing since age four. They like and are good at both forms of the sport. Nate loves engaging in an energetic -- and occasionally hazardous for adults -- game of tag on Nordic skis, or just cruising along with me. We take an annual four-day cross-country ski trip to a backcountry yurt with another family that all four kids anticipate as eagerly as we parents do.
So Nate veers into hyperbole in claiming he doesn't like cross-country skiing. But I don't take that bait. Instead, I point out that he just rose from bed at nearly 11 a.m., and partaking of two forms of skiing in the same day generally requires committing most of the daylight hours to being awake. We have already passed that deadline today. I promise him some father-son skiing time. Lastly, I remind him that the Nordic center's lodge has hot cocoa.
Finally, Nate accedes. I'm reminded of when he was a toddler and how, even when I offered him something he wanted -- say, a cookie -- his default response was negative, often leading to him confusingly babbling, "No, no, no, yes, yes, yes, yes!" I learned to parse his answer by counting the yeas versus the nays.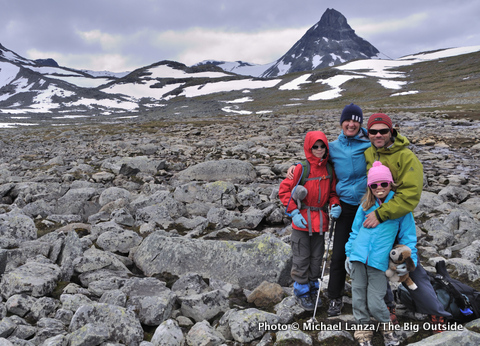 The trials of trying to raise active, outdoorsy kids are really not very different from indoor parenting. Sometimes a kid is just not going to go peacefully along with your plans. But sometimes it just takes working on them a bit. Or bribing with chocolate and hot cocoa, if it gets them out. Once out there, they will often discover the innate joy in the activity on their own. We parents are merely the means of transporting them there -- proving again that everything in parenting is merely youth soccer taking different forms.
But sometimes we parents erect the obstacles to getting our kids outdoors. Sometimes we don't want to jump through the hoops to cajole and persuade them. Sometimes we don't want to make the effort (a substantial one, granted, especially with preschoolers). Sometimes we worry it will prove too hard or dangerous for our kids.
As my wife and I start talking now about what family adventures we want to pursue in 2013, I think back on the many wonderful, memory-forging trips we took as a family in 2012: numerous days on skis; hiking and exploring slot canyons in Utah's Capitol Reef National Park; rock climbing at Idaho's City of Rocks; backpacking in Oregon's Eagle Cap Wilderness; and the year's highlight, a weeklong, hut-to-hut trek in Norway's Jotunheimen National Park. (Pick up the January issue of Backpacker Magazine to read my feature story about our Jotunheimen trek.)
No, don't push your kids too hard. But don't be afraid to try things; children may surprise you with their enthusiasm and stamina. My kids have exceeded my expectations time and time again, such as when we rafted five days down the Green River through Canyonlands National Park, hiked in the Scottish Highlands and skied three miles through a snowstorm on our first family yurt trip -- all when they were six and four.
PHOTO GALLERY
Getting Kids Outdoors: It's All About the Sales Pitch
Looking for ideas for family-friendly outdoors trips? See my Top 10 Family Adventures. Start your own family outdoor tradition in 2013. Your kids will love it. They just might not always say so.