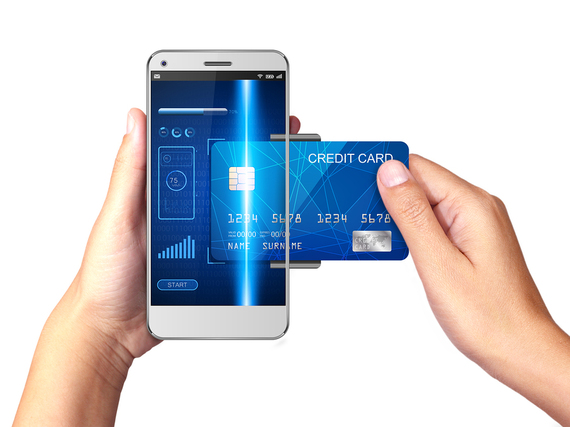 With 2016 over and done with, the gears are turning. Q1 of 2017 is well underway, and with it does come the next ecommerce technology trends. Last year turned out some rather impressive numbers for ecommerce. According to eMarketer, ecommerce generated an estimated 8.6% of all retail spending in 2016, hauling in about $1.915 trillion.
Everything told, the retail industry as a whole raked in 27 trillion. China dominated the e-tail market, pulling in $899.09 billion, with the U.S. coming in second at $423.34 billion. Between 2016 and 2017, the U.S. ecommerce industry grew by a healthy 15.6%, setting a new milestone.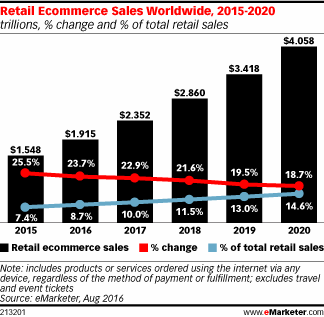 As we brace for yet another record-setting year, there are a few emerging (and cemented) ecommerce technology trends you'll want to keep an eye on. I'll help you stay ahead of the game with my next batch of predictions. Some of these trends you have heard of, and others might be new. Regardless, expect them all to share the spotlight in the center stage over the next four quarters.
2017 Ecommerce Technology Trends
• Ecommerce drones: We've already been hearing about Amazon Prime Air, but it still has some hurdles to pass. The system is currently being tested in England, with restricted users and airspace. But, if Amazon is able to figure it all out, it may not be that far into the future where you simply place a drone landing pad in your backyard to enjoy timely delivery of lightweight goods.
• Smart buttons: Again, Amazon is the trendsetter here with their Dash Buttons. But don't expect them to be the top player in this market for too long. It won't take too much time for other contenders to catch-up. In the near future, expect easy-order buttons like these to be offered by retailers like Costco, Target, Wal-Mart and Sam's Club.
• One-click checkouts: Mobile shopping carts are the most popular of the bunch, and are responsible for completing almost half of all sales in ecommerce. The popularity of mobile couponing is feeding these conversions, but one-click checkouts are about to become a game-changer in 2017 because they cater to a user's behavior and past shopping experience to generate strong conversion thresholds.
• E-wallets: Payment processors are hopping on the e-wallet bandwagon as quickly as they can. Apple Pay, Samsung Pay, PayPal, Stripe and Google Wallet will make checking out a simpler and more secure option in the near future. The biggest hang-up at the present is the lack of integration between retailers. But with giants like PayPal making moves to acquire e-wallet providers -- like they did with their acquisition of Paydiant last year for a cool $280 million -- checkouts are about to get one-click easier at your favorite brick and mortar stores, restaurants and pharmacies.
The Emerging Social Commerce Giant
Social commerce is gaining headway, and could put up some surprising numbers this year. This unique combination between ecommerce and social media is currently in motion on Facebook Marketplace as well as on social shopping engines like Polyvore. Notably, shopping cart provider Shopify also offers a way to sell items on your Facebook company page.
Social commerce could evolve into a game-changing e-tail marketplace once storefronts are able to be hosted on company channels. One can imagine how socially expanded reach and saturation could enable a retailer to grow their customer base while improving loyalty and retention exponentially. What's more, one can only wonder how popular social features -- like polls, reviews, tagging and more -- could feed future purchases while spotlighting trendsetting products.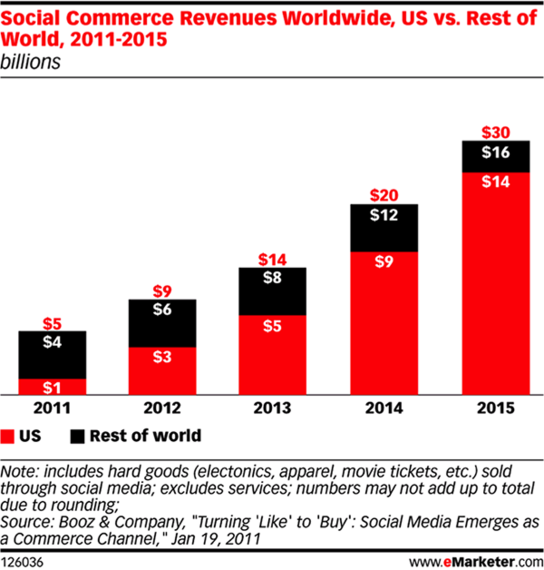 Taking a quick look at the chart above, we can get a clearer picture of the impact of social commerce on the ecommerce industry. Between 2011 and 2015, social commerce experienced explosive growth, leaping from just a $5 billion annual haul to a robust $30 billion in just four years. Industry experts are forecasting that this growth will remain unfettered, with social commerce expected to surpass $100 billion per year in just five years.
Telling are social commerce trends from 2016, many of which will continue trendsetting well into 2017 and beyond. As of Q4 of last year, social commerce accounted for 5% of ecommerce. But predictions are healthy and show a 25% growth rate over the next five years. Mobile ads are the backbone of this growth -- a multibillion dollar annual industry in themselves -- and feed the burgeoning social commerce statistics I've painted for you here.
Ecommerce Software Trends to Follow
While the fit and fare of shopping carts and marketplaces all (technically) count as SaaS, e-tailers also rely on shipping software, returns management software, inventory management software and accounting software solutions to run their day-to-day operations. Most retailers are also using newsletter and email services, social posting services and CRM systems, too. So what's in the books for 2017?
• Ecommerce software will become more intuitive. Certainly, there are some undeniably awesome software solutions out there for ecommerce. But emerging technology will improve these solutions. Expect to see more self-learning solutions, enhanced chat bots, predictive shopping and automated conversion funnel enhancers, to name a few.
• Free software will take a bow. Certainly, you will still be able to get a free trial of various software suites. But don't expect open-source software to stick around under the free-for-all model for too much longer. For example, WordPress, a popular host for ecommerce sites, is not really free. If you need hosting, a web domain or a variety of plugins, you'll pay a monthly or annual fee. Expect solutions providers to instead offer affordable monthly plans that have several tiers, focusing on the strong upsell potential as opposed to a support heavy and freemium solution.
• Cross-channel integration will become the new trend. With so many different shopping carts and marketplaces, not to mention social channels, the Darwinism of ecommerce is most certainly omni-channel. As a result, users will need to derive real-time analytics from all their sales channels. Newer solutions like ReadyCloud, a cross-channel ecommerce CRM, connect these dots, and give retailers a true look at all their channels from one centralized dashboard utilizing a hybrid cloud, light client XaaS.
• The era of the cloud has begun. Cloud hosting and hybrid cloud solutions will become the new technological mainstay in ecommerce. A report by Statista finds that cloud computing will rake in $24.4 billion annually by the year 2024. Estimates for 2017 place this haul at around $15.4 billion, increasing to $18.2 billion by 2018.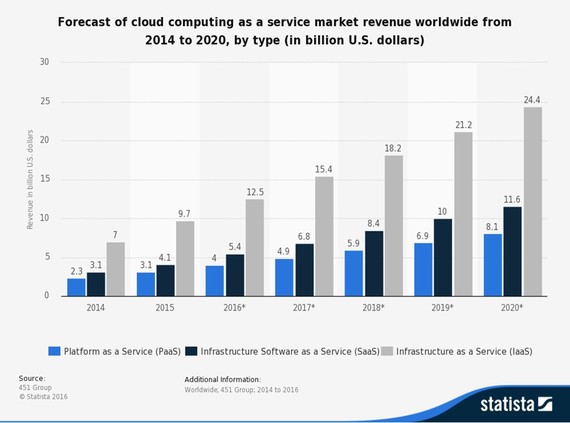 XaaS Leads the Pack
Just what is XaaS, you might be wondering? A Search Cloud Computing article perfectly defines Everything as a Service (XaaS), explaining that:
"'XaaS' is a collective term said to stand for a number of things including "X as a service," 'anything as a service' or 'everything as a service.' The acronym refers to an increasing number of services that are delivered over the Internet rather than provided locally or on-site. XaaS is the essence of cloud computing."
As it relates to ecommerce technology, XaaS is already widely in place. Think about it. Your shopping cart, marketplace account, accounting software, inventory management system, and even your shipping and returns software all, typically, are accessed via a website login. Cloud computing, in general, will become the mainstay for XaaS, especially for ecommerce retailers, who likely already rely on such services to begin with.
Mobile Marketing to Play Central Role
Not to be overlooked is mobile marketing. Retailers will be looking for every possible way to cash in on this digital revenue-producing beast in 2017. A Marketing Land report reveals that 55% of online traffic to the leading retailer websites originates from mobile devices. Roughly half of all web traffic overall is derived from mobile devices (smartphones and tablets).
So how will mobile marketing cut its teeth in ecommerce in 2017? According to Internet Retailer, about 30% of sales will come mobile devices. Given that ecommerce generated $350 billion in the U.S. in 2016, a safe estimate -- including a presumed and healthy year-over-year growth factor -- is about $110 billion for this fiscal year.
Of all the ecommerce technology trends to watch, mobile marketing, related platforms, self-learning programs, big data, trend analyzers and predictors, aggregators and more will be the biggest shakers and bakers of the bunch. The most recent mobile shopping statistics back this up, showing that shopping apps, PPC ads and video ads will set the pace for this year. Rounding out these predictions is an Invesp report that forecasts 2 billion purchases from mobile commerce this year.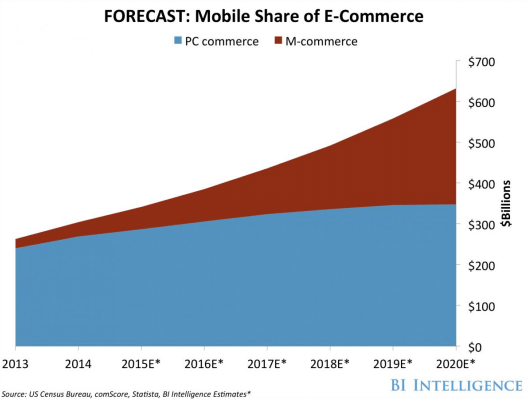 Omni-Channel Integration in Big Demand
We find ourselves returning once again to the cross-channel discussion. Aside from mobile, it's the most fervent of all ecommerce technology trends of this year and well beyond.
Integrators will become the new hub for e-tailers, namely because they will merge data from all sales and social channels, including cloud services, hybrid cloud applications and even light client applications. Making more sense of this is a recent report by Forrester Research predicting $1.8 trillion in cross-channel sales for ecommerce over the year ahead.
"Direct eCommerce sales (including mobile and tablets) will top $370 billion by 2017 and that total retail sales in the US will reach $3.6 trillion by 2017, 60% of which will be either transacted directly on PCs, phones, or tablets, or influenced by research on those devices," the Forrester report reads.
Using a combination of the aforementioned ecommerce technology trends, expect next year to deliver a more robust and inclusive online shopping experience. For an in-depth look at what's ahead as far as shopping trends, customer and retailer habits and more, make sure you take a look at my complete guide: Ecommerce Trends to Follow into 2017 for more insight.